With The Law of Attraction getting mentioned almost every trial day for the past few weeks — and with so many people emailing me and asking me about it — I thought I'd include the full 90 minute movie of "The Secret" here in this page, so everyone can watch it and of course benefit from it. I watched it when it first came out back in 2006, and it's had a really profound effect on my life ever since. I can't recommend it highly enough.
. . . . . . . . . . . . . . . . . . . . . . . . . . . . . . . . . . . . . . . . . . . . . . . .
Introduction to The Secret:
The Secret Has Traveled Through Centuries To Reach You
And Reveals The Single Most Powerful Law In The Universe.
No matter who you are, no matter where you are, you can change your life. This is The Secret to prosperity, health, relationships and happiness.
Rhonda Byrne's discovery of The Secret began with a glimpse of the truth of life within a 100-year old book. She went back through the centuries, tracing and uncovering The Secret that lay at the core of the most powerful philosophies, teachings and religions in the world. What Rhonda discovered is now captured in The Secret, a film that has changed billions of people's lives across the planet…
[hdplay id=149 width=500 height=300]
To learn more about the Law of Attraction, click here to visit the official website of The Secret.
Remember…
WE ARE TEAM JODI – AND WE WILL BE VICTORIOUS in our quest for JUSTICE FOR JODI.
Never question it.
Never doubt it.
Leave your thoughts & comments below…
SJ
Team Jodi
If you would like to help Jodi by way of a financial donation to the official JAA APPELLATE FUND, click the Team Jodi link below for further details. All donations via Justice4Jodi.com go directly to the fund for assisting with the legal fees associated with appealing Jodi's wrongful conviction. Justice4Jodi.com is the ONLY website authorized to collect donations.
In addition, please DO NOT, under any circumstances, donate through any other website or Facebook page/group claiming to be "official" and/or acting with Jodi's approval or authorization. The same applies to any "Jodi Membership Clubs", groups or fake Trust funds that have been set up. These sites are bogus – as are their intentions – and they should be actively avoided. If you are aware of any such sites, please help Jodi by clicking here and reporting them. Thank you for your ongoing support!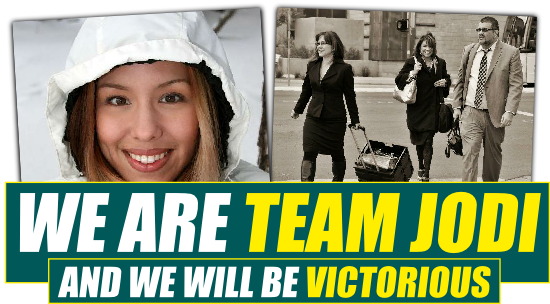 .