.
Well… yesterday turned out to be quite eventful, despite it being a non trial day

We started off by exposing Tony Barberini… the habitual sex offender & onion peeling pedo from Michigan.
Then some retard supposedly guessed the password to one of the Vent pages… posted it on another site… and tried to claim he'd "hacked" it. Yeah, right. And although it was never proven, we quickly changed the passwords as a precaution. Turns out it was Cavin O'Quin – no doubt another loser with a very questionable past.
Following on from that, Jodi's Twitter account featured a message clarifying that this site is the only site authorized to collect donations on behalf of the Arias family. That was in light of the "Kavonna Arias" scam/fraud site I highlighted yesterday – read about it here if you missed it.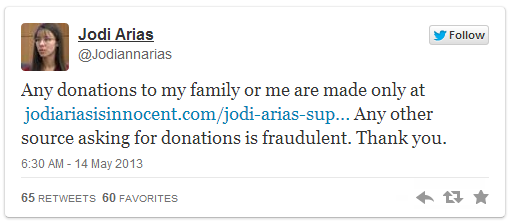 That subsequently led the radical clerics at the HLN mosque to mention the site (and Jodi's tweet) during their usual BS broadcasting… along with discussing some other comments that were made here in the site. That resulted in even more traffic for us

It's no surprise that traffic wise, we're in the top 100,000 of the most visited websites on the planet… and in the top 18,000 of most visited sites in the US – according to Alexa at least.
So following yesterday's closed door bullshit hearing, the Arizona State Circus returns to town again today for the next phase of this unprecedented judicial farce — and it currently has a scheduled start time of 10.00 am JT.
As I mentioned a few times in the site yesterday… even though the media are hyping it all up for ratings & ad revenue purposes, whatever happens in court over the next few days will ultimately count for very little in the big scheme of things. That's mainly due to the planned appeals, which I've no doubt will be successful. We are here for the long haul – and we will ultimately get JUSTICE FOR JODI!
As always… WE ARE TEAM JODI – AND WE WILL BE VICTORIOUS!
Leave your comments below. I'll add a new page later on today peeps…
SJ
Team Jodi
The new "Survivor" t-shirts are now available. A portion of the profits generated from the sales will support other survivors of domestic violence, and go to Non-profit Domestic Violence organizations selected by Jodi.
If you would like to help Jodi directly by way of a financial donation via check or PayPal, click here (or click the Team Jodi link below) for further details.