.
Just to clarify if you missed it the other day — the jury will deliberate from 9/10:00 am to 4:30 pm each day until they reach a verdict of either an acquittal or manslaughter. Once they reach a verdict, Judge Pickles* will give 45 minutes notice prior to the reading. *Based on previous punctuality performance (or lack thereof), we can safely say that Pickles' 45 minutes could easily translate to anywhere between 15 minutes and 2 hours.
Click here for the Jury Instructions document (22 page PDF)
So… back by popular demand, here's the chart Cheney Mason used (during Jose Baez's closing arguments) for the defense in Casey's trial… which clearly explained the concept of Reasonable Doubt to the jury…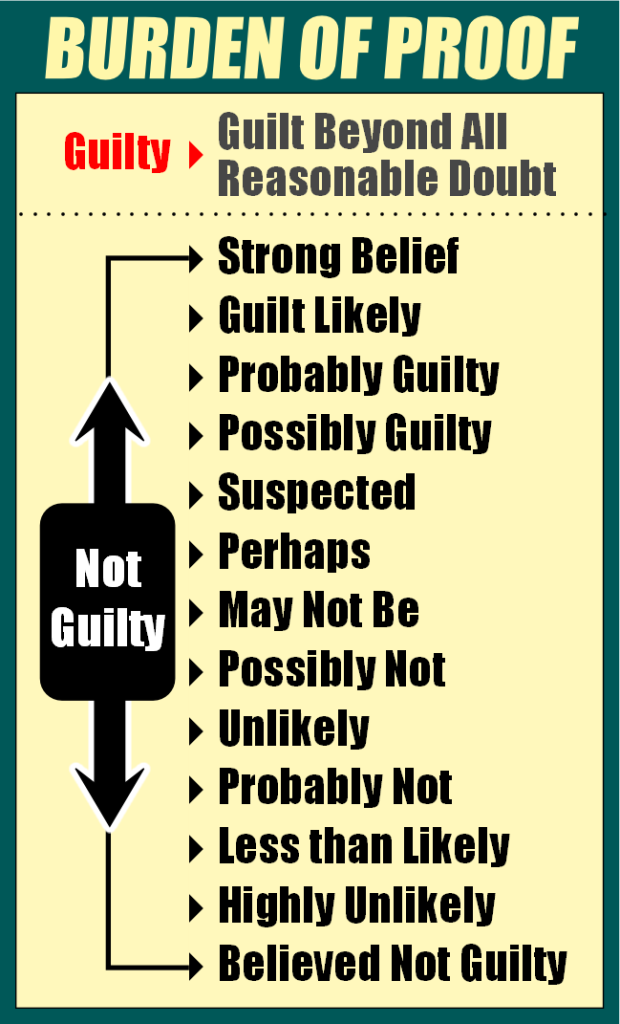 Fair enough, some jurors may strongly believe it was pre-meditated…
Some may think it very likely…
Some may think Jodi is probably guilty or possibly guilty…
… while others will suspect that perhaps it was planned.
That's great… because they'll be the bunch of jurors that'll save Jodi's life… uphold the constitution… and ultimately deliver a positive verdict. And I, for one, cannot wait for the Taliban reaction when that happens.
It'll be priceless

If you missed my post from this past weekend, the new "Survivor" t-shirts are now available. A portion of the profits generated from the sales will support other survivors of domestic violence, and go to Non-profit Domestic Violence organizations selected by Jodi.
So with the 3rd full day of jury deliberation starting later today, let's not forget one thing that can't be disputed…
WE ARE TEAM JODI – AND ANY DAY NOW – WE WILL BE VICTORIOUS.
Never question it.
Never doubt it.
SJ
Team Jodi
Don't forget to check out the new Jodi drawings I added to the site this past weekend.
If you would like to help Jodi directly by way of a financial donation via check or PayPal, click here (or click the Team Jodi link below) for further details.