.
In the midst of a 4 day break before the trial circus resumes again, let's take a closer look at exactly why we're gonna be celebrating our victory a couple of weeks from now.
. . . . . . . . . . . . . . . . . . . . . . . . . . . . . . . . . . . . . . . . . . . . . . .
To start things off, let's look at a few basic legal facts:
In any court proceeding, the highest burden of proof  is proof "beyond a reasonable doubt." When a person stands trial, the jury must therefore begin with the assumption that the accusations against the defendant are false.

The constitution requires the State to prove its accusations against the defendant. It is not necessary for the defendant to disprove anything. Nor is the defendant required to prove his or her innocence. It is up to the State to prove the defendant's guilt by evidence.

A juror can only find in favor for the State at the end of the trial, providing the prosecution has erased all reasonable doubts about the defendant's innocence from the juror's mind.
So taking all that one step further… and putting the ridiculous burglary charge BS aside… it technically comes down to a charge of whether or not this was premeditated (i.e. pre-planned) 1st degree murder.
Contrary to the opinion of the clueless masses and non trial watchers, this is not a "Whodunit" trial – nor is it based on the color of Jodi's hair… a Walmart receipt… a gas can… or on what someone might have said to someone else at some point. None of that matters.
In reality, it's actually an overcharged self defense case, and a judicial farce to boot.
This is why there'll be a Not Guilty verdict returned on the bullshit M1 charge.
You see, the jurors have to weigh up all the evidence – including the State's LACK of evidence, and the obvious & accompanying lack of pre-meditation on Jodi's part. And despite Martinez' shambolic showboating escapades, the State has never even come close to proving their case beyond all reasonable doubt… not this week, not last week, not last month… and not at any other time either. Nor will they ever.
This quote (reproduced from an earlier post) sums it all up very well…
"As far as I am concerned, the only issue in the Jodi Arias trial is has the government proven premeditation. That of course, is important because if the government has not proven premeditation, they cannot convict her of murder in the first degree and thus the death penalty is off the table. And while the government has also alleged murder in the first degree by way of felony-murder, that allegation is so specious as not to even warrant a response.

The government has not proven premeditation, and in fact, could not do so under any circumstances. Without direct evidence, either a confession by Ms. Arias that she intended to kill Mr. Alexander, as in "I wanted to kill to him", or an overt act such as hiring a hit man or waiting in wait in ambush, the government cannot prove premeditation beyond a reasonable doubt. Note that I am not saying she did not intend to kill him or that there is not very good reason to suspect that she intended to kill him, just that the government will not be able to prove it beyond a reasonable doubt. And that has been clear since day one. Someone asked me on twitter a question along the lines of "she lied so she doesn't get the death penalty?". My answer, yes, exactly right. To paraphrase Lt. Kaffee from a "Few Good Men", it doesn't matter what we know; it only matters what we can prove.

Instead of proving premeditation with direct evidence, the government is trying to do so with circumstantial evidence. So far the attempt has been, with the most charitable interpretation possible, pathetic. While the law does not recognize a distinction between direct and circumstantial evidence, there is a jury instruction that says exactly that, the inference the government wishes the jury to draw from the circumstantial evidence is, dare I say, comically lacking."
Yes, Martinez has his favorite autopsy pics which he's put to good use so far, and will do in his closings… but none of those pictures prove pre-meditation either. All they prove is that the animal Jodi was defending herself against came off decidedly second best.
Jodi – the potential VICTIM – turned the tables on her attacker. Self defense. Plain & simple.
So based on all that…. the fact still remains that some of the jurors, for reasons best known to themselves, will still believe it was pre-meditated. But some of the jurors will not — meaning a hung jury.
As Jose Baez said on HLN "bathroom re-enactment" show the other week…
"The physical evidence does not lie"
Ain't that the truth…
Here's the clip featuring Jose with his view on the order of events:
[hdplay id=127 width=500 height=300]
And here's a secondary clip of Jose from the end of the program:
[hdplay id=128 width=500 height=300]
And just for good measure – check out the chart below.
It's the same chart Cheney Mason used (during Jose Baez's closing arguments) for the defense in Casey's trial… which clearly explained the concept of reasonable doubt to the jury…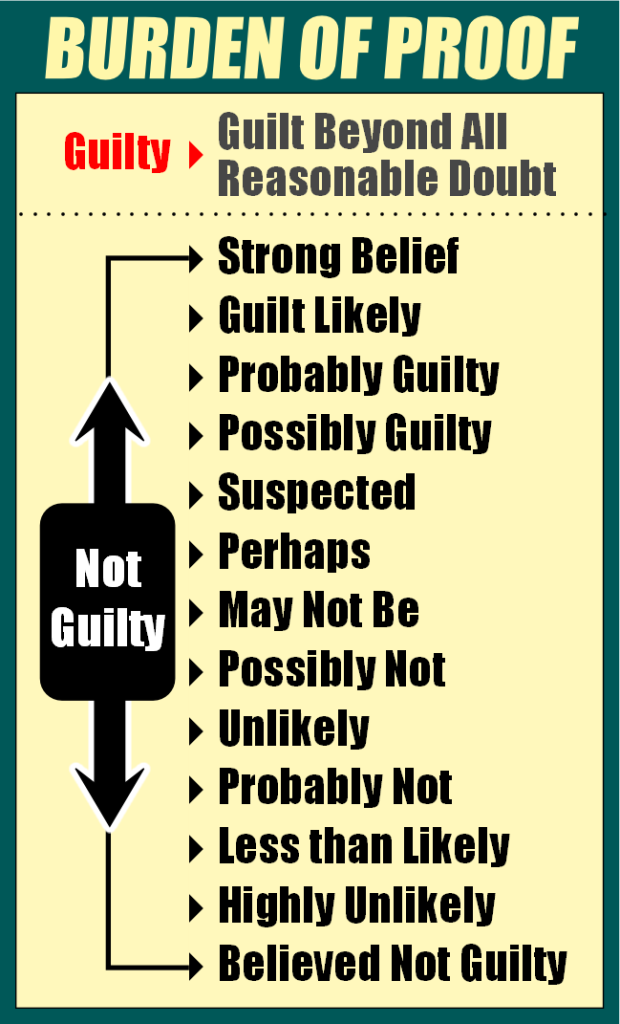 Fair enough, some jurors may strongly believe it was pre-meditated…
Some may think it very likely…
Some may think Jodi is probably guilty or possibly guilty…
… while others will suspect that perhaps it was planned.
That's great… because they'll be the bunch of jurors that'll save Jodi's life… uphold the constitution… and ultimately deliver a positive verdict. And I, for one, cannot wait for the Taliban reaction when that happens.
So like I be saying for the past few months now… let's not stress too much over the verdict. Why? Because it's already been decided. It's just gonna be another couple of weeks before it's "officially" announced.
Remember folks…
Victory is in sight.
Just like the title of today's post says…
WE ARE TEAM JODI – AND WE WILL BE VICTORIOUS.
Never question it.
Never doubt it.
You can mark my words on that.
Have a great weekend!
SJ
Team Jodi
If you would like to help Jodi directly by way of a financial donation via check or PayPal, click here (or click the Team Jodi link below) for further details.