.
Here's a brief overview of yesterday's events. The full trial day video can be viewed by clicking here.
First up – Grace Wong seemed thrilled to be thrust into the trial, but really served no real purpose aside backing up what Jinkasaurus had said a few weeks ago. She came, she saw, she chirped – and she left smiling.
Bryan Neumeister (the audio/video guy) was next up, and he ultimately produced an enlargement of the infamous "TA eye" picture, to verify that Jodi was taking that particular photograph. For a moment there, I thought he was preparing to unveil a picture with a bunch of people stood behind Jodi wearing foil hats, waving light sabers & sporting strange looking undergarments. Thankfully he didn't.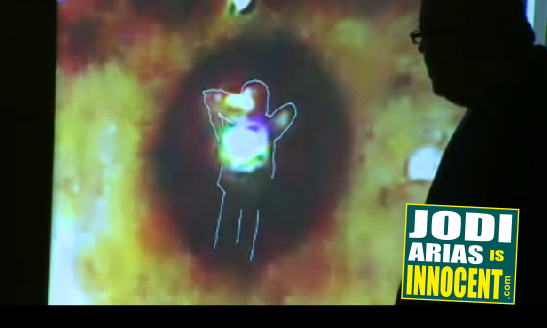 Martinez attempted (and failed once again) to knock the credentials of the expert in his cross — even though Bryan also works for Martinez' own office — and he finished off by saying all he could see was a Mexican chihuahua and a solar eclipse, then compared it all to a cancer test. Go figure.
As Kirk Nurmi said about Martinez' "bluster" and the evidence submission – "He's afraid of the bite in the dog."
The motion for mistrial also included direct reference (& audio playback) to Martinez' verbal harassment & intimidation of Dr Richard Samuels, where he basically tried to bully & coerce him into not using any reference articles, pictures or slides during his testimony. He apparently pulled the same stunt with Alyce LaViolette in chambers last week.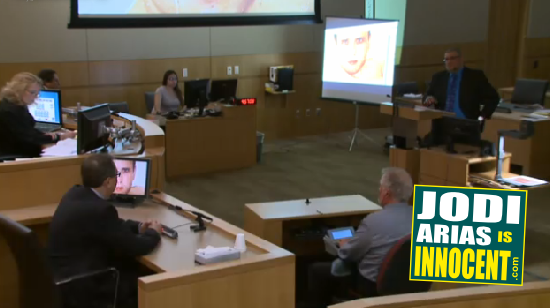 The eventful morning session finished off with the prosecutorial misconduct segment, and Martinez complaining over Jodi tweeting about his respective lack of height…. and his claim that the defense were "showboating" in an attempt to "add pennies" to their bill. He forgets that in addition to the defense working on a very limited budget, the State has unlimited funds & resources at their disposal and yet they are still NO NEARER to proving their bullshit M1-burglary case against Jodi. Maybe he forget that strange but true fact.
Kirk Nurmi summed it all up nicely by advising Judge Pickles that this wasn't "2nd Grade" or "a find the shell game", in fact it was "a court of law"… and that the defense has no intention of stooping to the very low levels the prosecutor was intent on continually stooping to.
Needless to say, the 84th request for a mistrial was promptly denied – but it's still on record of course.
The 3 minute Afternoon Session:
After the lunch break, the jurors were advised that as per the TA eye picture on the big screen, both parties had agreed that Jodi was not holding a knife or gun in her hand when the photograph was taken on June 4th 2008. After just arriving, the jury were then promptly sent home for the day.
So ladies, gentlemen – and everyone else that's here… I give you Juan Martinez… self-appointed Enema Of The State. Right? Yes or no?
Laterz…
SJ
Team Jodi