.
Check out the letter below, written by Travis Alexander and sent to Jodi.
A transcription of the text has also been included:
. . . . . . . . . . . . . . . . . . . . . . . . . . . . . . . . . . . . . . . . . . . .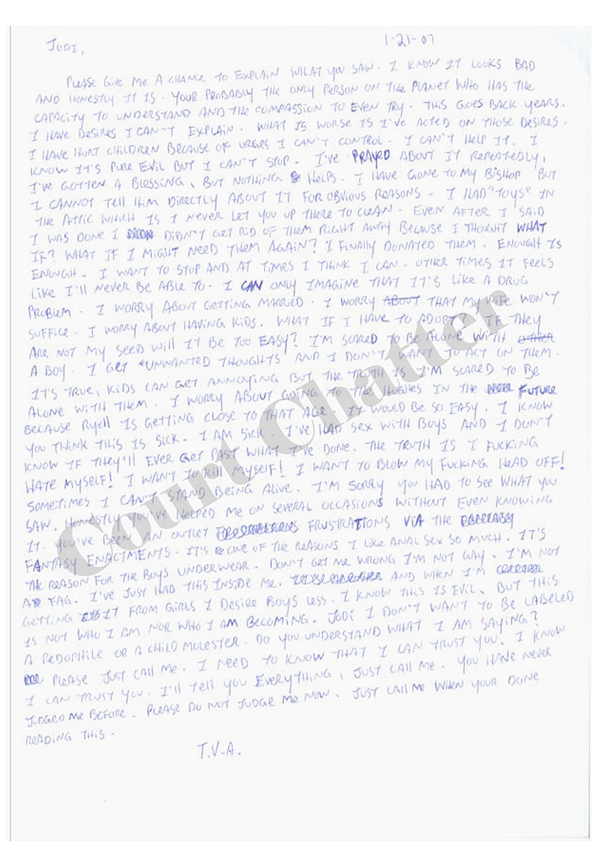 Letter Transcript:
"1-21-07
Jodi,
Please give me a chance to explain what you saw. I know it looks bad and honestly it is. Your probably the only person on the planet who has the capacity to understand and the compassion to even try.  This goes back years.  I have desires I can't explain. What is worse is I've acted on those desires.
I have hurt children because of urges I can't control.  I can't help it. I know it's pure evil but I can't stop. I've prayed about it repeatedly, I've gotten a blessing, but nothing helps. I have gone to my bishop but I cannot tell him directly about it for obvious reasons. I had "toys" in the attic which is I never let you up there to clean.
Even after I said I was done I didn't get rid of them right away because I thought what if? What if I might need them again? I finally donated them. Enough is enough. I want to stop and at times I think I can. Other times it feels like I'll never be able to. I can only imagine that it's like a drug problem.
I worry about getting married. I worry that my wife won't suffice. I worry about having kids. What if I have to adopt? If they are not my seed will it be too easy? I'm scared to be alone with a boy.  I get unwanted thoughts and I don't want to act on them. It's true, kids can get annoying but the truth is I'm scared to be alone with them.
I worry about going to the Hughes in the future because Ryell is getting close to that age. It would be so easy.
I know you think this is sick. I am sick. I've had sex with boys and I don't know if they'll ever get past what I've done. The truth is I fucking hate myself! I want to kill myself! I want to blow my fucking head off! Sometimes I can't stand being alive. I'm sorry you had to see what you saw.
Honestly you've helped me on several occasions without even knowing it. You've been an outlet frustrations via the fantasy enactments. It's one of the reasons I like anal sex so much. It's the reason for the boys underwear. Don't get me wrong I'm not gay. I'm not a fag. I've just had this inside me. And when I'm getting it from girls I desire boys less. I know this is evil. But this is not who I am nor who I am becoming.
Jodi I don't want to be labeled a pedophile or a child molester. Do you understand what I am saying? Please just call me. I need to know that I can trust you. I know I can trust you. I'll tell you everything. Just call me. You have never judged me before. Please do not judge me now. Just call me when your done reading this.
T.V.A."
. . . . . . . . . . . . . . . . . . . . . . . . . . . . . . . . . . . . . . . . . . . .
Remember…
WE ARE TEAM JODI – AND WE WILL BE VICTORIOUS in our quest for JUSTICE FOR JODI.
Never question it.
Never doubt it.
Prepare for it.
Leave your thoughts & comments below…
SJ
Team Jodi #WINNING <<<

Click the banner below to read Jade's post – "Justice Denied: Why The Jurors Got It Wrong & How The Facts Decimate The State's Case Against Jodi Arias.":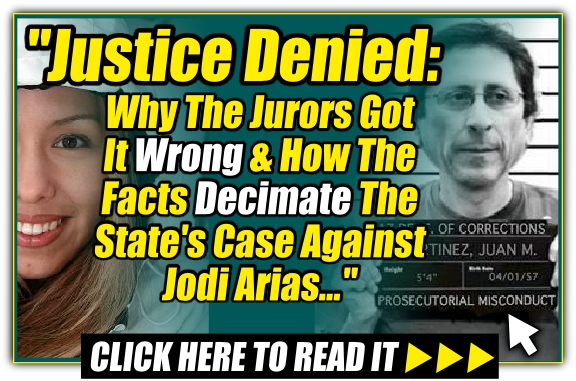 Click the links below to read Jade's previous posts in the series:
Stephens, Sandbagging & The Six Month Crap-Fest
Corruption, State-Sponsored Murder & Twelve Angry Men
The Immaculate Deception: Exposed
Michael Melendez – Perjury Exposed
The Presumption of Innocence
The Great Mormon Porn Swindle
If you would like to help Jodi by way of a financial donation to the JAA APPELLATE FUND, click the Team Jodi link below for further details. All donations via Justice4Jodi.com go directly to the fund for assisting with the legal fees associated with appealing Jodi's wrongful conviction. Justice4Jodi.com is the ONLY website authorized to collect donations.
In addition, please DO NOT, under any circumstances, donate through any other website or Facebook page/group claiming to be "official" and/or acting with Jodi's approval or authorization. The same applies to any "Jodi Membership Clubs", groups or fake Trust funds that have been set up. These sites are bogus – they continue to steal money from Jodi – and they should be actively avoided. If you are aware of any such sites, please help Jodi by clicking here and reporting them. Thank you for your ongoing support!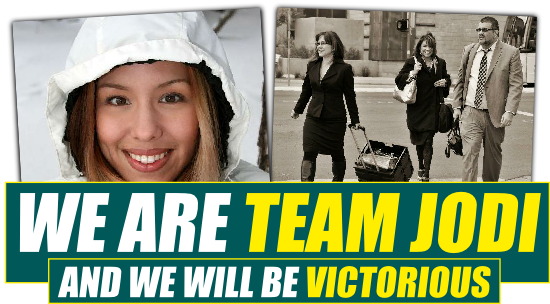 .