.
Today we start a 5-part series of posts, featuring 25 of the top unanswered questions relating to Jodi's trial.
. . . . . . . . . . . . . . . . . . . . . . . .
"The (Still) Unanswered Questions: Part 1 of 5" – by Justus

If I had been Jodi's defense attorney, what follows are five of the 25 questions I would have put before the jury during closing arguments to counter the State's bizarre theories. (Or if I had been on the jury, I would have presented these to my fellow jurors.)
Question #1: Why stage a gun theft as a burglary (as the State contends) such that the police is immediately called in and a record is created? Why not just secretly "borrow" the gun and never return it? It might not be discovered missing for months and it probably wouldn't be known exactly when it went missing… but instead she supposedly went out of her way to create a police record?
Question #2: If she was going to steal a gun to commit a murder, why didn't she "stage a burglary" at her parents' house where her father kept numerous guns, including a 9mm, a gun with a silencer and one that was even unregistered?
Question #3: Why, in her master plan to murder someone, would she supposedly change out the bullet type for one less powerful?
Question #4: Why visit friends in the rental car if its supposed purpose was to travel in a car not connected with her?
Question #5: Why borrow gas cans from someone who will mention them to someone should he ever be questioned? Why not buy gas cans with cash in no-man's land or in some large store where she'd be just one of many customers?
. . . . . . . . . . . . . . . . . . . . . . . .
UPDATE: The JAA Appellate Fund total currently stands at $116,061.67 — so let's be sure to keep the momentum rolling throughout 2018, so the fund total can push on towards the ultimate target of $250,000. That in turn will help towards covering all the legal fees associated with appealing Jodi's wrongful conviction.
All donations via Justice4Jodi.com go directly to the fund. It is also the ONLY website authorized to collect donations.
In addition, please DO NOT, under any circumstances, donate through any other website or Facebook page/group claiming to be "official" and/or acting with Jodi's approval or authorization. The same applies to any "Jodi Membership Clubs", groups or fake Trust funds that have been set up. These sites are bogus – they continue to steal money from Jodi's future – and they should be actively avoided. If you are aware of any such sites, please help Jodi by clicking here and reporting them.
And remember… each day that passes takes us one day closer to Jodi's release date…

 . . . . . . . . . . . . . . . . . . . . . . . . . . . . . . . . . . . . . . . . . . . .
Make no mistake.
Believe it.
Prepare for it.
Be part of it.
Leave your answers to today's questions below.
SJ
Team Jodi #WINNING <<<

Click the banner below to read Jade's post – "Justice Denied: Why The Jurors Got It Wrong & How The Facts Decimate The State's Case Against Jodi Arias.":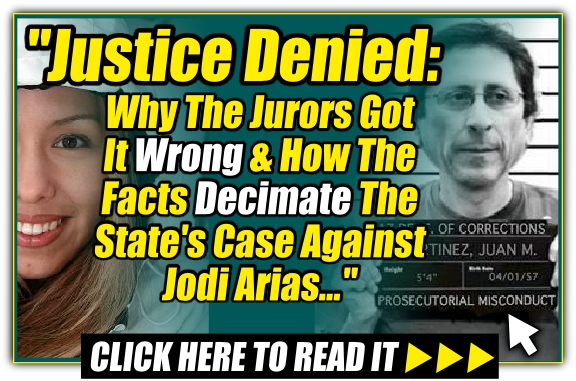 Click the links below to read Jade's previous posts in the series:
Stephens, Sandbagging & The Six Month Crap-Fest
Corruption, State-Sponsored Murder & Twelve Angry Men
The Immaculate Deception: Exposed
Michael Melendez – Perjury Exposed
The Presumption of Innocence
The Great Mormon Porn Swindle