.
Following on from the "no live re-trial coverage" ruling earlier this week, AZ Central published a 'cartoon' (see below). It prompted Kirk Nurmi to file a motion to have the re-trial relocated and the jurors sequestered. Even Kermit agreed the 'cartoon' was "offensive" but argued against the motion – which Pickles duly denied.
Check out a section of the post below from Lise LaSalle (AllThingsCrimeBlog.com).
CLICK HERE TO READ LISE LASALLE'S BLOG POST IN FULL
. . . . . . . . . . . . . . . . . . . . . . . . . . . . . . . . . . . . . . . . . . . . . . . .
In this Battle of Cutthroats, Who has lost their head? The Media or ISIS? (by Lise LaSalle)
September 23, 2014, Steve Benson from The Arizona Republic published a 'cartoon' titled Middle East Has ISIS, Arizona Has Arias with the caption Media Manipulators. (continued below…)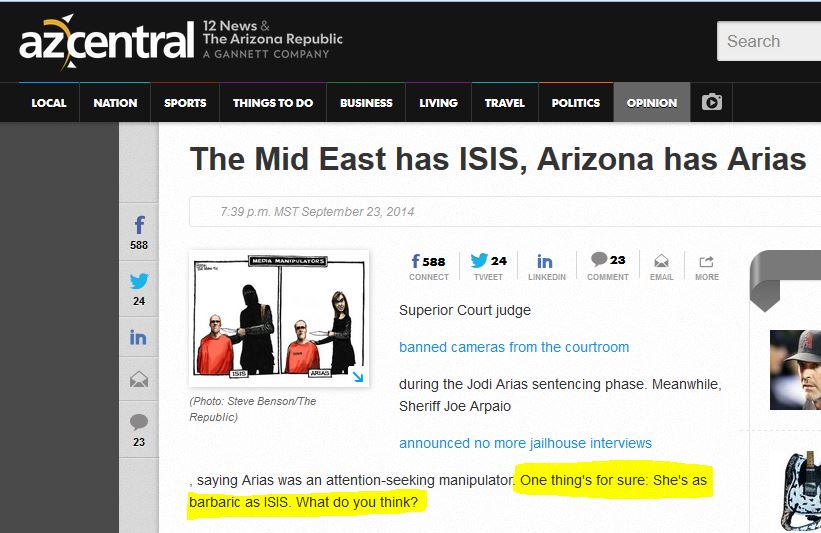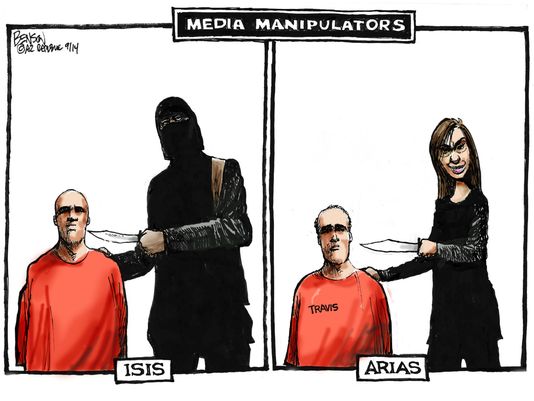 My first reaction was to say 'Are you shitting me?' After mulling it over for a while, I had to admit to myself that the Arizona Republic has been somehow moderate so far about the Arias case compared to some of their counterparts, and that there was indeed some truth to the fact that Arizona was considering this Latina girl from Yreka, California like the worst thing to ever set foot in their territory. Calamity Jodi was born in an Arizona courtroom and if they had their way, they would have put her to death because of the great menace created and promoted by the media. Hell, they tried once and when it failed, they cried foul and are giving the sentencing phase a do over.
So OK the State of Arizona considers Jodi Arias aka Candy Crush because of her super addictive nature, like a crisis deserving of more media attention than ISIS. They have proven it so far with their incessant and loud media coverage. She is such a threat to national security that they spent millions of dollars to make sure she would be treated like the worst terrorist on the planet. Nothing is more dangerous than this woman. Right? After all, she has killed her abusive boyfriend by 'cutting his throat' so that would qualify her as a member of the Islamic State.
Are you shitting me? So terrorists who are trained to hate and who have used the media to terrorize the world by cutting the throats of reporters are comparable to a young woman who ended up in a battle to the death with her boyfriend? And this woman has manipulated the media like ISIS?……………
CLICK HERE TO READ LISE LASALLE'S BLOG POST IN FULL
. . . . . . . . . . . . . . . . . . . . . . . . . . . . . . . . . . . . . . . . . . . . . . . .
Remember…
WE ARE TEAM JODI – AND WE WILL BE VICTORIOUS in our quest for JUSTICE FOR JODI.
Never question it.
Never doubt it.
Leave your thoughts & comments below…
SJ
Team Jodi
If you would like to help Jodi by way of a financial donation to the official JAA APPELLATE FUND, click the Team Jodi link below for further details. All donations via Justice4Jodi.com go directly to the fund for assisting with the legal fees associated with appealing Jodi's wrongful conviction. Justice4Jodi.com is the ONLY website authorized to collect donations.
In addition, please DO NOT, under any circumstances, donate through any other website or Facebook page/group claiming to be "official" and/or acting with Jodi's approval or authorization. The same applies to any "Jodi Membership Clubs", groups or fake Trust funds that have been set up. These sites are bogus – as are their intentions – and they should be actively avoided. If you are aware of any such sites, please help Jodi by clicking here and reporting them. Thank you for your ongoing support!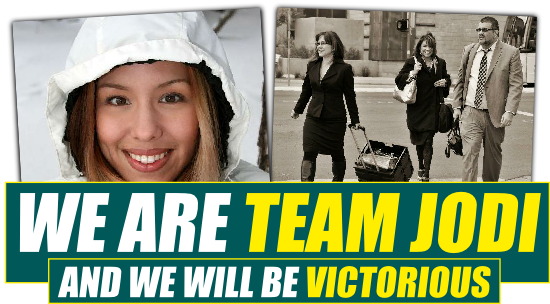 .