.
Morning peeps!
As positive momentum starts to build once again over the injustice in the Jodi Arias trial, check out a few excerpts below from the excellent "All Things Crime" blog – then click here to read the post in full. It's well worth reading.
. . . . . . . . . . . . . . . . . . . . . . . . . . . . . . . . . . . . . . . . . . . . . . .
The Infamous Trial of Candy Crush, by Lise LaSalle:
Strange that at times with our Criminal Justice system, we wonder on what side the real unrepentant criminal is.
On December 10, 2012, the circus/trial of Jodi Arias started in Maricopa County Superior Court.
I refer to Arias as Candy Crush because throughout her trial, a string of Mormon/PPL (Prepaid Legal now Legal Shield) men referred to her in the media as 'having a stripper vibe'. And a stripper needs a good stage name before the show/trial can go on.
It was easy to come up with a name; she had become an addiction for the nation not unlike the Candy Crush game and candies like Tootsie Pops and Pop Rocks were an inherent part of the cheap mystique floating around her sex games.
As an attractive lady who was considered eye candy most of her life and used as such by Travis Alexander, the name could not have suited her any better. And let's face it, not many people cared enough to find out who she truly was anyway. So Candy Crush was born and the game began!
Having worked in courtrooms for years as an Interpreter, I had to listen carefully to what was said in these sacred rooms and learn to be an instrument of communication without taking sides. I had to interpret the words of a defendant without trying to make him/her look better or worse. This is how I approached Arias' trial.
From the very beginning of the trial, with Judge Sherry K. Stephens at the helm, prosecutor Martinez showed he was going to play hard ball. During jury selection, he was trying to ''systematically exclude'' women and African-Americans. Knowing how some Arizona residents despise Mexicans, the fact that Arias was of Mexican descent probably convinced him to also eschew Mexican jurors.
And then entered Juan Martinez; the prosecutor who was accused of prosecutorial misconduct countless times and who was known to play fast and loose with the truth. When he walked into the courtroom, it felt like Apocalypse Now and Juan 'loved the smell of death penalty in the morning.' He came across as a sadist who did not give a damn about the truth.

I had never witnessed such a legal fiasco while working as a court Interpreter and the trials I had watched on TV, always had order in the court with a judge running a tight ship.
As a juror, I would have been flabbergasted by some of the whoppers I heard. Detective Flores, who had conducted the original interview with Arias and sat at the table like a dummy throughout the trial, had said countless times that Travis had been shot first and stabbed afterwards. But, as it did not fit Martinez's strategy to introduce the cruelty factor in order to qualify for the death penalty, he did a switcheroo. Now Travis had been shot last by Jodi in a final sadistic 'Sayonara'.

The problem is that medical examiner Dr. Kevin Horn had told Flores that Travis was shot first and it was written in his report that Travis's brain's Dura matter had not been perforated, meaning that the bullet had stayed in the sinus cavity. Which meant he was conscious and wrestling with Jodi.

Conveniently, the Judge, the prosecutor and the medical examiner changed the order of the crime so it would fit their scenario. When asked by the defense attorney about his report, Dr. Horn said it was a typo. I could not believe my ears.
In my opinion, the best defense witness was psychologist Dr. Robert Geffner. His experience and testimony were unsurpassed and he explained the defense argument with brilliance. The weakest prosecution witness was psychologist Dr. Janeen DeMarte who had no experience whatsoever in domestic violence and was too green for the type of assessment asked of her. But by all accounts, the jury went with her version and totally resisted anything the experienced experts had to say. It showed the prejudice that prevailed in this case…….
.Click here to read the post in full.
. . . . . . . . . . . . . . . . . . . . . . . . . . . . . . . . . . . . . . . . . . . . . . .
Leave your thoughts & comments below…
And remember: WE ARE TEAM JODI – AND WE WILL BE VICTORIOUS in our quest for JUSTICE FOR JODI!
Make no mistake.
SJ
Team Jodi
If you would like to help Jodi by way of a financial donation to the official JAA APPELLATE FUND, click the Team Jodi link below for further details. All donations go directly to the fund for assisting with the legal fees associated with appealing Jodi's wrongful conviction. Thank you for your support!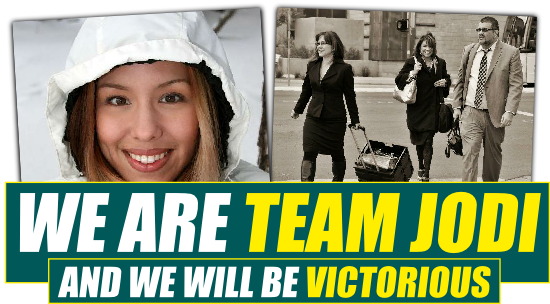 .