.
Following on from Friday's events, check out the latest post below from Jade. It says it all…
. . . . . . . . . . . . . . . . . . . . . . . . . . . . . . . . . . . . . . . . . . . .
The Great Mormon Porn Swindle (by Jade)
"Hell-o-o-o …brain calling Stephens…anybody home?
You want to know if the defense has shifted to the porn being the issue? NO! That's only a thousand cherries on top of the cake and directly material to everything Alyce, Dr. Geffner and Dr. Samuels told the 12 morons that confirmed 18 days of Jodi Arias' battering testimony,
The issue is that the defense was blindsided every way under the sun and had to mount a defense against false evidence, willful perjured collusion and a repugnant low life prosecutor who suborned and orchestrated all of it..
While simultaneously putting Alexander on a gleaming lily white pedestal of virtue that anyone who dared to challenge, was mocked and personally assassinated as a defense hired LIAR.
From the time the crime scene tape went up at Alexander's house, that computer hard drive was fucked with, tampered with and fixed to show what they hoped a naive defense would never discover.
1. Flores has now admitted to waking up the computer…..files were immediately overwritten. Already it's altered.
2. Melendez jacked more files a SECOND time, by pulling the plug causing a "power loss" shutdown.
3. Neumeister gets a "copy" that should have been gospel true as original and typically expected from every honest police department. But instead he has to employ sophisticated technology to reconstruct files that were hidden and INTENTIONALLY ATTEMPTED TO BE DELETED. And is deluged with every kind of porn–teen, tween-ta ta's, anal, and some of which was too vile to even speak about.
4. Melendez with the innocent face of a preacher and as the police EXPERT in video and audio analysis testifies ZERO porn. Zero viruses. Even though the first thing he sees when he powers up the drive is a product ID number and a VIRUS ALERT!
5. Then the image that is turned over is found to be a clone of the hard drive from a YEAR LATER. Not the original that was kept in the vault and being hidden from disclosure. Nobody got that mirror image.
6. Bat Guano sensing the walls closing in and with his testicles in the bear trap, admits in a motion (probably not realizing it or intending to) that there WAS porno on the hard drive.
7. Then his own expert Smith who he was hoping would stop the bleeding, instead does a Judas and added to the plot crumbling. He confirmed there was lots of porn on the original. Apparently he didn't WANT to bound over to a grand jury for perjury!
8. Now we're down to the dwarf master conspirator begging to be let off the hook because Lonnie Dworkin–the first defense expert to be duped–may (or may not) have told him in an "interview" that he found no pornography.
Well NO, he wouldn't have! Since the one with the pornography has always been THE ORIGINAL and that is not the mirror copy ANYBODY received until just a few days ago.
If you don't call a mistrial Stephens somebody needs to take your black robe and send it to Goodwill because you don't know what the hell you're wearing it for."
. . . . . . . . . . . . . . . . . . . . . . . . . . . . . . . . . . . . . . . . . . . .
Click here to read Jade's latest post: Michael Melendez – Perjury Exposed
. . . . . . . . . . . . . . . . . . . . . . . . . . . . . . . . . . . . . . . . . . . .
Remember…
WE ARE TEAM JODI – AND WE WILL BE VICTORIOUS in our quest for JUSTICE FOR JODI.
Never question it.
Never doubt it.
Leave your thoughts & comments below…
SJ
Team Jodi #WINNING <<<

Click the banner below to read Jade's post – "Justice Denied: Why The Jurors Got It Wrong & How The Facts Decimate The State's Case Against Jodi Arias.":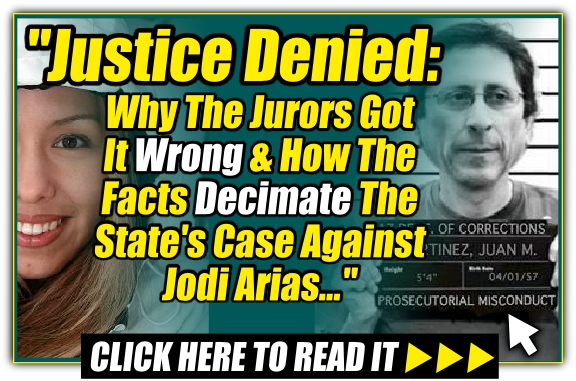 If you would like to help Jodi by way of a financial donation to the JAA APPELLATE FUND, click the Team Jodi link below for further details. All donations via Justice4Jodi.com go directly to the fund for assisting with the legal fees associated with appealing Jodi's wrongful conviction. Justice4Jodi.com is the ONLY website authorized to collect donations.
In addition, please DO NOT, under any circumstances, donate through any other website or Facebook page/group claiming to be "official" and/or acting with Jodi's approval or authorization. The same applies to any "Jodi Membership Clubs", groups or fake Trust funds that have been set up. These sites are bogus – as are their intentions – and they should be actively avoided. If you are aware of any such sites, please help Jodi by clicking here and reporting them. Thank you for your ongoing support!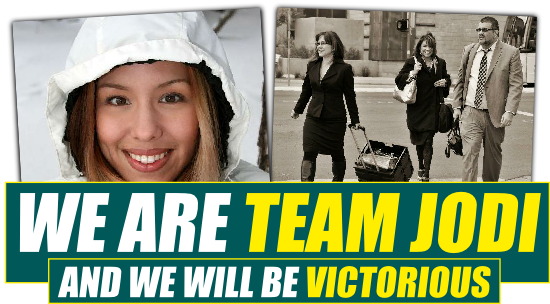 .