.
>>> 11/10: Defense Files to Dismiss all Charges Based on State Evidence Tampering <<<
Prior to the circus returning to town this Wednesday — I thought this would be as good a time as any to revisit The Flores Police Report from August 2008. After all the BS we've heard over the past few years, this report certainly makes interesting reading.
It includes interviews with: Zach Billings, Amanda McBrien, Ashley Thompson, Enrique Cortez, Lisa Andrews (Diadone), Mimi Hall, Dallin Forrest, Michelle Lowery, Clancy Talbot, Ryan Burns & Chris/Sky Hughes… plus some interesting initial observations from Flores in relation to the camera and Dr Kevin Horn's autopsy report.
. . . . . . . . . . . . . . . . . . . . . . . . . . . . . . . . . . . . . . . . . . . .
My own observations include the following:
The week before last, Flores (asked by Nurmi) stated he had no specific knowledge of the shell casing found on the bathroom floor. In his 2008 report, he states the casing was a Winchester .25 caliber.
His report also mentioned a very long hair fiber found near the shower baseboard. Strange that he noticed a long hair but never noticed the boot print. Neither have been tied to anyone specific as far as I recall.
He also mentioned a latent fingerprint "in blood" on the bathroom hallway wall (?)
In his 6/18 interview, Enrique Cortez, he stated he'd seen TA on a conference phone call on the evening of June 4th between 6pm-6.30pm.
The Camera: Flores talks about the memory card found in the camera. Heather Conner (during her trial testimony) stated the camera & memory card had been found separately in the washing machine.
. . . . . . . . . . . . . . . . . . . . . . . . . . . . . . . . . . . . . . . . . . . .
Go through the report yourself and see how many anomalies you can spot.
Remember…
WE ARE TEAM JODI – AND WE WILL BE VICTORIOUS in our quest for JUSTICE FOR JODI.
Never question it.
Never doubt it.
Leave your thoughts & comments below…
SJ
Team Jodi
If you would like to help Jodi by way of a financial donation to the official JAA APPELLATE FUND, click the Team Jodi link below for further details. All donations via Justice4Jodi.com go directly to the fund for assisting with the legal fees associated with appealing Jodi's wrongful conviction. Justice4Jodi.com is the ONLY website authorized to collect donations.
In addition, please DO NOT, under any circumstances, donate through any other website or Facebook page/group claiming to be "official" and/or acting with Jodi's approval or authorization. The same applies to any "Jodi Membership Clubs", groups or fake Trust funds that have been set up. These sites are bogus – as are their intentions – and they should be actively avoided. If you are aware of any such sites, please help Jodi by clicking here and reporting them. Thank you for your ongoing support!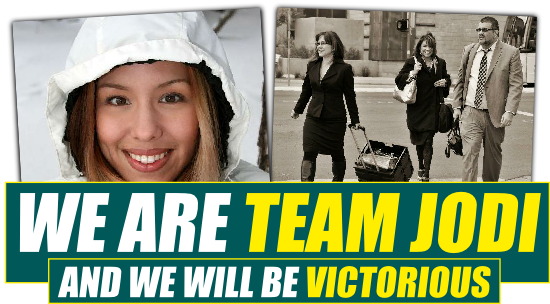 .