.
Here's the 2nd in a series of guest posts from Sunlight:
. . . . . . . . . . . . . . . . . . . . . . . . . . . . . . . . . . . . . . . . . . . .
"TANISHA IN WONDERLAND"
Jodi Arias has a new stalker: She's none other than Tanisha Sorenson. Those attending trial have witnessed that Tanisha's behavior has become obsessive. She constantly stares at Jodi during breaks, and even after court is in recess and after Tanisha's small entourage of attendant groupies have had the good sense to leave, Tanisha loiters, unable to peel her eyes off of Jodi and emits a vibe creepy enough to make Morticia Addams look like Pollyanna. (And people thought Jodi lingered where she wasn't welcome?)
Rumor is that Tanisha didn't like Jodi hanging about, exercising her constitutional right to consult with her attorneys and aid in her own defense. So she complained to the advocate assigned to pacify the Alexanders, who then turned around and complained to an MCSO officer on Tanisha's behalf: Tanisha wanted Jodi gone from the courtroom the very second proceedings adjourned.
Jodi's attorneys went straight to the judge, who put a stop to that immediately. MCSO concurred, not wanting to be responsible for a reversal in the court of appeals for interfering with Jodi's right to have access to her attorneys. Maybe that's how the Riverside County Sheriff's Office handled Tanisha all of the times she was in jail, but MCSO is a little too smart for that.
Periodic reality checks such as these are necessary to remind Tanisha that she is not the Queen of Hearts, Jodi isn't Alice, and this ain't Wonderland. It is a court of law, and Jodi is protected by the U.S. Constitution — not subject to Tanisha's capricious whims.
. . . . . . . . . . . . . . . . . . . . . . . . . . . . . . . . . . . . . . . . . . . .
The AZ State Circus returns to town January 5th 2015 @ 9-30 am MST.
Remember…
WE ARE TEAM JODI – AND WE WILL BE VICTORIOUS in our quest for JUSTICE FOR JODI.
Never question it.
Never doubt it.
Leave your thoughts & comments below…
SJ
Team Jodi #WINNING <<<

Click the banner below to read Jade's post – "Justice Denied: Why The Jurors Got It Wrong & How The Facts Decimate The State's Case Against Jodi Arias.":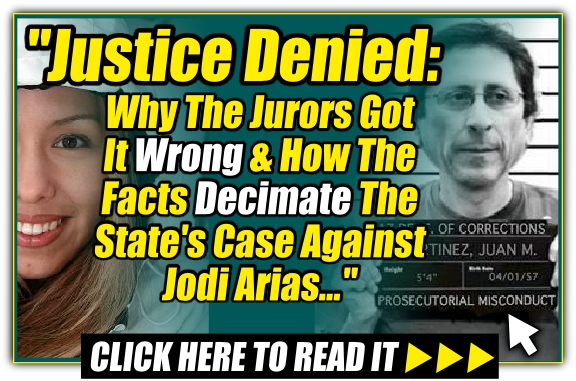 If you would like to help Jodi by way of a financial donation to the JAA APPELLATE FUND, click the Team Jodi link below for further details. All donations via Justice4Jodi.com go directly to the fund for assisting with the legal fees associated with appealing Jodi's wrongful conviction. Justice4Jodi.com is the ONLY website authorized to collect donations.
In addition, please DO NOT, under any circumstances, donate through any other website or Facebook page/group claiming to be "official" and/or acting with Jodi's approval or authorization. The same applies to any "Jodi Membership Clubs", groups or fake Trust funds that have been set up. These sites are bogus – as are their intentions – and they should be actively avoided. If you are aware of any such sites, please help Jodi by clicking here and reporting them. Thank you for your ongoing support!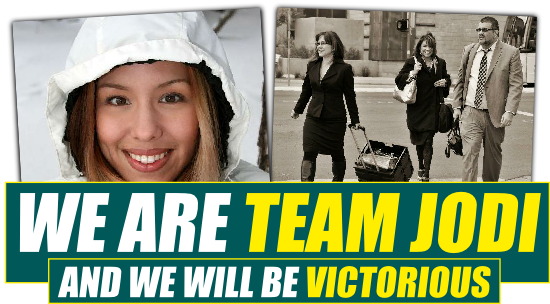 .