.
Check out the email exchange below between Sky Hughes and a (currently) unknown entity, from June 2010.
I think we've all heard about the 3 wise monkeys… but in the case of Chris, Sky & TA we have something akin to 3 pieces of shit… or 4 if you include the pedo-hugging lying bastard bishop.
This is Sky's response having read TA's pedo letter from January 2007.
* Click here (or click the pic below) to open the image in a new window *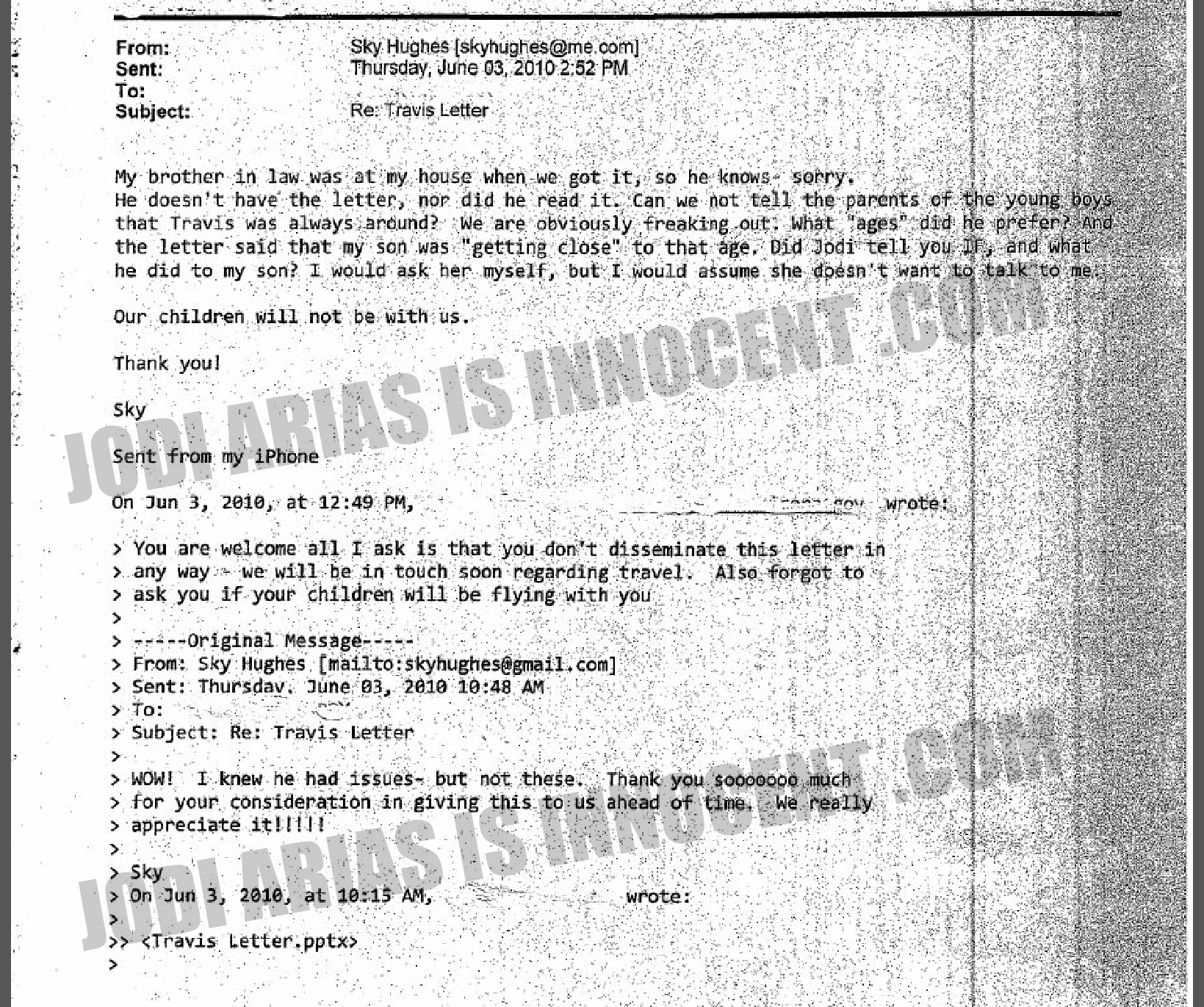 Transcription of the 3 messages as follows:
From: Sky Hughes [skyhughes@me.com]
Sent: Thursday, June 03, 2010 2:52PM
To: _________________
Subject: Re: Travis Letter

My brother in law was at my house when we got it, so he knows – sorry.

He doesn't have the letter, nor did he read it. Can we not tell the parents of the young boys that Travis was always around? We are obviously freaking out. What "ages" did he prefer? And the letter said that my son was "getting close" to that age. Did Jodi tell you IF, and what he did to my son? I would ask her myself, but I would assume she doesn't want to talk to me.

Our children will not be with us.

Thank you!
Sky
.
Sent from my iphone
On June 03, 2010, at 12:49 PM _________________________.gov wrote:

You are welcome all I ask is that you don't disseminate this letter in any way – we will be in touch soon regarding travel. Also forgot to ask you if your children will be flying with you
.
From: Sky Hughes [mailto: skyhughes@gmail.com]
Sent: Thursday, June 03, 2010 10:48AM

To:
Subject: Re: Travis Letter

WOW! I knew he had issues – but not these. Thank you soooooo much for your consideration in giving this to us ahead of time. We really appreciate it!!!!!

Sky
. . . . . . . . . . . . . . . . . . . . . . . . . . . . . . . . . . . . . . . . . . . .
Remember…
The JAA Appellate Fund $25,000 Matching-gift Campaign is now underway: A donor who wishes to remain anonymous has pledged to match, dollar for dollar, any new donations received before August 1, 2015, up to a total of $25,000. Please give generously – and soon – to allow the JAA Appellate fund to take full advantage of this gift.
All donations via Justice4Jodi.com go directly to the fund for assisting with the legal fees associated with appealing Jodi's wrongful conviction. Justice4Jodi.com is the ONLY website authorized to collect donations.
In addition, please DO NOT, under any circumstances, donate through any other website or Facebook page/group claiming to be "official" and/or acting with Jodi's approval or authorization. The same applies to any "Jodi Membership Clubs", groups or fake Trust funds that have been set up. These sites are bogus – they continue to steal money from Jodi – and they should be actively avoided. Thank you for your ongoing support!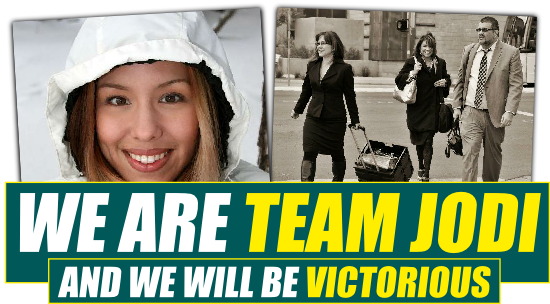 . . . . . . . . . . . . . . . . . . . . . . . . . . . . . . . . . . . . . . . . . . . .
If you'd like to send Jodi a letter or postcard, click here for the current address details & guidelines.
To access every court document & motion relating to this trial, click here or click the Court Docs link from the main menu at the top of the page.
In the meantime…
WE ARE TEAM JODI – AND WE WILL BE VICTORIOUS in our quest for JUSTICE FOR JODI.
Never question it.
Never doubt it.
Prepare for it.
Leave your thoughts & comments below…
SJ
Team Jodi #WINNING <<<

Click the banner below to read Jade's post – "Justice Denied: Why The Jurors Got It Wrong & How The Facts Decimate The State's Case Against Jodi Arias.":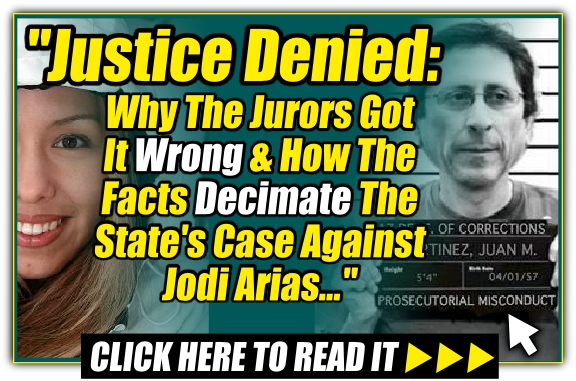 Click the links below to read Jade's previous posts in the series:
The Photos Tell The Story (by Jade)
Stephens, Sandbagging & The Six Month Crap-Fest
Corruption, State-Sponsored Murder & Twelve Angry Men
The Immaculate Deception: Exposed
Michael Melendez – Perjury Exposed
The Presumption of Innocence
The Great Mormon Porn Swindle