.
As far as I know, the Quran promises Islamic martyrs "72 virgins" after they die. These virgins (to all intents and purposes) are grown women.
Now, Mormons do it a little differently.
They seem to want to have sex with as many children as possible while they're still alive. They see sex with children as some kind of "lifestyle choice" — similar to being Vegan — on their ultimate journey back to the promised land of "Planet Pedo."
Right now, they're preparing for the Mormon Apocalypse. Good luck with that. Keep me posted

Mormons are a really fucked up bunch if the truth be known.
Think about Chris Hughes' activities at Soldier Hollow Charter School… think about fat bastard "rock star" Dave Hall with his various Boy Scout-themed endeavors… even though both of them were relieved of their respective "duties" some time back now. Should we be surprised at that? Maybe not. Mormon pedo's apparently go "where the action is" in order to satisfy their perverted cravings. Chris Hughes & Dave Hall are no exceptions.
Strange thing is, nobody on the dark side ever sees anything particular wrong with adults having sex with children. I guess that speaks volumes.
In response to TA's well documents child porn urges, some of the clueless masses prefer to state that TA was "just an average guy."
No he wasn't.
Average guys are not sexually attracted to children. In reality, TA was far from average. In the cold light of day he was a low-life abusive piece of shit mother-fucker (in the literal sense), that got what was coming to him in no uncertain terms. Anyone stating otherwise should be tied to a tree and forced to listen to Justin Bieber for the next 50 years.
Leave your comments below and let me know how right I am.
Moving on…
Today @ 3pm CT is the planned execution time for Richard Glossip, which you may have read about recently in the media. And despite the late interjection of some heavyweight support — including Richard Branson, Sister Helen Prejean and a full Dr Phil episode covering Richard's plight — it hasn't (as yet) made any difference. Clueless bitch & Oklahoma Governor Mary Fallin is still digging her heels in and refuses to budge on her BS decision to deny a 60-day stay. This is an innocent guy sentenced to death ffs.
Richard Glossip was convicted of murder for the 1977 death of motel owner Barry Van Treese, though Glossip wasn't the actual killer. The man who bludgeoned Van Treese to death, Justin Sneed, testified that Glossip hired him for the murder. But jurors weren't presented with evidence that Sneed gave contradictory accounts to police about what happened.
Click here for further info @ RichardeGlossip.com
Unfortunately, sentencing innocent people to death – even when they're innocent – seems to have become a national pastime in the US.
Let's just hope for a late miracle for Richard.
12-noon CT UPDATE: Oklahoma court calls off execution of Richard Glossip [click for more info]
. . . . . . . . . . . . . . . . . . . . . . . . . . . . . . . . . . . . . . . . . . . .
The recent JAA Appellate Fund Matching-gift Campaign raised $91,805.45 — thanks to a generous matching donor and all the supporters that donated to the fund. Let's now be sure to keep the momentum growing so the fund total can push through $100,000, and even closer towards raising sufficient funds to help cover the legal fees associated with appealing Jodi's wrongful conviction.
All donations via Justice4Jodi.com go directly to the fund. It is also the ONLY website authorized to collect donations.
In addition, please DO NOT, under any circumstances, donate through any other website or Facebook page/group claiming to be "official" and/or acting with Jodi's approval or authorization. The same applies to any "Jodi Membership Clubs", groups or fake Trust funds that have been set up. These sites are bogus – they continue to steal money from Jodi – and they should be actively avoided. If you are aware of any such sites, please help Jodi by clicking here and reporting them.
Remember…

. . . . . . . . . . . . . . . . . . . . . . . . . . . . . . . . . . . . . . . . . . . .
If you missed any of our previous posts, click on the links below:
"ALEXSCAMMERS, this one's for you… my compliments" – (by Jade)
"Monumental Incompetence" (a post by Jade)
Today's BS Hearing, 6/22
The Mysterious Stench of Decomp & BS
My Reply To Kirk Nurmi's BS
Survivor Day – June 4th – Celebrate The Day!
Sky Hughes – Email Exchange r.e. TA's Pedo Antics (June 2010)
Chris Hughes – Liar & Pedo-Hugger (trial testimony from 2013)
TA's Pedophile Letter Handwriting Comparison – (Part 2)
TA's Pedophile Letter to Jodi Arias – (Part 1)
Juror #17 – We Thank You
Jodi Arias Victorious Verdict Day: Video Coverage
The Jodi Arias Verdict: My Thoughts On "Pedo-Huggers United"
. . . . . . . . . . . . . . . . . . . . . . . . . . . . . . . . . . . . . . . . . . . .
If you'd like to send Jodi a letter or postcard, click here for the current address details & guidelines.
To access every court document & motion relating to this trial, click here or click the Court Docs link from the main menu at the top of the page.
In the meantime…
WE ARE TEAM JODI – AND WE WILL BE VICTORIOUS in our quest for JUSTICE FOR JODI.
Never question it.
Never doubt it.
Prepare for it.
Leave your thoughts & comments below…
SJ
Team Jodi #WINNING <<<

Click the banner below to read Jade's post – "Justice Denied: Why The Jurors Got It Wrong & How The Facts Decimate The State's Case Against Jodi Arias.":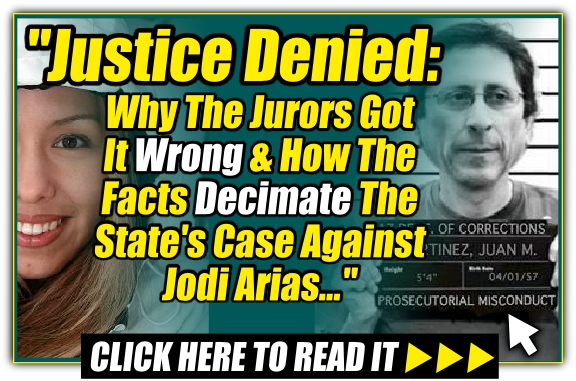 Click the links below to read Jade's previous posts in the series:
The Photos Tell The Story (by Jade)
Stephens, Sandbagging & The Six Month Crap-Fest
Corruption, State-Sponsored Murder & Twelve Angry Men
The Immaculate Deception: Exposed
Michael Melendez – Perjury Exposed
The Presumption of Innocence
The Great Mormon Porn Swindle