Following on from my earlier post – "State Bar investigator urges disciplinary action against Jodi Arias prosecutor Juan Martinez over sex allegation." >>>
---
From: Michael Kiefer / Arizona Republic:
Read the full story @ AZCentral.com
In August, as sexual harassment and other charges against Deputy Maricopa County Attorney Juan Martinez were being investigated by the State Bar of Arizona, The Arizona Republic submitted a request to the County Attorney's Office for any of the office's human resources reports about Martinez.
The request also asked for information about a former media personality with whom he was alleged in Bar complaints to have had an affair. That woman is now working at the County Attorney's Office.
The office did not acknowledge any investigation at the time and as yet has not complied with either request. The former media personality told a Republic reporter that what she did at the County Attorney's Office was none of his business, even though she works for a government agency.
Weeks after the public records request was made, the County Attorney's Office had 847 documents concerning the Martinez investigation submitted to the State Bar and requested that the material be filed under a protective order.
Presiding Disciplinary Judge William O'Neil, who oversees bar complaints, granted the request.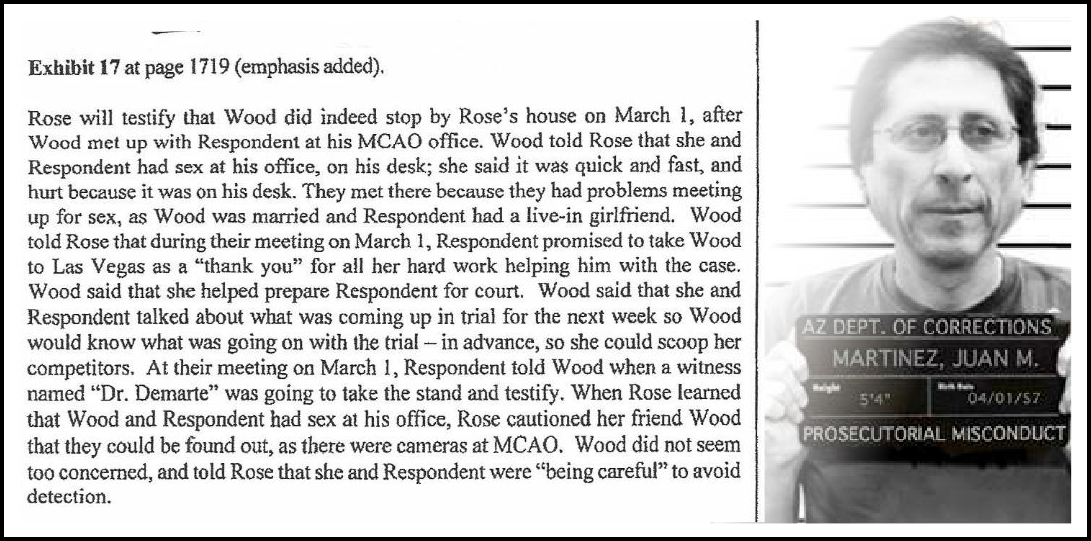 In recent weeks, County Attorney Bill Montgomery told a Republic reporter that his office recently completed an investigation of internal allegations against Martinez and disciplined him based on the findings. Montgomery did not elaborate.
The Republic reiterated its public-records request for the documents related to the Martinez investigation after Montgomery confirmed their existence. Amanda Steele, his office's spokeswoman, replied that she was "aware of the request." Four days later, she said that they had been subpoenaed by the State Bar.
Read the full story @ AZCentral.com
. . . . . . . . . . . . . . . . . . . . . . . .
GO FUND ME PAGE LAUNCHED TO COVER JODI'S LEGAL FEES:
Having brought a serious bar complaint against Juan Martinez, Jodi now has legal fees that are not covered by the Appellate fund.
The attorneys she retained are now in possession of still more information that warrants another bar complaint. Right now there are several pending bar complaints against Martinez, and this additional submission would help to strengthen the overall case against him.
Jodi has been paying what she could, when she could… but her attorneys now require that she pay off what she currently owes for the original complaint before they proceed further. The balance due now is approximately $12,800. Time is of the essence – so the sooner Jodi's lawyers are able to act, the more weight the new complaint will carry collectively with the others.
Sandy (Jodi's mom), has set up a special GoFundMe page for this purpose. Any assistance you can possibly provide will be greatly appreciated.
Click the pic below for further info: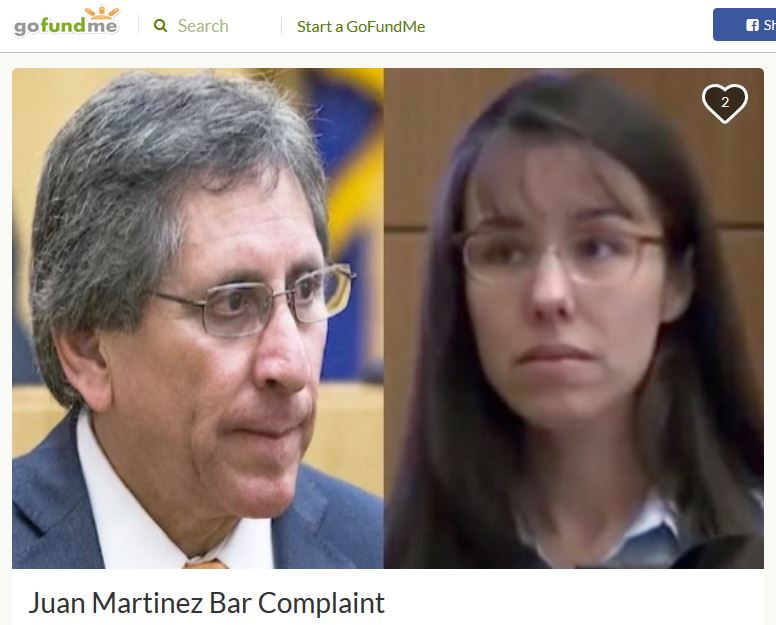 . . . . . . . . . . . . . . . . . . . . . . . .
UPDATE: The JAA Appellate Fund total currently stands at $104,174.56 — so let's be sure to keep the momentum rolling so the fund total can push on towards the ultimate target of $250,000. That in turn will help towards covering all the legal fees associated with appealing Jodi's wrongful conviction.
All donations via Justice4Jodi.com go directly to the fund. It is also the ONLY website authorized to collect donations.
In addition, please DO NOT, under any circumstances, donate through any other website or Facebook page/group claiming to be "official" and/or acting with Jodi's approval or authorization. The same applies to any "Jodi Membership Clubs", groups or fake Trust funds that have been set up. These sites are bogus – they continue to steal money from Jodi's future – and they should be actively avoided. If you are aware of any such sites, please help Jodi by clicking here and reporting them.
And remember… each day that passes takes us one day closer to Jodi's release date…

 . . . . . . . . . . . . . . . . . . . . . . . . . . . . . . . . . . . . . . . . . . . .
Make no mistake.
Believe it.
Prepare for it.
Be part of it.
Leave your thoughts & comments below.
SJ
Team Jodi #WINNING <<<

Click the banner below to read Jade's post – "Justice Denied: Why The Jurors Got It Wrong & How The Facts Decimate The State's Case Against Jodi Arias.":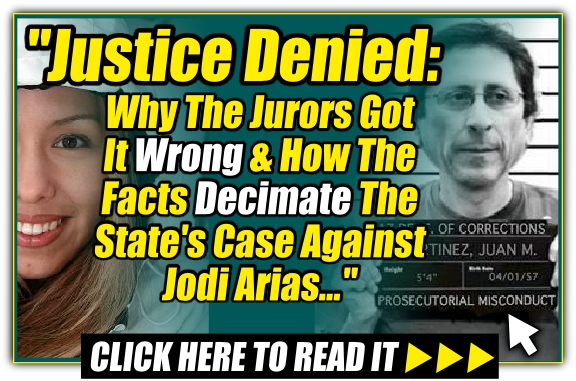 Click the links below to read Jade's previous posts in the series:
Stephens, Sandbagging & The Six Month Crap-Fest
Corruption, State-Sponsored Murder & Twelve Angry Men
The Immaculate Deception: Exposed
Michael Melendez – Perjury Exposed
The Presumption of Innocence
The Great Mormon Porn Swindle