From AZ Central.com, 3/5/2019:
Jodi Arias prosecutor Juan Martinez faces legal issues once again.
The State Bar of Arizona filed a formal misconduct complaint against the deputy Maricopa County attorney Tuesday, including numerous allegations from women in the County Attorney's Office that he sexually harassed them.
According to court documents, the complaint concerns Martinez's actions during and surrounding Arias' murder trial.
The complaint alleges Martinez had flirtatious or sexual relationships with a blogger during the Arias trial, and tried to get her to get information about jurors or leak confidential case information to him.
A court reporter for Maricopa County Superior Court also accused the prosecutor of making inappropriate comments about her, according to court documents.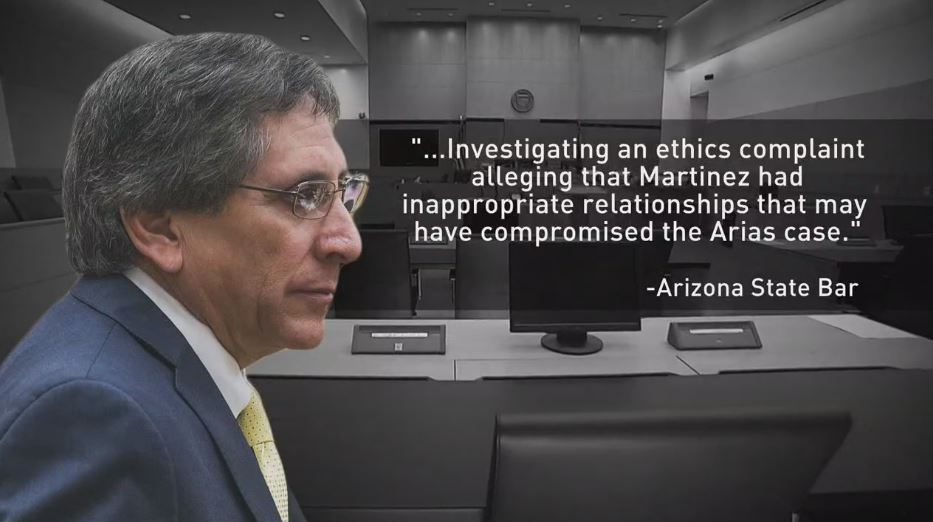 Actions during Arias trial:
According to court records, confidential information was leaked to the media during the trial.
Documents allege Martinez had sexual relationships with a blogger and asked her to seek information from the jury. He told the blogger that if anyone found out he would be disbarred, according to records.
Also, he is accused of talking to jury members directly about how other members viewed the case. Documents state he had a sexual relationship with a juror that included her sending unsolicited nude photographs.
Court records accused Martinez of lying during his deposition about his relationship with the blogger and his communication with the juror.
Allegations of sexual harassment:

A court reporter with Maricopa County Superior Court claimed she was warned by a supervisor that certain people, including Martinez, were flirtatious and that she should avoid them, according to court records.
During hearings for the Arias case, she claims, Martinez stared at her and commented on her appearance. She said he would make inappropriate comments.
Martinez is also accused of making comments toward coworkers at the County Attorney's Office. The office investigated the prosecutor in December 2017 and interviewed 30 employees, according to court records.
"The allegations included making inappropriate comments, primarily to law clerks, which were of a sexual nature, engaging in unwanted touching and making persistent unwelcome invitations to go to lunch or on a date," court documents stated.
According to records, Martinez took a law clerk to lunch and asked if she had a boyfriend. He made a comment about "putting a hit on the boyfriend" in order to have her to himself. The clerk claimed she felt he was looking at her "like he was taking her clothes off with his eyes," which made her hide in the bathroom at work to avoid him.
Another clerk claims Martinez told her "he wanted to climb her like a statue, or words to that effect," according to court records. The documents stated the prosecutor invited her to Las Vegas and said he could guess the color of her underwear…….
CLICK HERE to read the full story @ AZ Central.com
. . . . . . . . . . . . . . . . . . . . . . . . . . . . . . . . . . . . . . . . . . . .
UPDATE: The JAA Appellate Fund total currently stands at $105,103.95 — so let's be sure to keep the momentum rolling so the fund total can push on towards the ultimate target of $250,000. That in turn will help towards covering all the legal fees associated with appealing Jodi's wrongful conviction.
All donations via Justice4Jodi.com go directly to the fund. It is also the ONLY website authorized to collect donations.
In addition, please DO NOT, under any circumstances, donate through any other website or Facebook page/group claiming to be "official" and/or acting with Jodi's approval or authorization. The same applies to any "Jodi Membership Clubs", groups or fake Trust funds that have been set up. These sites are bogus – they continue to steal money from Jodi's future – and they should be actively avoided. If you are aware of any such sites, please help Jodi by clicking here and reporting them.
And remember… each day that passes takes us one day closer to Jodi's release date…

 . . . . . . . . . . . . . . . . . . . . . . . . . . . . . . . . . . . . . . . . . . . .
Leave your thoughts & comments below.
SJ
Team Jodi #WINNING <<<

Click the banner below to read Jade's post – "Justice Denied: Why The Jurors Got It Wrong & How The Facts Decimate The State's Case Against Jodi Arias.":