.
Check out the re-post below from March 30th 2013. It covers my thoughts on Chris & Sky Hughes — and includes video from their respective testimonies at the evidentiary hearing from trial day 10 (Jan 29th 2013), together with relevant clips from Alyce LaViolette's testimony.
. . . . . . . . . . . . . . . . . . . . . . . . . . . . . . . . . . . . . . . . . . . . .
It's gotta be said. Chris & Sky Hughes are the ultimate pair of lying bastards — and in that regard, they're a perfect match for each other.
So when it came to the trial, they were ultimately faced with these 2 distinct choices:
[1] Helping Jodi by confirming TA's mental & physical abuse of Jodi AND other women, together with their knowledge of his pedo-related antics and his age of attraction… or…
[2] Helping themselves by flat out denying everything they know, and denying everything they discussed in their email exchanges with TA.
It must have been a very difficult decision to make (not)… but they ultimately decided to help themselves and, in turn, keep all their Mormon chums happy. After all, why would they want to tell the truth about TA (and help Jodi) when it wouldn't benefit them socially or financially?
As I stated in my original post back on January 30th… Chris Hughes already confirmed he's firmly on the prosecution's side, so sure he's gonna do all he can to fly the flag for them, including stating to the media (on behalf of Martinez) that the TA letters were forged – even though he knows they were not. He knows, having seen some of them, that they're genuine. He even wrote to TA to tell him he wasn't treating Jodi right.
The email exchanges also specifically discussed TA's "age of attraction" when it comes to children, which (as far as I recall) Sky was somewhat surprised at. This ties together the earlier pedophile rumors pertaining to TA and his preference for small boys, pigtails & 12 years old girls, does it not?
In fact both Chris & Sky Hughes emailed Travis telling him he was being abusive to Jodi back in 2007. This started to come out again in Alyce LaViolette's direct testimony – despite repeated & futile objections from Martinez.
Check out the 2 specific video clips below from Alyce LaViolette's testimony from last Thursday, where the "You Crossed The Line" email exchange & content is discussed specifically — including TA's ongoing mistreatment of Jodi… his well known prior treatment & manipulation of other women… Sky's statement that she wouldn't even let her own sister date TA… TA's "childhood issues"… and a bunch of additional information that Martinez certainly didn't want disclosing for obvious reasons…
Alyce LaViolette video clip #1:
[hdplay id=143 width=500 height=300]
Alyce LaViolette video clip #2:
[hdplay id=144 width=500 height=300]
Then watch this very interesting Chris Hughes testimony – from the continuation of the evidentiary hearing on January 29th (Trial Day 10)…
[hdplay id=142 width=500 height=300]
The video below (up to the 14:00 mark)  includes Sky Hughes' testimony from the Evidentiary Hearing, February 13th (Trial Day 18) — followed by Kirk Nurmi (starting @ 22:00) calling for a mistrial based on his "Greatest Hits" list of numerous counts of prosecutorial misconduct & court order violations by the state.
Taking into account Sky met TA (in 2001) prior to her marriage (in 2002)… at which point  she would have been in her early 40's and TA would have been 23… the only question Jennifer Willmott didn't ask her was how many times she slept with TA before and after she got married. The answer would have been interesting to say the least…
[hdplay id=58 width=500 height=300]
Finally, here's an excerpt from yesterday's USA Today (click here for full article):
What was not mentioned in court Thursday was the history of the emails. A defense filing from January 2011 details the efforts Arias' attorneys went to obtain them. Initially the prosecution told the defense attorneys that there were no available text messages sent or received by Alexander and then was ordered to turn over several hundred.

Furthermore, according to the filing, the case agent, Mesa police Detective Esteban Flores, told the defense attorneys that there was nothing "out of the ordinary" among Alexander's emails; about 8,000 were turned over to the defense in June 2010, including the Hughes emails.

The 2011 filing details the email contents, including "A response from Mr. Hughes … wherein he asserts that he believes Jodi would be his (Travis') next victim and that Jodi was just another girl that he (Travis) was playing." Alexander allegedly replied by saying "I am a bit of a sociopath."

Other emails from Sky Hughes, the filing says, say that Alexander considered Arias to be a "booty call," and said "How he, Mr. Alexander, was abusive to Jodi and … how he was beating her emotionally in part by making out with her without giving her a commitment." And there is an email from another woman Alexander was seeing at the time "wherin she complains of Mr. Alexander's conduct making her feel used and dirty."

How much of those emails make it into testimony remains to be seen. Chris and Sky Hughes have already testified for the prosecution regarding an earlier allegation of misconduct by Martinez, but the topic of the emails was not discussed. They could be called back.
Chris & Sky Hughes… they wouldn't be able to tell the truth if their lives depended on it.
Luckily for them, it doesn't.
. . . . . . . . . . . . . . . . . . . . . . . . . . . . . . . . . . . . . . . . . . . . .
Remember…
WE ARE TEAM JODI – AND WE WILL BE VICTORIOUS in our quest for JUSTICE FOR JODI!
Make no mistake.
Leave your thoughts & comments below…
SJ
Team Jodi
If you would like to help Jodi by way of a financial donation to the official JAA APPELLATE FUND, click the Team Jodi link below for further details. All donations via Justice4Jodi.com go directly to the fund for assisting with the legal fees associated with appealing Jodi's wrongful conviction. Justice4Jodi.com is the ONLY website authorized to collect donations. You can also check out Jodi's new Art Gallery website by clicking this link. Thank you for your ongoing support!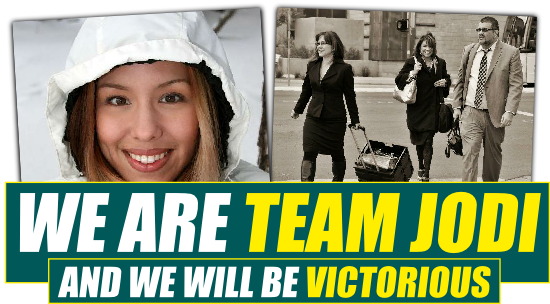 .