Here's Jodi's Appeal Reply Brief, filed April 2nd.
Click here (or click the pic below) to open the document (96 page PDF) in a new browser window: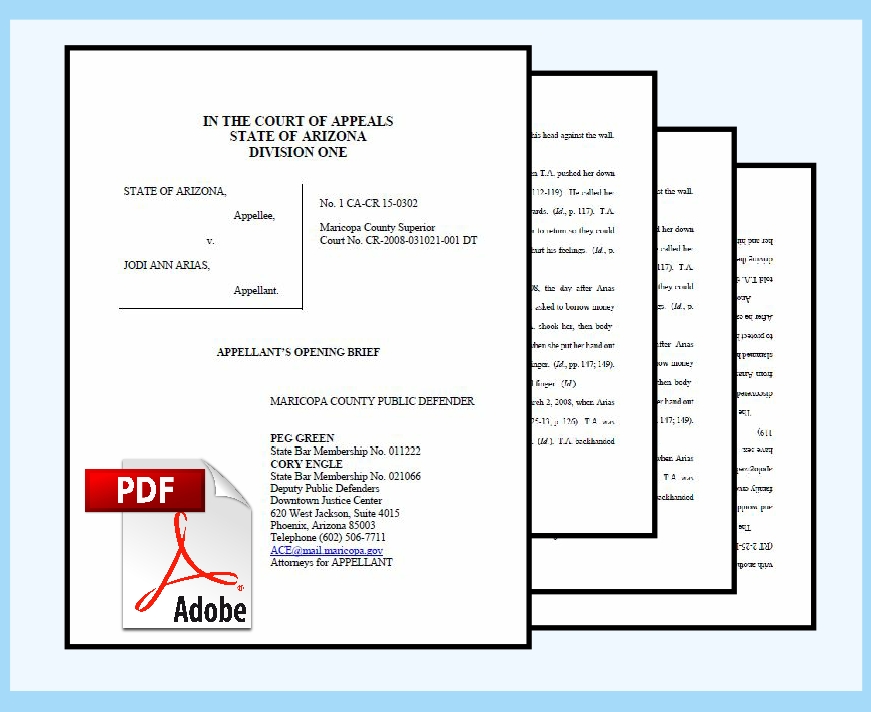 The arguments covered in the brief are as follows:
ARGUMENT 1:
The trial judge's failure to protect Arias sufficiently from the massive, pervasive and prejudicial publicity during her trial violated her right to a fair trial.
ARGUMENT 2:
The trial court violated Arias's right to confront witnesses and the Rules of Evidence when it allowed Officer Friedman to repeat statements made to him by Arias's grandparents regarding a .25 caliber handgun that was allegedly stolen from their home during a burglary.
ARGUMENT 3:
The trial court abused its discretion when she allowed the state's expert to testify regarding Arias's mental state at the time of the crime.
ARGUMENT 4:
Arias was forced to wear a stun belt throughout trial, thus violating her right to a fair trial.
ARGUMENT 5:
The trial court committed clear error when she refused to reinstate panelists after the defense brought the prosecutor's improper peremptory strikes to her attention.
ARGUMENT 6:
Pervasive and persistent prosecutorial misconduct denied Arias her rights to due process and a fair trial.
*** Click here to open the document (96 page PDF) in a new browser window ***
. . . . . . . . . . . . . . . . . . . . . . . . . .
UPDATE: The JAA Appellate Fund total currently stands at $105,247.77 — so let's be sure to keep the momentum rolling so the fund total can push on towards the ultimate target of $250,000. That in turn will help towards covering all the legal fees associated with appealing Jodi's wrongful conviction.
All donations via Justice4Jodi.com go directly to the fund. It is also the ONLY website authorized to collect donations.
In addition, please DO NOT, under any circumstances, donate through any other website or Facebook page/group claiming to be "official" and/or acting with Jodi's approval or authorization. The same applies to any "Jodi Membership Clubs", groups or fake Trust funds that have been set up. These sites are bogus – they continue to steal money from Jodi's future – and they should be actively avoided. If you are aware of any such sites, please help Jodi by clicking here and reporting them.
Remember… each day that passes takes us one day closer to Jodi's release date.

. . . . . . . . . . . . . . . . . . . . . . . . . .
WE ARE TEAM JODI – AND WE WILL BE VICTORIOUS in our quest for JUSTICE FOR JODI.
Make no mistake.
Believe it.
Prepare for it.
Be part of it.
As always, be sure to leave your relevant thoughts & comments below…
SJ
Team Jodi #WINNING <<<

Click the banner below to read Jade's post – "Justice Denied: Why The Jurors Got It Wrong & How The Facts Decimate The State's Case Against Jodi Arias.":