.
Check out this interesting post, which we initially featured in the site on April 27th last year.
Says it all really…
. . . . . . . . . . . . . . . . . . . . . . . . . . . . . . . . . . . . . . . . . . . .
"Kristen, I knew T Dogg long before your daughter or Mimi Hall ever did. He and I go way back. I will correct you on a number of things.
First off he was a victim of sexual assault as a young boy. Secondly, contrary to your belief Travis was devirginated by Deanna LONG before he met Jodi. Third, He was in fact struggling with porn since before his Mission.
One last thing, if Travis' Bishop had known about his conduct, he would have been sent to the High Council for Excommunication. If he was "Repenting" he wouldn't have been having sex with Jodi right before she killed him and he wouldn't be on record as saying "I want to tie you to a tree and put it in your @$$."
In short whatever you thought you knew about Travis is of course A LIE perpetuated by a group of clowns trying desperately to maintain a facade for a dead and dishonored A-Hole. The only liar in this whole mess is Travis. He disrespected himself, his faith, his girlfriends, and God.
As you know as a member of the Church, GOD WILL NOT BE MOCKED. Travis was mocking him and paid for it. Travis was a fraud and it is time to face that stark reality! He is no hero and he is not worthy of the credit given him, in this life or the next. He died the mockers death at the hands of a woman he emotionally, physically, and sexually abused. He WAS NOT a Decent Man. A decent man would have grovelled on his knees for Jodi to forgive him and beg her marry him.
He was the scum of the earth and everything I despise in a "Jack Mormon". Truth be known, Jodi saved Mimi Hall from loosing her virtue to the dirt bag. Jodi deserves a Medal of Honor instead of a trial."
. . . . . . . . . . . . . . . . . . . . . . . . . . . . . . . . . . . . . . . . . . . .
Remember: WE ARE TEAM JODI – AND WE WILL BE VICTORIOUS in our quest for JUSTICE FOR JODI!
Leave your thoughts and comments below…
SJ
Team Jodi
If you would like to help Jodi by way of a financial donation to the official JAA APPELLATE FUND, click the Team Jodi link below for further details. All donations go directly to the fund for assisting with the legal fees associated with appealing Jodi's wrongful conviction. Thank you for your support!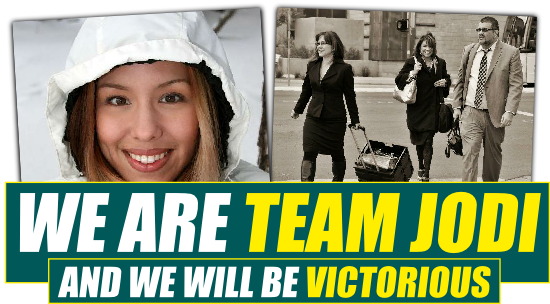 .