.
As we all know, we witnessed enough prosecutorial misconduct during Jodi's trial to sink several ships.
Following on from that, check out part 1 of 4 in Michael Kiefer's new series, which highlights & fully details countless instances of prosecutorial misconduct in AZ over the past 11 years… where winning is invariably far more important than the truth.
Sound familiar?
. . . . . . . . . . . . . . . . . . . . . . . . . . . . . . . . . . . . . . . . . . . . . . . . . .
Prosecutorial misconduct alleged in half of capital cases (Part 1/4)
by Michael Kiefer:
[hdplay id=247 width=500 height=300]
"Noel Levy was Arizona Prosecutor of the Year in 1990 when he convinced a jury to convict Debra Milke of first-degree murder for allegedly helping to plan the murder of her 4-year-old son.
A year later, he convinced a judge to send her to death row.
It was a scandalous case: Prosecutors charged that in December 1989, Milke asked her roommate and erstwhile suitor to kill the child.
The roommate and a friend told the boy he was going to the mall to see Santa Claus. Instead, they took him to the desert in northwest Phoenix and shot him in the head.
But neither man would agree to testify against Milke, and the state's case depended on a supposed confession Milke made to a Phoenix police detective.
Milke denied confessing.
The detective had not recorded the interview, and there were no witnesses to the confession.
When Milke's defense attorneys tried to obtain the detective's personnel record to show that he was an unreliable witness with what a federal court called a "history of misconduct, court orders and disciplinary action," the state got the judge to quash the subpoena.
"I really thought the detective was a straight shooter, and I had no idea about all the stuff that allegedly came out," Levy recently told The Arizona Republic.
But in March of this year, after Milke, now 49, had spent nearly 24 years in custody, the 9th U.S. Circuit Court of Appeals threw out her conviction and sentence because of the state's failure to turn over the detective's personnel record so that Milke's defense team could challenge the questionable confession.
The 9th Circuit put the onus on the prosecution.
"(T)he Constitution requires a fair trial," the ruling said, "and one essential element of fairness is the prosecution's obligation to turn over exculpatory evidence."
The 9th Circuit judges ordered that Milke be retried within 90 days or be released.
The chief circuit judge referred the case to the U.S. Attorney General's Office to investigate civil-rights infringements. Under the 9th Circuit order, prosecutors must allow the detective's personnel record into evidence if they use the contested confession.
Prosecutors are responsible for the testimony of the law-enforcement officers investigating their cases. Cops and prosecutors are the good guys. They put criminals in prison, sometimes on death row. Juries tend to believe them when they say someone is guilty. They don't expect them to exaggerate or withhold evidence. They don't expect their witnesses to present false testimony.
Yet The Arizona Republic found that, when the stakes are highest — when a trial involves a possible death sentence — that's exactly what can happen.
In half of all capital cases in Arizona since 2002, prosecutorial misconduct was alleged by appellate attorneys. Those allegations ranged in seriousness from being over emotional to encouraging perjury.
Nearly half those allegations were validated by the Arizona Supreme Court.
Only two death sentences were thrown out — one for a prosecutor's tactics that were considered overreaching but not actual misconduct because a judge had allowed him to do it.
Two prosecutors were punished, one with disbarment, the other with a short suspension……."
>>> CLICK HERE TO READ PART 1 IN FULL AT AZCENTRAL.COM <<<
. . . . . . . . . . . . . . . . . . . . . . . . . . . . . . . . . . . . . . . . . . . . . . . . . .
Remember…
WE ARE TEAM JODI – AND WE WILL BE VICTORIOUS in our quest for JUSTICE FOR JODI!
Leave your thoughts & comments below.
SJ
Team Jodi
If you would like to help Jodi by way of a financial donation to the official JAA APPELLATE FUND, click the Team Jodi link below for further details. All donations go directly to the fund for assisting with the legal fees associated with appealing Jodi's wrongful conviction. Thank you for your support!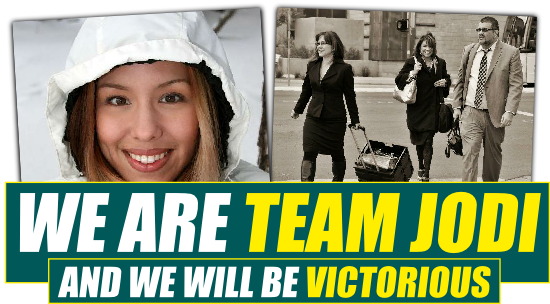 .