.
With today being a holiday in the US… a hearing scheduled for tomorrow… and the circus returning to town again on Wednesday — leave your thoughts & comments below on the current state of affairs regarding Jodi's retrial.
Judge Pickles previously stated a "finish date" of Feb 25th-26th – which is currently only 9-10 days away. How accurate that'll turn out we have no idea, but I'd nevertheless still opt for a March conclusion – after which we can plan ahead regarding the appeals process, and add another $1m or so to the AZ taxpayers bill to fix all this BS. That'll be in addition to the millions of dollars they've already pissed away on a basic self-defense case that should never have even gone to trial in the first place.
In the meantime, here's a replay of Gus Searcy's appearance on "Greta" from back in October 2013.
As you'll no doubt remember… Gus pleaded the 5th during his testimony. That was due to him trying to protect Charmaine Juban, after Chris Hughes verbally threatened her with all manner of unpleasant repercussions if she testified regarding what she knew. Mormon-Pedo cover-up? Had she witnessed TA's temper first-hand? Did she know about TA & Sky? How about TA's "age of preference" (which Sky mentioned) when it came to his pedo-cravings? The plot thickens, so to speak.
So, the video below features an interesting interview with Gus — his thoughts on the events of June 4th 2008 (from 6:40 onwards)… the court of public opinion, additional witnesses, the big Mormon cover up and the media coverage. Sounds very much like there are numerous witnesses out there to TA's vile temper that have been "warned off" against testifying. Gus covers this from 8:06 onwards:
[hdplay id=113 width=500 height=300]
. . . . . . . . . . . . . . . . . . . . . . . . . . . . . . . . . . . . . . . . . . . .
Remember…
WE ARE TEAM JODI – AND WE WILL BE VICTORIOUS in our quest for JUSTICE FOR JODI.
Never question it.
Never doubt it.
SJ
Team Jodi #WINNING <<<

Click the banner below to read Jade's post – "Justice Denied: Why The Jurors Got It Wrong & How The Facts Decimate The State's Case Against Jodi Arias.":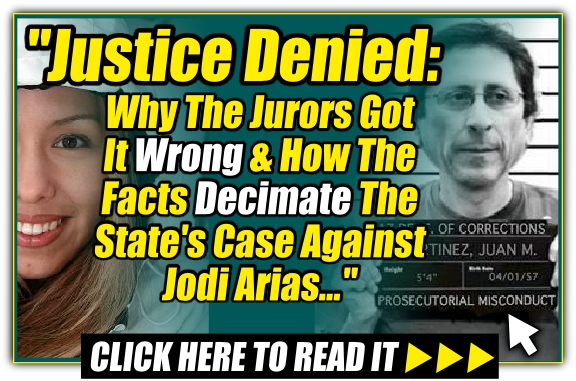 Click the links below to read Jade's previous posts in the series:
The Immaculate Deception: Exposed
Michael Melendez – Perjury Exposed
The Presumption of Innocence
The Great Mormon Porn Swindle
If you would like to help Jodi by way of a financial donation to the JAA APPELLATE FUND, click the Team Jodi link below for further details. All donations via Justice4Jodi.com go directly to the fund for assisting with the legal fees associated with appealing Jodi's wrongful conviction. Justice4Jodi.com is the ONLY website authorized to collect donations.
In addition, please DO NOT, under any circumstances, donate through any other website or Facebook page/group claiming to be "official" and/or acting with Jodi's approval or authorization. The same applies to any "Jodi Membership Clubs", groups or fake Trust funds that have been set up. These sites are bogus – as are their intentions – and they should be actively avoided. If you are aware of any such sites, please help Jodi by clicking here and reporting them. Thank you for your ongoing support!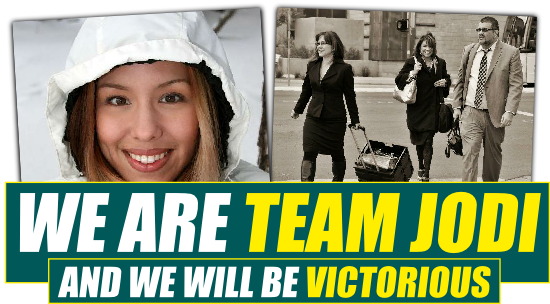 .