I'm planning to post my thoughts on the forthcoming Presidential Election a few days from now (so brace yourself)… but in the meantime, this is a reminder to let you know the JAA Appellate Fund total (as of the end of September), stands at $103,375.48
The ultimate target for the fund is $250,000 — with all funds going towards covering the legal fees associated with appealing Jodi's wrongful conviction.
So as of right now, the Fund is around $147,000 short of its target. Not good.
Sure, it'd be great if someone donated $147,000 out of the blue… or even if 3 people donated $49,000 each… but in reality, I don't see that happening any time soon.
In fact, over the past 3 months, the average of total monthly donations into the Fund has only been $283. That's not the average donation amount unfortunately, but the TOTAL donations put together… and quite frankly, it's very poor. And if you break that down to a DAILY total, it comes to just over $9. WTF? Even your typical homeless guy has more than $9 a day thrown at him while he's begging outside McDonalds (with a paper cup.)
So what's the solution? It's simple really. The solution is a group of genuine Jodi supporters getting together and making a firm commitment to making a regular monthly donation to the Appellate Fund.
And when I say Jodi supporters, I mean that literally — because as we all know, there's a hell of a big difference between a genuine Jodi Supporter, and a Jodi "fan." Supporters are worth their weight in gold… they're here for the long haul… and they've been here since 2013… while Jodi fans are very feeble, very fickle, and subsequently they ain't really worth a crap.
So…
Getting back to my earlier comment — only 400 genuine Supporters pledging to donate just $1 a day (or $30 a month) would insure the fund hits its $250,000 target within the next 12 months – or maybe even sooner.
Here's the bottom line:
Read the above paragraph again. It ain't rocket science folks… because if donations keep coming in at the current rate, it's gonna be the year 2059 (yup – 43 YEARS from now) before the Fund hits the $250,000 target… and by that time, most of us (including Jodi, Donald and Hillary) are gonna be long gone anyways. A bit drastic, granted… but hopefully you see my point as to why the current rate of donations HAS to increase – and fast.
So here's what you can do right now to get everything back on track:
Click here (or click the pic below) to visit the official JAA Appellate Fund website – and make your Monthly Recurring donation, safely & securely via PayPal…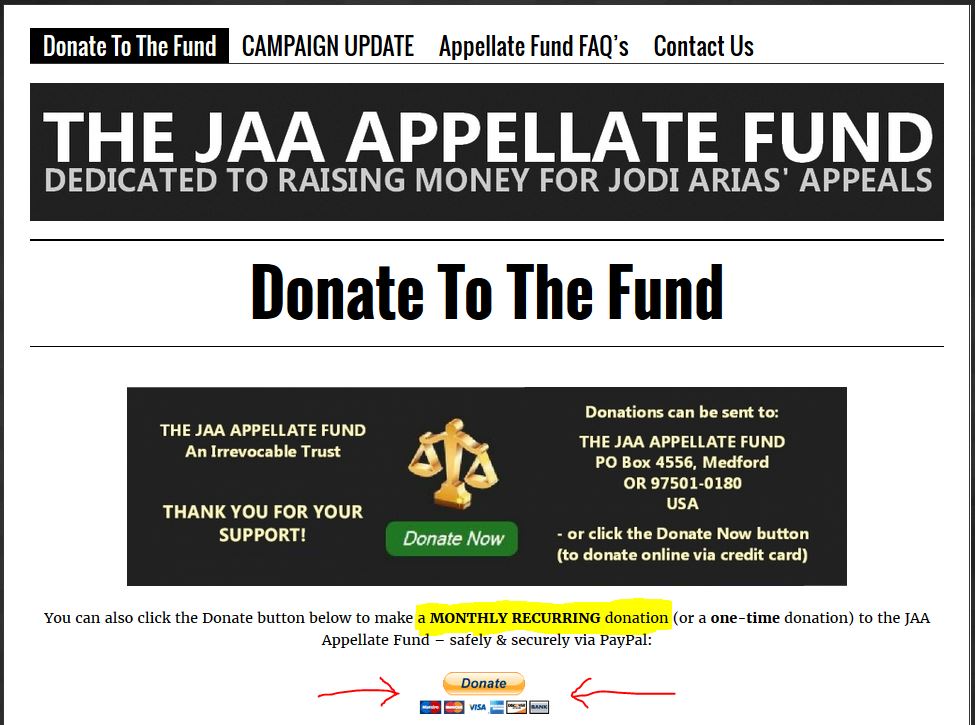 Once you're in the website, click the DONATE button (highlighted above between the red arrows.)
You'll then be taken to the secure PayPal page — (see screenshot below) — where you can enter your donation amount, click the "Make This Recurring Monthly" box, and check out via credit card…

(You can also make a one-time donation too if you wish, via PayPal or Plasso… but a Recurring Monthly donation of $30 or more would be way better.)
. . . . . . . . . . . . . . . . . . . . . . . . . . . . . . . . . . . . . . . . . . . .
Please Note: The objective of this post is not to diminish any previous donations, because all donations received to date have been greatly appreciated. Instead, this post is designed to both highlight the seriousness of the current situation, and to put forward a viable solution.
Remember > All donations via Justice4Jodi.com go directly to the fund. It is also the ONLY website authorized to collect donations. In addition, please DO NOT, under any circumstances, donate through any other website or Facebook page/group claiming to be "official" and/or acting with Jodi's approval or authorization. The same applies to any "Jodi Membership Clubs", groups or fake Trust funds that have been set up. These sites are bogus – they continue to steal money from Jodi's future – and they should be actively avoided. If you are aware of any such sites, please help Jodi by clicking here and reporting them.
And remember this too: With your help — and with your recurring monthly donations — each day that passes takes us one day closer to Jodi's release date…

 . . . . . . . . . . . . . . . . . . . . . . . . . . . . . . . . . . . . . . . . . . . .
If you missed any of our previous posts, click on the links below:
State Bar puts Martinez on probation for professional misconduct
Harvard Death-Penalty Study Rips Maricopa County Prosecutors A New One
My Truth: I Am Jodi Arias's Mother – (An interview with Sandy Arias)
"The Palm Print, Blood & DNA": (Quotes from Kermit's Book) Part 2
The Missing Memory Card & Bathroom Photographs
"The Camera & Photos": (Quotes from Kermit's Book) Part 1
Kirk Nurmi's Book: Part 1 of 3 (full transcript)
The Mysterious Boot Print (revisited)
It's Kermit v Nurmi in the battle of the BS books
Jodi Arias – "Chandelier" – the mini-movie
Child Porn & The Joy of Executions
"ALEXSCAMMERS, this one's for you… my compliments" – (by Jade)
"Monumental Incompetence" (a post by Jade)
Today's BS Hearing, 6/22   —   The Mysterious Stench of Decomp & BS
My Reply To Kirk Nurmi's BS  —   Survivor Day – June 4th – Celebrate The Day!
Sky Hughes – Email Exchange r.e. TA's Pedo Antics (June 2010)
Chris Hughes – Liar & Pedo-Hugger (trial testimony from 2013)
TA's Pedophile Letter Handwriting Comparison – (Part 2)
TA's Pedophile Letter to Jodi Arias – (Part 1)
The Jodi Arias Verdict: My Thoughts On "Pedo-Huggers United"
. . . . . . . . . . . . . . . . . . . . . . . . . . . . . . . . . . . . . . . . . . . .
In the meantime…
WE ARE TEAM JODI – AND WE WILL BE VICTORIOUS in our quest for JUSTICE FOR JODI.
Never question it.
Never doubt it.
Prepare for it.
Leave your thoughts & comments below…
SJ
Team Jodi #WINNING <<<

Click the banner below to read Jade's post – "Justice Denied: Why The Jurors Got It Wrong & How The Facts Decimate The State's Case Against Jodi Arias.":