.
With things being a little quiet of late… and while the wheels of justice continue to turn very slowly… it's given me time to reflect on stuff, and in turn take time-out to warn the uninitiated about certain fake "Jodi supporters" who are still out there doing the rounds.
Yep. you guessed it already: Barwood & Weber. They jumped on the Jodi bandwagon, albeit very late in the day… and they've been on a steep downhill slide ever since.
In Barwood's case, he inadvertently miscalculated & assumed that donating to Jodi's fund, buying one of her prints and making a complete dick of himself on HLN would somehow elevate him to "celebrity status" in Jodi Land — (and maybe even win him Jodi's underwear, seeing as he's apparently worn out the underwear Debra Milke sent him a while ago).
Following on from that, and his repeated Weber-esque attempts to indirectly pilfer & sabotage Jodi's fundraising efforts — and the sales of her artwork to boot — all he did was lose the credibility he never had in the first place… become a laughing stock for both Jodi supporters & haters alike… and turned himself into an asshole. Now, he wasn't too far from being an asshole prior to his attempted involvement in Jodi's affairs anyway… so it didn't really take that much effort on his part. All I can do at this point is congratulate him on his sterling achievements.
In Weber's case, and taking into account all he's ever done is set up bogus websites & FB pages to steal money from Jodi supporters, he is the archetypal thieving whore — and he's now receiving everything he deserves… as is Barwood.
Overall, it's no big surprise that Jodi distanced herself from both of them a very long time ago – and rightly so. You should do the same if you haven't already.

Word on the street is that "Team Dumb & Dumber" now spend most of their time jerking off to pics of their new found "friends" — Morticia & Sam — while making some botched attempt to cumulatively rubbish Chris Hughes' latest pedo-hugging blockbuster.
And no… I'm not planning on encouraging people to leave a bad review on Amazon. We're way above that… just like we're way above the haters in so many ways and on so many levels. Let them buy a book about their dead & abusive POS pedo idol if it makes them feel better about themselves…. and if Chris Hughes wants to dedicate a book to a guy that fucked his wife in the ass (and in all probability, fucked his son in the ass too), then good luck to him. It'll take more than selling a Kindle book to fix all that.
One interesting fact to come out of it all is that buyers of Hughes' book now have the opportunity to proudly display 2 books of lies on their bookshelves… namely the Hughes book and the book of Mormon.
Awesomeness.
. . . . . . . . . . . . . . . . . . . . . . . . . . . . . . . . . . . . . . . . . . . .
In the meantime folks, and as always – we plough on regardless…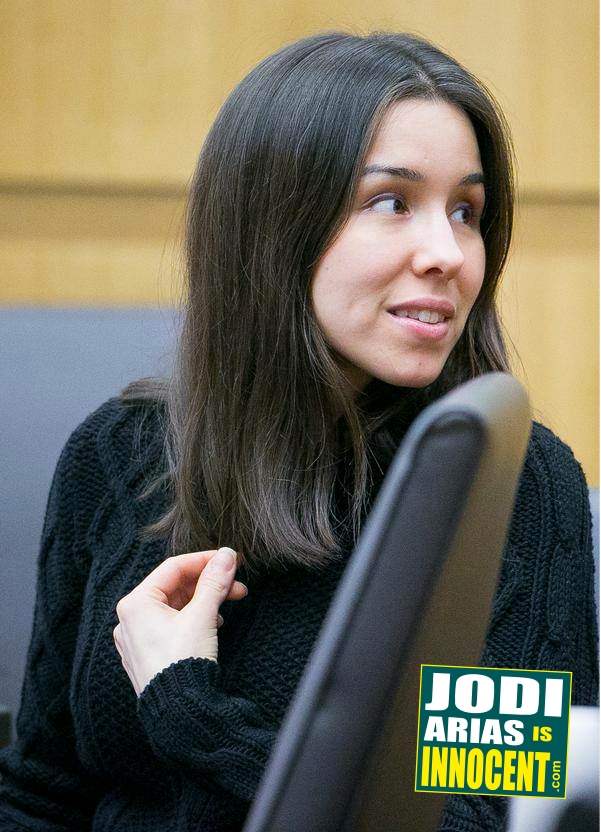 If you'd like to send Jodi a letter or postcard, click here for the current address details & guidelines.
To access every court document & motion relating to this trial, click here or click the Court Docs link from the main menu at the top of the page.
. . . . . . . . . . . . . . . . . . . . . . . . . . . . . . . . . . . . . . . . . . . .
If you missed any of our previous posts, click on the links below:
The JAA Appellate Fund $25,000 Matching-gift Campaign
An interview with Dorian Bond, Jodi's Private Investigator
Jennifer Willmott – interviews w/Michael Kiefer & ABC15
Justice For Jodi + Post-sentencing Videos
The Mysterious Stench of Decomp & BS
Chris Hughes – Liar & Pedo-Hugger (trial testimony from 2013)
TA's Pedophile Letter Handwriting Comparison – (Part 2)
TA's Pedophile Letter to Jodi Arias – (Part 1)
REQUIEM FOR CANDY CRUSH (by Lise LaSalle)
Juror #17 – We Thank You
Jodi Arias Victorious Verdict Day: Video Coverage
The Jodi Arias Verdict: My Thoughts On "Pedo-Huggers United"
Remember…
The JAA Appellate Fund $25,000 Matching-gift Campaign is now underway: A donor who wishes to remain anonymous has pledged to match, dollar for dollar, any new donations received before August 1, 2015, up to a total of $25,000. Please give generously – and soon – to allow the JAA Appellate fund to take full advantage of this gift.
All donations via Justice4Jodi.com go directly to the fund for assisting with the legal fees associated with appealing Jodi's wrongful conviction. Justice4Jodi.com is the ONLY website authorized to collect donations.
In addition, please DO NOT, under any circumstances, donate through any other website or Facebook page/group claiming to be "official" and/or acting with Jodi's approval or authorization. The same applies to any "Jodi Membership Clubs", groups or fake Trust funds that have been set up. These sites are bogus – they continue to steal money from Jodi – and they should be actively avoided. If you are aware of any such sites, please help Jodi by clicking here and reporting them. Thank you for your ongoing support!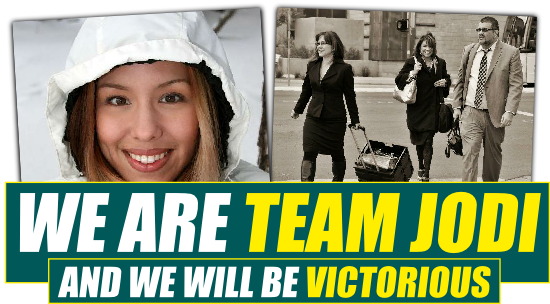 WE ARE TEAM JODI – AND WE WILL BE VICTORIOUS in our quest for JUSTICE FOR JODI.
Never question it.
Never doubt it.
Prepare for it.
Leave your thoughts & comments below…
SJ
Team Jodi #WINNING <<<

Click the banner below to read Jade's post – "Justice Denied: Why The Jurors Got It Wrong & How The Facts Decimate The State's Case Against Jodi Arias.":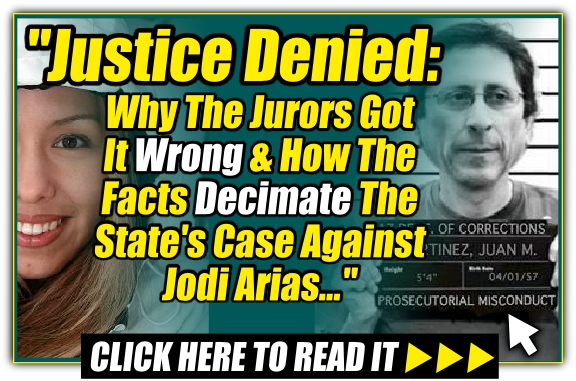 Click the links below to read Jade's previous posts in the series:
The Photos Tell The Story (by Jade)
Stephens, Sandbagging & The Six Month Crap-Fest
Corruption, State-Sponsored Murder & Twelve Angry Men
The Immaculate Deception: Exposed
Michael Melendez – Perjury Exposed
The Presumption of Innocence
The Great Mormon Porn Swindle
.