So… let these clueless fucks come up with some more bullshit today. We're used to it by now, aren't we?. After that, we can start preparing for the appellate courts and the appeals in respect of this AZ State Circus debacle.
And while I'm on a roll, let me tell you this — and let's see how little of it appears on HLN later today:
TA's retarded & inbred meth-head loser family seriously need to get a life, and quit playing the fake sympathy card for anyone that's stupid enough to give a fuck about them. So yeah… to the meth-head family I say fuck you and the drug dealers dicks you all rode into town on. You, just like all the other sick pedo-hugging fucks should never have been born in the first place. The world would have been a much better place without you… just like the world is a much better place without that TA asshole.
The same sentiments go out to all the mormon motherfuckers still clinging to the illusion of Jodi's guilt, just to make them feel "better" about themselves. Good luck with that. Fuck you too, and the bishop you're always giving head to. You know who you are.
This will always be a very basic & grossly overcharged self-defense case, with no credible evidence to prove the contrary. If there is credible evidence, then I've never seen it. I've seen Walmart receipts and deposit slips… I've also seen rape-themed text messages… and I've heard an audio recording of some pervert wanting to tie a 12 year old girl to a tree and fuck her in the ass. On top of that, all I've heard is a lot of bullshit fantasy speculation, hearsay & assumption from Dirty Sanchez — a miscreant excuse of a prosecutor who's not even fit to shovel shit from one place to another without arguing with the shovel.
The jurors… for reasons yet to be specifically determined, must have been watching a different trial altogether. So much so that they not only failed in their duty as jurors, but they also failed to uphold The Constitution. Another bunch of motherfuckers to behold. Please stand for the jury? Fuck you.
Here's permanently pissed up juror #8 talking about being approached & questioned during the trial, watching TV and seeing all the newspaper headlines. "Did anyone attempt to speak to you about this case?… I see no hands." says Judge Pickles. So much for that BS…
[hdplay id=225 width=500 height=300]
Ok then… in summary, and just in case anyone needed reminding…
We are here for the long haul.
We are proud to stand behind and support Jodi Arias.
Always have done.
Always will do.
Nothing will ever change that.
WE ARE TEAM JODI – AND WE WILL BE VICTORIOUS in our quest for JUSTICE FOR JODI.
NEVER DOUBT IT FOR ONE SECOND… if you do, then you shouldn't even be here.
Leave your comments below as another new & star-spangled bullshit dawn breaks over Arizona.
The real battle starts today folks.
Are you up for it, or what?…
SJ
Team Jodi
PS. I nearly forgot this…….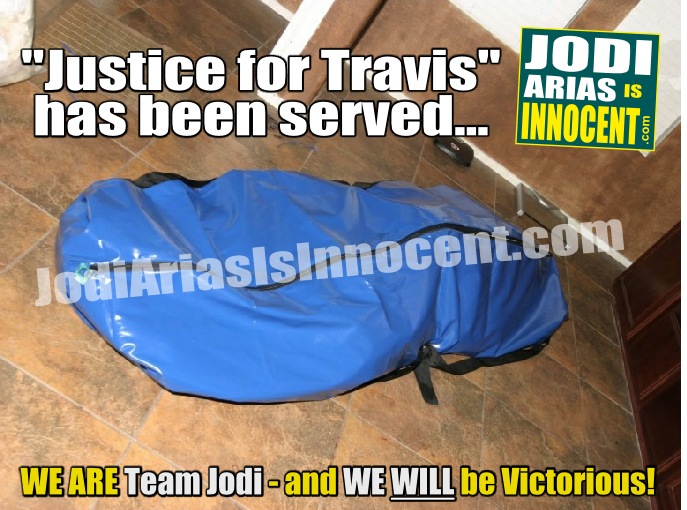 Let this be a warning to any other self-righteous bastards that think they can verbally & physically abuse women and get away with it.
Because the fact of the matter is… in the cold light of day… most of the time you can get away with it )and do)… but sometimes… well… you just can't. The photograph above is testament to that fact.
.