.
Check out the latest post below from Jade,  aptly titled "Monumental Incompetence":
. . . . . . . . . . . . . . . . . . . . . . . . . . . . . . . . . . . . . . . . . . . .
The Alexanders are patently revolting to me. They remind me of what gets stuck to the bottom of your shoe walking through a stable. Such a pious and sanctimonious show they put on for every fool who couldn't see they were nothing but money grubbing scavengers playing victim and orchestrating a totally contrived eye rolling charade to extract money from every wallet within their grasp.
They were no more closely associated or had a "loving" relationship with Travis than the Hatfields felt passionate kinship with the McCoys. Travis was on his own wavelength and his siblings treated him as no more than an incidental in their lives. Their only commonality was sharing the same parents. In fact their relationship was strained and estranged. Try to find family photos on the internet with their arms around each other hugging each other, I dare you! Or even just pictured together! I spent hours and all there are, are photos with Travis "the player" Alexander doing his gigolo act with other women.
You would think with this pity-pull of phenomenal proportions that the internet would be inundated with the intimate evidence of the close relationship of this pretense put-on; as if Travis was Beaver from Leave it to Beaver. It's a farce and if Travis had died of natural causes, there is a better than even chance they would have debated if it was even important enough to go to Arizona for his funeral.
If that had been the loss of the brother of 98% of other families, family photos picturing them together in various moments of loving admiration or unmistakeable closeness would have been plastered all over the internet from family albums.
Put these pretenders on a polygraph and ask them if they would give back the money they've extorted if Travis could come back to life tomorrow. When they said yes, the needle would fly off the machine.
They're like the leeches that became instant grieving relatives of their dear long lost uncle when it came time for the millions being handed out for those who perished in the Twin Towers. Or like someone who gets tapped in a minor fender bender by someone going five miles an hour and they fall out of the car onto the pavement screaming of the horrific pain in their neck, yelling 'oh my neck, my neck." Ya right.
If you needed any more proof than their coordinated group walkout just recently performed at their perceived opportune time for maximum disruption and feigned drama for their fan club, you're a moron. If it wasn't further evidenced by the equally repugnant jurors who participated in the fun fest after-party with them, you're a double moron. There should have been a lady there giving oral to a donkey and then the sideshow would have been complete.
I would have been a little less revulsed if they had shown even the least bit of decorum or a hint of the class shown by the Arias family. But there was NONE. The evidence that was laid out before them of the underworld of Travis Alexander was ignored and treated as a mirage. Listening to the abusive, vile pattern of a classic abuser in his own voice on the tape recordings was reduced to eyeball acrobatics and scoffed at as a boring waste of their time. Of course it was, the truth didn't matter. The opportunists had their chance to play the role of the grieving heart-stricken mourners and Travis' death was like manna from heaven. It was so devastating they needed a trip to Cancun to drown their sorrows. They're as phony as a Rolix watch.
Alexander was a mutation of his own making and was a master player, while at the same time possessing volcanic private rage tendencies wrestling with his own demons that he knew were sick and perverted. Jodi Arias witnessed all of it. Travis treated her as a marionette that he could control and manipulate. Raging one moment and apologizing the next. It was a land mine waiting to explode.
When he made the decision to once again opt for an assault and battery which she had succumbed to before, he made his own decision for the consequences. One of them was not going to leave that bathroom that day on their own power. It was Jodi who prevailed, it's as simple as that. You do not have to hope and wait to find out if the next action of your unhinged assaulter won't be the equivalent repeat of what you've already experienced before.
The only thing that comes in a close second or maybe even ties the disgust level of the Alexanders, is the abhorrent representation of Jodi's defense. If the appeals court doesn't find abject monumental incompetence in the presentment of her defense, it will stand alone as one of the worst decisions in appeals history. The only thing that should be difficult is deciding which mind boggling ruling by a totally clueless, manifestly incompetent judge and a cheerleader for the prosecution, or equally mind boggling blunders by the defense team, that should be cited as the reason for a new trial.
Martinez should have been drenched in sweat looking over his shoulder fearing the marshal to come over at any minute to put handcuffs on him and throw him in jail for contempt sanctions. This time hopefully, the appeals court when his name lands on their desk AGAIN for evidence fixing and subornation of perjury, his Hitler-esque reign of signing autographs and putting undeserving or innocent people on death row culminates in his receiving bread and water through prison bars. Prison would be too good for this prick who searches for the truth like Iran searches for ways to show the world their nuclear enrichment facilities.
I am never failing to be astounded as I find more and more ultra gross negligence of Nurmi and Willmott. It could only be appreciated if there was a way to roll back the clock and have Jodi represented by a seasoned, proficient and competent defense team to show the comparison. If you are a pro-prosecution Alexander junkie, your head would virtually be spinning it would be so incredible.
I just found AN-O-T-HER example which couldn't have been more important to shove down Martinez' throat and pivotal in destroying his concocted daily bullshit-a-ganza of manufactured fairy tales. It was probably premier in the panicked decision to change the order sequence of the gunshot to being last. And it was left literally unaddressed by Nurmi or Willmott to further show the sheer lunacy that Travis would have been immediately incapacitated if he was shot as Jodi testified he was.
If you even consider for a MOMENT that he had the potential to slam her to the floor, you KNOW that he created a fear in her that would have been perceived by every one of us as the prelude to even a greater fate. Others had seen the result of his temper before, but incomprehensively, weren't called to testify to it by her lame and tortuously poor defense team that she was forced to accept. The evidence at the crime scene reeked of corroboration of her sworn testimony.
This was a muscled mass of a man who outweighed her by 80 pounds or more and routinely exhibited his proficiency and love for UFC as well as his wrestling prowess. How ironic that she's the one convicted of a felony when he committed felony assault on her that caused her to fight for own life.
Nearly every person who was remotely savvy about what the stopping power of a .25 acp was, would have testified that it's the next thing better to having nothing. But that's all. It's a pee pee gun. You have something hard and somewhat pointed that you can shove in your attackers eye if they are close enough. It's ineffective at close point blank range documented in many cases as researched by a well known gun expert named Evan Marshall, who developed data from shooting victims treated in emergency rooms.
In one example, a pimp shot one of his hookers at point blank range seven times in the head with a .25 acp. She went to the hospital a week later complaining of a headache and they found seven 50 grain full metal jacket pieces of projectile lodged between her scalp and her skull that was creating pressure on her skull. None of the bullets had penetrated her skull, they just traveled around underneath her skin.
If that's not enough click here to look at this compiling of evidence. It took a period of ten years by someone who wanted to document facts and dispel the theories of hype. Note the percentage of cases where the .25 acp DOES NOT incapacitate and the percentage of "one shot" stops.
Now lets get real here, this extraordinary proof of evidence in how weak this gun is could be the proven result of what happened to a woman who was shot with the gun inches from her head seven times and developed nothing but a headache. But couldn't allow a hulk of a man on adrenaline overload to still be a fully capable combatant in a fight after being shot only once? And with the least damage-inflicting type of bullet as well?
I hadn't realized that Martinez had teed it up so perfectly to rivet this fact in the brains of those lard heads on the jury that adds even MORE credence, that's it's even MORE unlikely that the shot did anything but send Alexander into an avenging state of pure intent to kill or cause great bodily injury to Jodi. But it was completely muffed.
One shot, as already stated, can be next to useless at POINT BLANK range in stopping an attacker. But this wasn't even the case with Alexander. Even by the totally in-the-tank medical examiner for the prosecution, he confirmed that the distance Alexander had to be shot from was AT LEAST two and a half to three feet. The distance was indeterminate due to the total lack of the usual residue or stippling effects that are unavoidable if shot from any shorter distance. But the opportunity was never seized on to capitalize on Martinez' own venture into opening the door, and to obliterate the likelihood that Travis was even *that* close when the shot was fired. Because he wasn't !
Look at the perfect admission of it and confirmation by Martinez himself…watch how he realizes he is about to torpedo his own case showing the dimensions of the bathroom and comparing it to where she said she was standing. Then how he tries to deftly rehabilitate his blunder by trying to shorten the distance again of how far Travis was away from her when the shot was fired, by having Jodi say she had her hands "outstretched." Hoping that nobody would notice he had further just screwed his own theory.
It was a Xmas gift to the defense that couldn't have been more devastating and they pissed it away. Travis could have been as much as SIX FEET from her or more when that gun went off. Click here to watch Jodi's testimony.
Nurmi, instead of letting Martinez sink in his own quicksand is objecting to the measurements. Jodi never acquiesced to him being any given distance from her when the gun fired. That's why Travis did not fall on her in a face to face posture. But instead, as she testified, fell near her lower legs and fortunately allowed her to get away before he could get on top of her. Nothing could make more sense to corroborate her account. A body in motion tends to stay in motion as per the long established Newton's law. And that is exactly what Alexander's body did. His charging momentum carried him into her. But he, and this is per the Maricopa cretin's own measurement diagram, was at a distance that minimized the effect of the mouse gun's bullet even more.
Hence the blood that appeared all over that bathroom evidencing the battle that only one was going to survive.
The establishing of the weak stopping power of the gun used, was absolutely crucial ! It was at the epicenter of whether Travis had the present ability to attack her after the shot. And then to tie it in with everything else in that bathroom that SHOWED it was a life and death struggle, from which only one was going to walk out of that bathroom.
The stupefyingly ignorant jurors ignored it, Martinez had dodged another nail that he almost put in the coffin of his own case, and Nurmi let it be just another example of the start to finish prolific incompetence.
. . . . . . . . . . . . . . . . . . . . . . . . . . . . . . . . . . . . . . . . . . . .
Remember…
The JAA Appellate Fund $25,000 Matching-gift Campaign is now underway: A donor who wishes to remain anonymous has pledged to match, dollar for dollar, any new donations received before August 1, 2015, up to a total of $25,000. Please give generously – and soon – to allow the JAA Appellate fund to take full advantage of this gift.
All donations via Justice4Jodi.com go directly to the fund for assisting with the legal fees associated with appealing Jodi's wrongful conviction. Justice4Jodi.com is the ONLY website authorized to collect donations.
In addition, please DO NOT, under any circumstances, donate through any other website or Facebook page/group claiming to be "official" and/or acting with Jodi's approval or authorization. The same applies to any "Jodi Membership Clubs", groups or fake Trust funds that have been set up. These sites are bogus – they continue to steal money from Jodi – and they should be actively avoided. If you are aware of any such sites, please help Jodi by clicking here and reporting them. Thank you for your ongoing support!

. . . . . . . . . . . . . . . . . . . . . . . . . . . . . . . . . . . . . . . . . . . .
If you missed any of our previous posts, click on the links below:
Today's BS Hearing, 6/22
The Mysterious Stench of Decomp & BS
My Reply To Kirk Nurmi's BS
Survivor Day – June 4th – Celebrate The Day!
"Jodi Arias – A Few Questions" (by Publius Smith)
Sky Hughes – Email Exchange r.e. TA's Pedo Antics (June 2010)
My current thoughts, forward plans & other stuff
The JAA Appellate Fund $25,000 Matching-gift Campaign
Jennifer Willmott – interviews w/Michael Kiefer & ABC15
Justice For Jodi + Post-sentencing Videos
Chris Hughes – Liar & Pedo-Hugger (trial testimony from 2013)
TA's Pedophile Letter Handwriting Comparison – (Part 2)
TA's Pedophile Letter to Jodi Arias – (Part 1)
REQUIEM FOR CANDY CRUSH (by Lise LaSalle)
Juror #17 – We Thank You
Jodi Arias Victorious Verdict Day: Video Coverage
The Jodi Arias Verdict: My Thoughts On "Pedo-Huggers United"
. . . . . . . . . . . . . . . . . . . . . . . . . . . . . . . . . . . . . . . . . . . .
If you'd like to send Jodi a letter or postcard, click here for the current address details & guidelines.
To access every court document & motion relating to this trial, click here or click the Court Docs link from the main menu at the top of the page.
In the meantime…
WE ARE TEAM JODI – AND WE WILL BE VICTORIOUS in our quest for JUSTICE FOR JODI.
Never question it.
Never doubt it.
Prepare for it.
Leave your thoughts & comments below…
SJ
Team Jodi #WINNING <<<

Click the banner below to read Jade's post – "Justice Denied: Why The Jurors Got It Wrong & How The Facts Decimate The State's Case Against Jodi Arias.":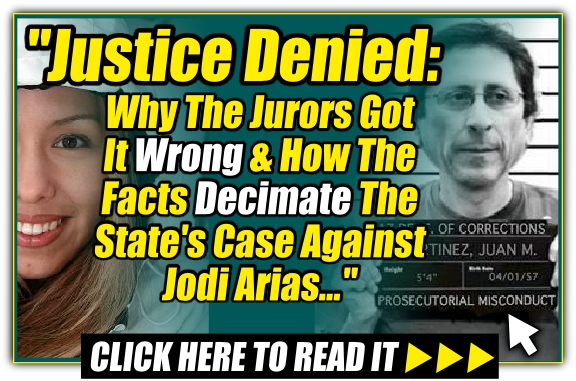 Click the links below to read Jade's previous posts in the series:
The Photos Tell The Story (by Jade)
Stephens, Sandbagging & The Six Month Crap-Fest
Corruption, State-Sponsored Murder & Twelve Angry Men
The Immaculate Deception: Exposed
Michael Melendez – Perjury Exposed
The Presumption of Innocence
The Great Mormon Porn Swindle