.
Remember back in February 2013?… Jodi's cross examination?… when she basically ripped Martinez a new one for 5 days in row and effortlessly stamped dickhead on his forehead countless times?
Here's Mark Geragos' take on Martinez' piss poor performance during that period – and what we can all "learn" from it:
Following on from that, here are a few factual observations posted in the site by a law student (from Feb 2013) :
. . . . . . . . . . . . . . . . . . . . . . . . . . . . . . . . . . . . . . . .
1. JM is a painting-by-numbers type lawyer; more a mechanical grafter than natural talent.
2. During XE, his method dictates that one must keep the witness on an extremely short leash, allowing yes/no answers only, without elaboration. This indicates fearfulness of losing control, due to a lack of ability to intelligently improvise on the basis of any unexpected information which may emerge.
3. However, there are some major problems with following this rule of thumb too rigidly:
– A) in order to paint a coherent mental picture of the guilty scenario for the jury via only yes/no answers, the formulation of the questions put becomes extremely important. To do this properly, one must have a masterful command of the facts, a vivid imagination, unbreakable focus and a clinical command of the language in use. JM is rather weak on all 4 here, but 'compensates' by hardly listening to the witness and persistently trying to modify his questions after having gotten the answer. He thus wastes energy fighting the witness instead of skillfully eliciting the testimony required to prove his case.
– B) the witness, if allowed to elaborate, may inadvertently offer evidence favorable to the prosecution. It appeared to me that several times he has thoughtlessly prevented JA from helping herself to more rope (pun intended).
– C) if done in an over-emotional manner (JM's voice often cracks up with frustration) in front of a jury it comes across as bullying or unnecessary hostility, thus generating reactive sympathy for the defendant.
4. He lacks grasp of the English language, often struggling to find words to express himself. JA is well ahead of him on this front and has the (for JM, infuriating) knack of making it painfully obvious by fixing on the subtle difference between what he said and what he wished he had said.
5. He appears to have a short temper and something of a sensitivity about being Hispanic, as seen by his accusatory jibe that Nurmi thinks "all people with Spanish names are the same" after innocently mixing him up with Flores early in the trial.
6. He would evidently benefit from having assistant counsel but apparently ego does not admit this. Possibly connected to his hinted inferiority complex.
7. He is not enjoyable to watch and his excited voice not scoring points will grate on the jurors ears, so they tune out his noise as much as possible.
. . . . . . . . . . . . . . . . . . . . . . . . . . . . . . . . . . . . . . . . . . . .
Overall, maybe Martinez' "issues" could also be connected to him being the seventh of eight children born to illiterate Mexican farm workers. But then again… that's just speculation on my part.
Update: No trial today (Friday) due to the Porno Bishop being adverse to Superbowl traffic. The AZ State Circus returns to town on Monday morning.
In the meantime, and as always…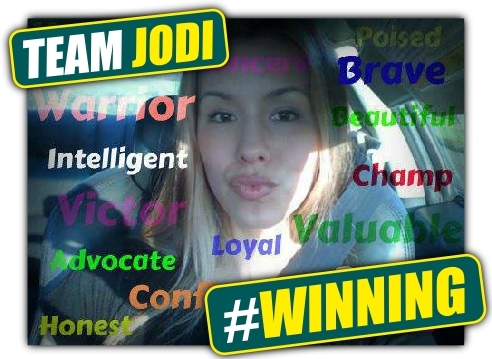 . . . . . . . . . . . . . . . . . . . . . . . . . . . . . . . . . . . . . . . . . . . .
Remember…
WE ARE TEAM JODI – AND WE WILL BE VICTORIOUS in our quest for JUSTICE FOR JODI.
Never question it.
Never doubt it.
Leave your thoughts & comments below…
SJ
Team Jodi #WINNING <<<

Click the banner below to read Jade's post – "Justice Denied: Why The Jurors Got It Wrong & How The Facts Decimate The State's Case Against Jodi Arias.":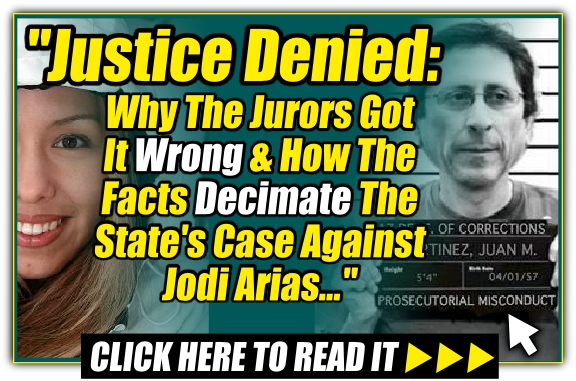 If you would like to help Jodi by way of a financial donation to the JAA APPELLATE FUND, click the Team Jodi link below for further details. All donations via Justice4Jodi.com go directly to the fund for assisting with the legal fees associated with appealing Jodi's wrongful conviction. Justice4Jodi.com is the ONLY website authorized to collect donations.
In addition, please DO NOT, under any circumstances, donate through any other website or Facebook page/group claiming to be "official" and/or acting with Jodi's approval or authorization. The same applies to any "Jodi Membership Clubs", groups or fake Trust funds that have been set up. These sites are bogus – as are their intentions – and they should be actively avoided. If you are aware of any such sites, please help Jodi by clicking here and reporting them. Thank you for your ongoing support!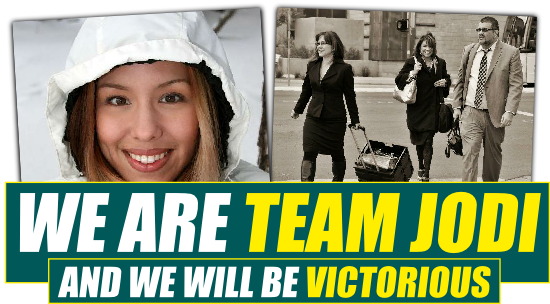 .