.
Following on from the predictable mistrial & hung jury verdict back on March 5th… Pickles has decided to turn what should have been a dull & boring 5 minute LWOP Sentencing Hearing into a full day event. Then again, with 831 days already pissed away since the trial first started, what difference does 1 more day make?
The live broadcast can be accessed here – (opens a new window).
Kick-off is scheduled for 8.30 am MST – or whenever they can get the circus tent up.
Click here (or click the pic below) to read the 27 page Sentencing Memorandum document (filed 4/10/2015).
Pages 1 thru 6 cover the Defense Team's request to the Court for sentencing with a parole option, while pages 7 thru 27 include examples of 60 "real" M1 verdicts that received the proposed sentence…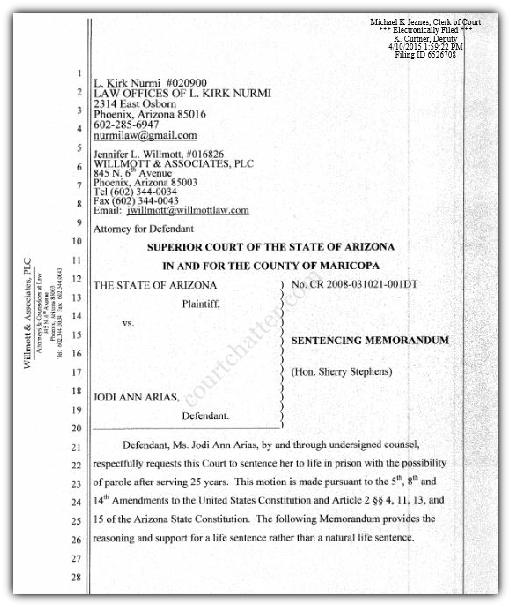 You can also access every court document & motion relating to this trial by clicking here or clicking the Court Docs link from the main menu at the top of the page.
So… with the longest, biggest & most comprehensive judicial fuck-up in AZ's history close to an end… we'll soon know exactly what's happening… and we can then start to plan & forge ahead accordingly with the next stage of our mission – and finally get JUSTICE FOR JODI.
And just to clarify one final point:  There was never a "victim" in this case. There was a potential victim (Jodi), and there was her abusive good-for-nothing POS pedophile attacker (TA). One of them is dead (due to their antics), and the other one is not… and that's the way it's gonna stay.
Now ain't that the truth.
In the meantime folks, and as always… we plough on regardless — cos' we're fucking awesome…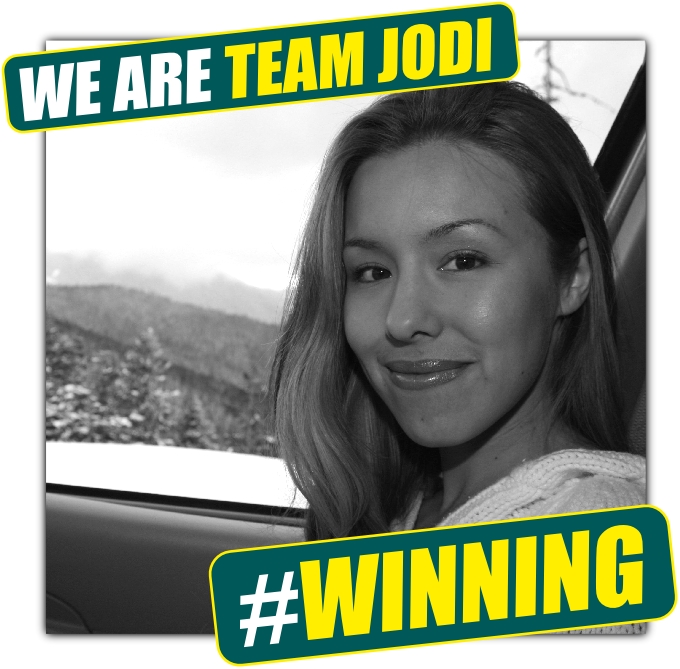 . . . . . . . . . . . . . . . . . . . . . . . . . . . . . . . . . . . . . . . . . . . .
If you missed any of our previous posts, click on the links below:
The Mysterious Stench of Decomp & BS
Chris Hughes – Liar & Pedo-Hugger (trial testimony from 2013)
TA's Pedophile Letter Handwriting Comparison – (Part 2)
TA's Pedophile Letter to Jodi Arias – (Part 1)
REQUIEM FOR CANDY CRUSH (by Lise LaSalle)
Juror #17 – We Thank You
Jodi Arias Victorious Verdict Day: Video Coverage
The Jodi Arias Verdict: My Thoughts On "Pedo-Huggers United"
. . . . . . . . . . . . . . . . . . . . . . . . . . . . . . . . . . . . . . . . . . . .
Remember…
WE ARE TEAM JODI – AND WE WILL BE VICTORIOUS in our quest for JUSTICE FOR JODI.
Never question it.
Never doubt it.
Prepare for it.
Leave your thoughts & comments below…
SJ
Team Jodi #WINNING <<<

Click the banner below to read Jade's post – "Justice Denied: Why The Jurors Got It Wrong & How The Facts Decimate The State's Case Against Jodi Arias.":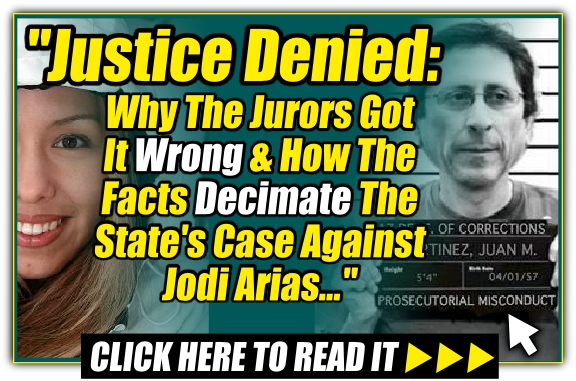 Click the links below to read Jade's previous posts in the series:
The Photos Tell The Story (by Jade)
Stephens, Sandbagging & The Six Month Crap-Fest
Corruption, State-Sponsored Murder & Twelve Angry Men
The Immaculate Deception: Exposed
Michael Melendez – Perjury Exposed
The Presumption of Innocence
The Great Mormon Porn Swindle
If you would like to help Jodi by way of a financial donation to the JAA APPELLATE FUND, click the Team Jodi link below for further details. All donations via Justice4Jodi.com go directly to the fund for assisting with the legal fees associated with appealing Jodi's wrongful conviction. Justice4Jodi.com is the ONLY website authorized to collect donations.
In addition, please DO NOT, under any circumstances, donate through any other website or Facebook page/group claiming to be "official" and/or acting with Jodi's approval or authorization. The same applies to any "Jodi Membership Clubs", groups or fake Trust funds that have been set up. These sites are bogus – they continue to steal money from Jodi – and they should be actively avoided. If you are aware of any such sites, please help Jodi by clicking here and reporting them. Thank you for your ongoing support!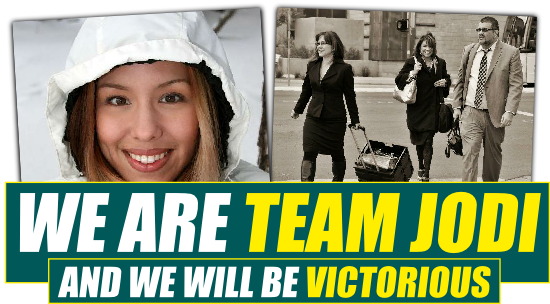 .