Check out the Michael Kiefer story below, published Feb 13th by AZ Central:
If these allegations can be proven by witness testimony – backed up by credible evidence – this would positively affect Jodi's appeals, and may well go some way towards overturning Jodi's wrongful conviction.
. . . . . . . . . . . . . . . . . . . . . . . .
"Attorneys for Jodi Arias have asked the State Bar of Arizona to reinstate a bar complaint against prosecutor Juan Martinez, saying there is overwhelming evidence that he violated attorney-ethics rules during Arias' 2015 trial.
The 37-page objection to the complaint's dismissal was filed Friday.
The appeal contends that Martinez leaked confidential information about the case and its jurors to two women attending the trial as social-media commentators. As a result, the attorneys claim, the identity was leaked of the sole juror who voted against sending Arias to death row for murdering her sometime-boyfriend Travis Alexander.
The objection also alleges that Martinez, a deputy Maricopa County attorney, had inappropriate communications with another juror whom he had discharged from the case.
Karen Clark and Ralph Adams, who specialize in attorney ethics, filed their initial complaint against Martinez in early 2017. Legal counsel for the State Bar, which licenses and disciplines attorneys in Arizona, dismissed the complaint in January without sending it on to the Bar's probable cause committee, which could recommend sanctions against Martinez or refer his case to a disciplinary hearing.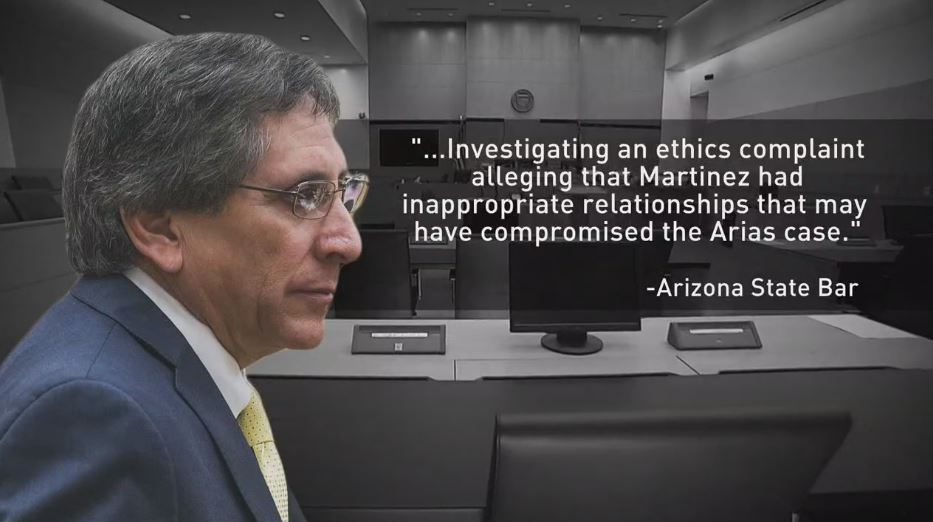 If sanctions or a disciplinary hearing occurred, either could impact Martinez's long and lauded career and could affect Arias as well. Any findings against Martinez could affect the status of Arias' appeal of her conviction and life sentence, which have not yet gone before the Arizona Court of Appeals for review.
The objection filed Friday was addressed directly to the probable-cause committee. The objection is public record and was obtained by The Arizona Republic.
It alleges that:
Martinez engaged or attempted to engage women with whom he had flirtatious or outright sexual relationships to get information about jurors or leak confidential case information over social media. One of his alleged lovers, a social-media blogger, bragged to at least two others that she helped Martinez dig up negative information about the sole juror who refused to vote for a death sentence. And curiously, that juror's name was revealed minutes after a mistrial was declared.
While the second Arias trial was underway, Martinez carried on an inappropriate telephone and text-message relationship with a juror who had been dismissed from the case. The woman alleges that Martinez pressed her for information on what other jurors were thinking. Martinez claimed he quickly ended the correspondence, which the woman debates.
Clark and Adams' allegations are supported by interviews with four key witnesses. Their appeal contains documentation, including forensically authenticated real-time text messages between one of Martinez's alleged lovers and a friend with whom she carpooled.
Karen Clark has a track record as an ethics lawyer. In 2004, while acting as counsel for the State Bar, she secured a disbarment against Ken Peasley, a well-known Pima County prosecutor, for prosecutor misconduct. It was the first time in the country that a prosecutor had been disbarred, and Clark's findings led to two murder convictions being overturned.
Working with Adams, who is also her husband, she succeeded last year in disbarring Kirk Nurmi, Arias' lead attorney, largely on the fact that he had violated attorney-client privilege by writing a tell-all book about the case.
Martinez had begun writing a book — now published — about the Arias case during the 1½-year hiatus between Arias' first and second trials. A Bar charge against him on that count was dismissed, but Clark also wants that decision to be reconsidered.
After the dismissal of their initial complaint against Martinez, Clark and Adams conducted their own interviews and included the transcripts of those in their appeal.
The document also includes hundreds of pages of other material, including records in Martinez's personnel file from 1990 and 1991, when he was reprimanded first for inappropriate and unprofessional contact with secretaries in the office and then for making an inappropriate sexual remark to a female attorney.
Clark and Adams' current allegations are supported by interviews with four witnesses: the blogger's former business partner; the freelance television journalist who carpooled with the blogger; the blogger's ex-husband; and the dismissed juror, who went so far as to text nude photos of herself to Martinez…"
CLICK HERE TO READ TO FULL STORY @ AZCENTRAL.COM
. . . . . . . . . . . . . . . . . . . . . . . .
UPDATE: The JAA Appellate Fund total currently stands at $115,769.81 — so let's be sure to keep the momentum rolling throughout 2018, so the fund total can push on towards the ultimate target of $250,000. That in turn will help towards covering all the legal fees associated with appealing Jodi's wrongful conviction.
All donations via Justice4Jodi.com go directly to the fund. It is also the ONLY website authorized to collect donations.
In addition, please DO NOT, under any circumstances, donate through any other website or Facebook page/group claiming to be "official" and/or acting with Jodi's approval or authorization. The same applies to any "Jodi Membership Clubs", groups or fake Trust funds that have been set up. These sites are bogus – they continue to steal money from Jodi's future – and they should be actively avoided. If you are aware of any such sites, please help Jodi by clicking here and reporting them.
And remember… each day that passes takes us one day closer to Jodi's release date…

 . . . . . . . . . . . . . . . . . . . . . . . . . . . . . . . . . . . . . . . . . . . .
Make no mistake.
Believe it.
Prepare for it.
Be part of it.
SJ
Team Jodi #WINNING <<<

Click the banner below to read Jade's post – "Justice Denied: Why The Jurors Got It Wrong & How The Facts Decimate The State's Case Against Jodi Arias.":