.
In the midst of the current jury selection debacle, Jodi's attorney's (yesterday) filed a motion to dismiss the DP based on misconduct by Juan Martinez, Esteban Flores and wife (Corrina Flores)… together with additional documented issues relating to witness intimidation, verbal abuse & harassment of witnesses & defense counsel, Brady violations, evidence withholding & tampering, social media tweets relating to sealed hearings, video postings, questionable activities from MCSO's deputies & detention officers — and a whole lot more to boot.
*** Click here for the latest video update from the AZ Cartoon Network ***
Click here (or click the pic below) to launch the 50 page motion (PDF document) in a new window.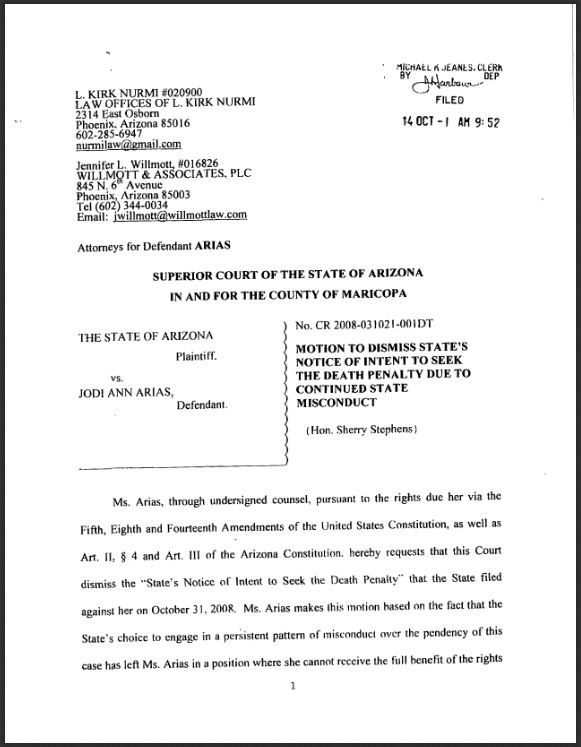 The detailed motion is covered from pages 1 thru 23. The exhibits & docs referred to in the motion are listed from page 24 onwards.
It makes interesting reading for sure.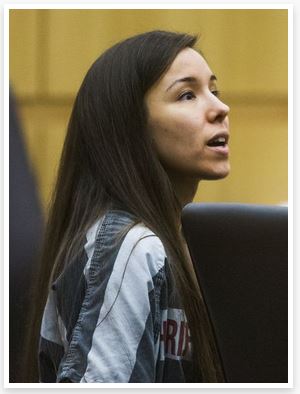 . . . . . . . . . . . . . . . . . . . . . . . . . . . . . . . . . . . . . . . . . . . . . . . .
Remember…
WE ARE TEAM JODI – AND WE WILL BE VICTORIOUS in our quest for JUSTICE FOR JODI.
Never question it.
Never doubt it.
Leave your thoughts & comments below…
SJ
Team Jodi
If you would like to help Jodi by way of a financial donation to the official JAA APPELLATE FUND, click the Team Jodi link below for further details. All donations via Justice4Jodi.com go directly to the fund for assisting with the legal fees associated with appealing Jodi's wrongful conviction. Justice4Jodi.com is the ONLY website authorized to collect donations.
In addition, please DO NOT, under any circumstances, donate through any other website or Facebook page/group claiming to be "official" and/or acting with Jodi's approval or authorization. The same applies to any "Jodi Membership Clubs", groups or fake Trust funds that have been set up. These sites are bogus – as are their intentions – and they should be actively avoided. If you are aware of any such sites, please help Jodi by clicking here and reporting them. Thank you for your ongoing support!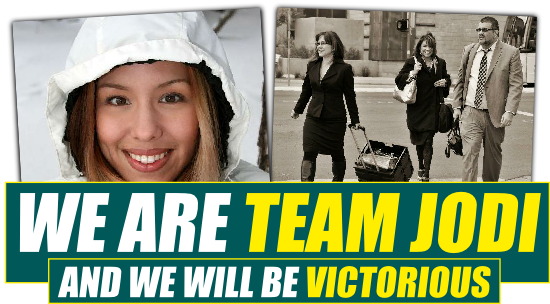 .