Here's where we are right now with regards to Jodi's Appeals.
Many thanks to Alan for this informative post.
. . . . . . . . . . . . . . . . . . . . . . . . . . . . . . . . . . . . . . . . . . . .
At SJ's invitation, here is a slightly expanded version of my earlier post about Jodi's appellate process.  I welcome any corrections if I am wrong.
First, as Justus noted, appeals are almost always about law – whether the defendant did or did not get a fair trial – not about the facts showing guilt or innocence.  Those would only get reexamined in a new trial.
Second, the main aim of Jodi's appeals is to overturn her conviction, not to reduce her sentence.  According to a Michael Kiefer article last year in the Arizona Republic — (click here to read the full article at AZCentral.com) — in 2013-15 Arizona did not even have a life-with-parole sentence option for first-degree murder, though many lawyers and judges believed that it did. Since then, the Arizona Revised Statutes seem to have changed, but I've been unable to determine whether and how the changes might allow Jodi to request a sentence reduction to life with possible parole.  At any rate, the primary goal is to nullify Jodi's conviction.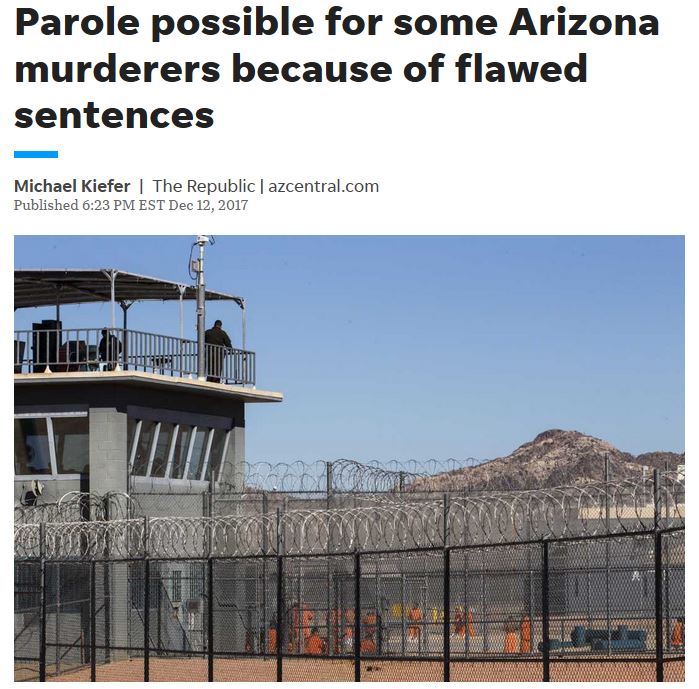 There are six courts that could overturn Jodi's conviction. First, after at least two more briefs are filed, the Arizona Court of Appeals will hear oral arguments later this year and eventually rule. If that fails, the next step is a Post-Conviction Relief petition, which goes back to the trial court.  Some or all of the issues in the PCR petition will be different from those raised in the CoA appeal brief.  For example, that is the venue for raising claims against Nurmi of ineffective assistance of counsel.  Both the CoA appeal and the PCR are handled by Jodi's state-paid lawyers.
After PCR, Jodi would need to hire a private appellate lawyer to take her through the last four possible steps.  First is the Arizona Supreme Court.  Then, if she can persuade the federal district court to take her case, there are three levels of federal courts:  the district court, the 9th Circuit Court of Appeals, and the US Supreme Court. She is lucky in that the 9th Circuit is notoriously liberal, and a few years back, a panel of it wrote a scathing opinion throwing out another Maricopa County murder conviction (Debra Milke's).
There may also be extra steps in this process if any of the four appellate courts uses a three-judge panel to make a decision, since such a decision may then be appealed to the full court.
To hire a private appellate lawyer, the working assumption has been that Jodi needs about $250,000 as a retainer. However, I'm not convinced the full $250K will be required. Her appellate trust currently has about $104,000.
Finally, if any of these six courts throws out her conviction, Maricopa County will have the option to retry her. My bet would be that at that point it would instead accept a plea bargain with a reduced sentence, allowing her eventual freedom.  But you never know; they could choose to retry her, at a cost of many more millions if she were by then indigent again.
One last point:  in two weeks or so, we should be able to read the state's reply to Jodi's initial appeal brief.  I will be very interested to see how the state's lawyer tries to evade the second argument in that brief:  that Martinez, over the repeated objections of the defense before and during trial, built his case for premeditation mainly on hearsay evidence.  Since the hearsay evidence was Jodi's own grandparents' statements to Yreka police about the burglary, this may not motivate an appellate judge to want to throw out the conviction.  But it seems to offer an ironclad hook to hang a reversal on, in case such a judge is motivated by something else, such as the first and sixth arguments (prejudicial publicity and prosecutorial misconduct).  We'll soon see what the state has to say!
. . . . . . . . . . . . . . . . . . . . . . . . . . . . . . . . . . . . . . . . . . . .
UPDATE: The JAA Appellate Fund total currently stands at $104,938.70 — so let's be sure to keep the momentum rolling so the fund total can push on towards the ultimate target of $250,000. That in turn will help towards covering all the legal fees associated with appealing Jodi's wrongful conviction.
All donations via Justice4Jodi.com go directly to the fund. It is also the ONLY website authorized to collect donations.
In addition, please DO NOT, under any circumstances, donate through any other website or Facebook page/group claiming to be "official" and/or acting with Jodi's approval or authorization. The same applies to any "Jodi Membership Clubs", groups or fake Trust funds that have been set up. These sites are bogus – they continue to steal money from Jodi's future – and they should be actively avoided. If you are aware of any such sites, please help Jodi by clicking here and reporting them.
And remember… each day that passes takes us one day closer to Jodi's release date…

 . . . . . . . . . . . . . . . . . . . . . . . . . . . . . . . . . . . . . . . . . . . .
Leave your thoughts & comments below.
SJ
Team Jodi #WINNING <<<

Click the banner below to read Jade's post – "Justice Denied: Why The Jurors Got It Wrong & How The Facts Decimate The State's Case Against Jodi Arias.":