.
Turns out that during Jodi's trial, Kirk Nurmi proved himself to be about as useful & unethical as Hillary Clinton. And that takes some doing.
A few excerpts from yesterday's AZ Central article are listed below.
You can also click here (or click the pic below) to download the 43 page court document in PDF format (opens in a new browser window). The suit asks for punitive as well as compensatory damages – and disgorgement of Nurmi's book profits.
It makes interesting reading for sure…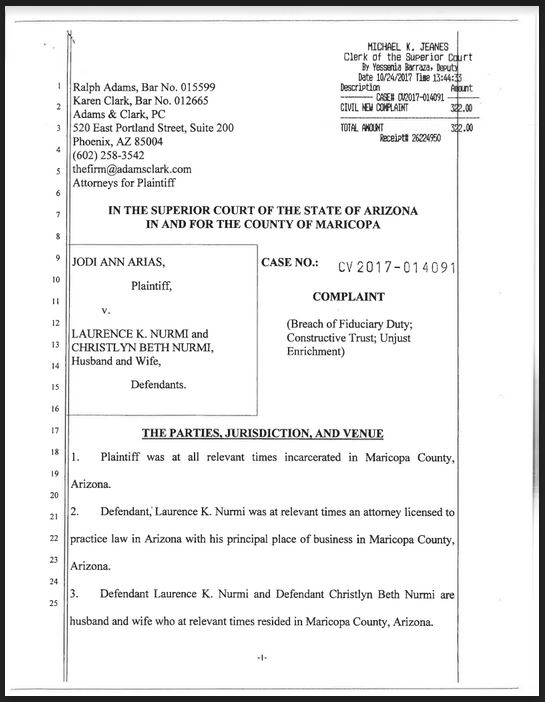 . . . . . . . . . . . . . . . . . . . . . . . . . . . . . . . . . . . . . .
*** CLICK HERE TO READ THE ARTICLE IN FULL @ AZ CENTRAL  ***
"Jodi Arias sues former defense attorney over tell-all book"
Jodi Arias, whose obsessed trial groupies clogged tabloid TV and social media with tales of salacious intrigue and courthouse snark, filed a civil lawsuit Tuesday in Maricopa County Superior Court against her former defense attorney, L. Kirk Nurmi.
Last November, Nurmi surrendered his license to practice law after a Bar complaint was filed by attorney Karen Clark on Arias' behalf because of the book.
Clark also has filed a complaint for Arias against the case prosecutor, Juan Martinez, in which she alleges Martinez fed information about the Arias trial and a holdout juror to a blogger with whom he was rumored to have a romantic entanglement. That complaint is still pending with the State Bar of Arizona.
The current lawsuit against Nurmi was filed by Clark and Ralph Adams, Clark's husband and law partner.
It claims Nurmi violated attorney-client privilege by revealing details about Arias and her trial against her wishes. It also pinpoints passages in the book that it claims are personally disparaging to Arias, or in violation of the rules of ethical conduct for attorneys.
The suit also claims that Nurmi was obsessed with the sexual aspects of the case.
In a joint statement sent via email, Clark and Adams said, "Mr. Nurmi's self-published book about his representation of Ms. Arias revealed confidential and privileged information, and violated his most basic ethical and fiduciary duties to Ms. Arias. What he did was knowingly and intentionally wrong. His book violated his duty to protect confidential information and also contained false statements about Ms. Arias and gross misstatements about her case. He wrote the book in a selfish attempt to 'redeem' his public image and enrich himself to the extreme detriment of Ms. Arias."

"Mr. Nurmi is now disbarred for ethical violations concerning his misconduct involving Ms. Arias," the statement said. "The civil suit requests compensation for the damage done to Ms. Arias and that Mr. Nurmi disgorge all profits he received from the public media promotion and sale of his outrageous and self-serving book about Ms. Arias and her case."
*** CLICK HERE TO READ THE ARTICLE IN FULL @ AZ CENTRAL  ***
. . . . . . . . . . . . . . . . . . . . . . . . . . . . . . . . . . . . . .
UPDATE: The JAA Appellate Fund total currently stands at $115,026.18 — so let's be sure to keep the momentum rolling throughout the remainder of 2017, so the fund total can push on towards the ultimate target of $250,000. That in turn will help towards covering all the legal fees associated with appealing Jodi's wrongful conviction.
All donations via Justice4Jodi.com go directly to the fund. It is also the ONLY website authorized to collect donations.
In addition, please DO NOT, under any circumstances, donate through any other website or Facebook page/group claiming to be "official" and/or acting with Jodi's approval or authorization. The same applies to any "Jodi Membership Clubs", groups or fake Trust funds that have been set up. These sites are bogus – they continue to steal money from Jodi's future – and they should be actively avoided. If you are aware of any such sites, please help Jodi by clicking here and reporting them.

. . . . . . . . . . . . . . . . . . . . . . . . . . . . . . . . . . . . . .
Remember…
WE ARE TEAM JODI – AND WE WILL BE VICTORIOUS in our quest for JUSTICE FOR JODI.
Make no mistake.
Believe it.
Prepare for it.
Be part of it.
SJ
Team Jodi #WINNING <<<

Click the banner below to read Jade's post – "Justice Denied: Why The Jurors Got It Wrong & How The Facts Decimate The State's Case Against Jodi Arias.":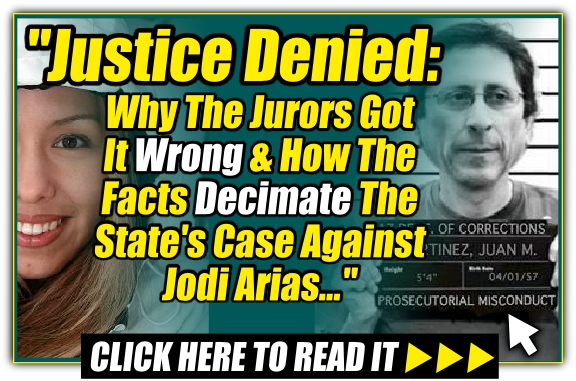 ---
---
Jodi Arias: An Argument for Reasonable Doubt:
Read it here > http://justice4jodi.wikispaces.com
---
---