.
CLICK HERE FOR DAY 46 VIDEO RECORDING

The events following the body bag picture post yesterday were interesting to say the least. In addition to attracting a load more new visitors & posters, we also managed to oust a few people that maybe weren't that pro-Jodi after all, and were only here for the free coffee & biscuits. Well, good riddance to those fair-weather fucks. We're here on a mission, and we have no room for fence-sitting passengers or assholes. Thanks for all your supportive messages which I couldn't reply to individually. TEAM JODI FOREVER!
Today's first ever TGIF trial day is scheduled to run from 9.30 am to noon/1 pm, depending on which way the wind is blowing

Leave your comments below on trial day 46, as Alyce LaViolette continues answering the jurors questions.
SJ
Team Jodi
If you would like to help Jodi directly by way of a financial donation via check or PayPal, click here (or click the Team Jodi link below) for further details. Thank you for your support!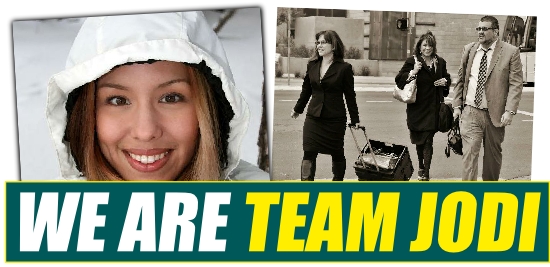 .