..
CLICK HERE FOR DAY 41 VIDEO RECORDING
Following yesterday's events where the County Attorney's office leaked interview videos & Jodi's diary contents to the media, the trial day started with Kirk Nurmi requesting the jury be sequestered. As he rightly stated, to assume the jurors are not seeing or hearing anything relating to the trial is "absolute fiction" and a "fairy tale".
The Nurminator also said he'd witnessed the media (who also provide pics to HLN) filming the arrival at the courthouse this morning of "jurors 1, 4, 6, 17 & 13". As is typical in this trial, the request for juror sequestration was denied by Judge Pickles. She asks them if they saw or heard anything, and they say no. To that I say BS.
Leave your comments below on the afternoon session of day 41, as Alyce LaViolette's testimony continues – and Jodi takes one step closer to victory…
SJ
Team Jodi
If you would like to help Jodi directly by way of a financial donation via check or PayPal, click here (or click the Team Jodi link below) for further details.
UPDATE: Our Jodi art gallery has now been updated with 4 new original drawings… Coy, Elvis Presley, Energy & Onshore Wind. Click here to check them out and to place your bids.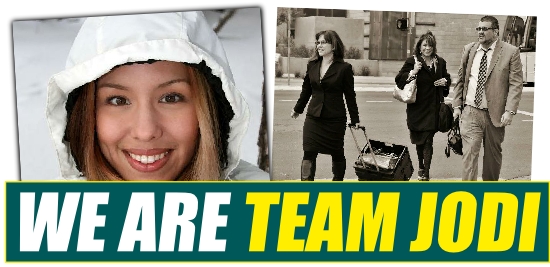 .