.
CLICK HERE FOR DAY 40 VIDEO RECORDING
Ok then… so we kind of already knew what a player, expert manipulator, sexual deviant and a total bastard TA was. It basically states the same in the 2011 Plea Bargain document.
But it's good that the specific details are now coming out through Alyce LaViolette's testimony. No wonder the state went out of their way to try and hide the 8,000+ emails & texts. So much for Dave Hall's recent TV comments, where he states that Jodi was only dating TA for his "cars" and his "money". That's the car he sold due to being broke, and all the money he begged & borrowed from Sky Hughes & others, right?
The cross with Alyce should be interesting to say the least. She is well accustomed to dealing with arrogant bad tempered little shits, but nevertheless it'll be interesting to see how long it takes JM before he asks her if she has "memory problems", and subsequently if Alyce can resist bouncing the water jug off JM's new wig. We shall see.
Thanks to everyone for their ongoing support of Jodi, and in helping get this site into the top 19,000 most visited sites in the US right now. It's also great to see that we can have ongoing meaningful (and sometimes highly humorous) discussion during the trial, without resorting to hateful comments and stupid-ass death threats. That's say a lot…. and it's testament to what I've mentioned many times before. The grass on this side of the fence is definitely greener… while you can hardly see the grass on the Taliban side of the fence for BS.
Leave your comments below on day 40, as Alyce LaViolette's direct testimony continues, and Jodi takes one step closer to victory…
We are getting there.
Never question it.
Never doubt it.
SJ
Team Jodi
If you would like to help Jodi directly by way of a financial donation via check or PayPal, click here (or click the Team Jodi link below) for further details.
UPDATE: Our Jodi art gallery has now been updated with 4 new original drawings… Coy, Elvis Presley, Energy & Onshore Wind. Click here to check them out and to place your bids.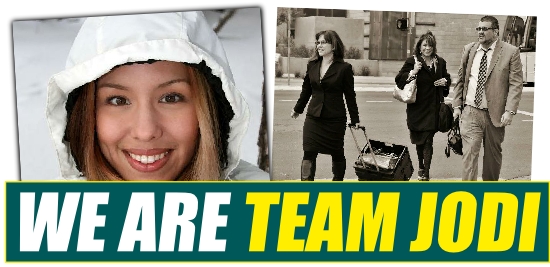 .