.
CLICK HERE FOR DAY 39 VIDEO RECORDING
It's been quite eventful over the Easter recess, with juror #5 being called out and on the verge of being booted from the jury following their recent antics. This came to light last Thursday after a closed door hearing, following the impromptu evidentiary hearing testimony of HLN's JINKASAURUS. Judge Pickles basically tried to keep one can of worms closed over Martinez' grandstanding escapades, while inadvertently opening another.
Click here to read the 5 page defense "Motion for Mistrial – Juror Misconduct" document (PDF), filed on Sunday.
As for a mistrial being granted, I'd hope that wouldn't happen. Yes, it'd certainly be good ammo for any appellate court after the trial (in the unlikely event it's needed)… but more importantly, Victory for Jodi is now in plain sight… so let's plough on from here and see it through to the end.
The wounded, weary & clueless Travis Taliban are now dropping like flies, as they finally start to realize they will be defeated… even more so now all their "hopes" ultimately rest on a Walmart receipt.
That's what happens when you fly the false flag of Justice… and when all you're really doing is hating and seeking retribution & vengeance. Justice never comes into it. It never has.
Remember… We are TEAM JODI and WE WILL BE VICTORIOUS.
Ain't that the truth.
Leave your comments below on day 39…
SJ
Team Jodi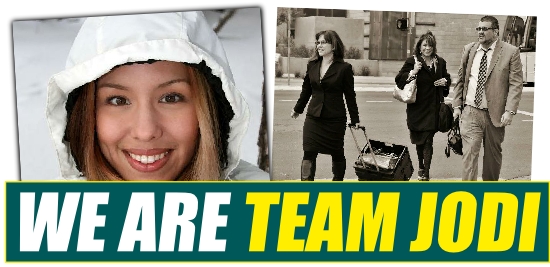 UPDATE: Our Jodi art gallery has now been updated with 4 new original drawings… Coy, Elvis Presley, Energy & Onshore Wind. Click here to check them out and to place your bids.
.