.
CLICK HERE FOR DAY 39 VIDEO RECORDING

Following the dismissal of juror #5 this morning, Alyce LaViolette is now back on the stand continuing her direct testimony. The various email exchanges detailing TA's systematic abuse are finally get some serious airplay.
USA Today stated as follows:
Furthermore, according to the filing, the case agent, Mesa police Detective Esteban Flores, told the defense attorneys that there was nothing "out of the ordinary" among Alexander's emails; about 8,000 were turned over to the defense in June 2010, including the Hughes emails.

The 2011 filing details the email contents, including "A response from Mr. Hughes … wherein he asserts that he believes Jodi would be his (Travis') next victim and that Jodi was just another girl that he (Travis) was playing." Alexander allegedly replied by saying "I am a bit of a sociopath."

Other emails from Sky Hughes, the filing says, say that Alexander considered Arias to be a "booty call," and said "How he, Mr. Alexander, was abusive to Jodi and … how he was beating her emotionally in part by making out with her without giving her a commitment." And there is an email from another woman Alexander was seeing at the time "wherin she complains of Mr. Alexander's conduct making her feel used and dirty."

How much of those emails make it into testimony remains to be seen. Chris and Sky Hughes have already testified for the prosecution regarding an earlier allegation of misconduct by Martinez, but the topic of the emails was not discussed. They could be called back.
Leave your comments below on the afternoon session of day 39…
SJ
Team Jodi
If you would like to help Jodi directly by way of a financial donation via check or PayPal, click here (or click the Team Jodi link below) for further details.
UPDATE: Our Jodi art gallery has now been updated with 4 new original drawings… Coy, Elvis Presley, Energy & Onshore Wind. Click here to check them out and to place your bids.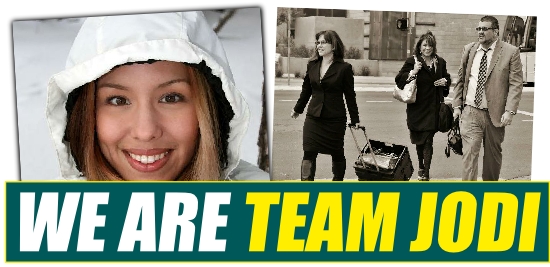 .