.
CLICK HERE FOR DAY 29 VIDEO RECORDING
Overall, yesterday was yet another good day for Jodi. All the questions were predictable (and no doubt there are more to come today), but Jodi came across well and answered them all promptly, even though they were in no particular order. Reasonable doubt is certainly abundant, and pre-meditation is not even an issue.
For many people, it's just way too easy to analyze a particular situation countless times, then say "Well, I would have done this"… or "I would have done that"… or "I would have gone this way instead". Hindsight is indeed a wonderful thing – but when you're in a literal life or death situation, all logical thinking goes out of the window. You do not have time to formulate a plan… you just do what you have to do in order to survive… and that's exactly what Jodi did on June 4th 2008.
If you missed my earlier post where the questions from yesterday are listed, click here to read it.
UPDATE: There will be no trial next Monday or Tuesday… the trial will therefore resume again next Wednesday – March 13th… in effect making it a 2-day week.
Regardless of that… WE ARE TEAM JODI – AND WE WILL BE VICTORIOUS.
Never doubt it.
Leave your thoughts below on day 29…
SJ
Team Jodi
PS. Feel free to suggest a caption for the picture below…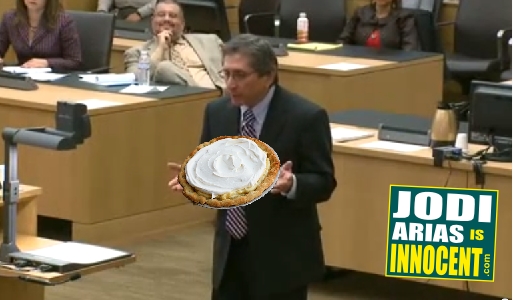 PPS. If you would like to help Jodi directly by way of a financial donation, click here (or click the Team Jodi link below) for further details…