.
Today marks the 7th anniversary of a very special day.
It's the day Jodi successfully defended herself against the vicious & unprovoked attack TA unleashed on her. He was an abusive pedo POS animal. Make no mistake.
Thankfully Jodi won that battle. She was the potential victim… but she successfully turned the tables on her attacker, and justice for TA was well & truly served that day. [click here for proof if you still need it].
So let the events of that day be a warning to any other self-righteous bastards that think they can verbally & physically abuse women and get away with it. Because the fact of the matter is… in the cold light of day… most of the time you can get away with it… but sometimes… well……. you just can't.
"Jodi you are my new HERO! I just finished watching the end of the prosecutions ridiculous attempt at a cross and you stayed calm, cool and collected. I am in your corner. You stand for every girl who has ever been used and abused by some creep I can tell you are a very intelligent and sweet person. You cannot measure a person's worth by their worst act. Yes I know what you did was wrong, but I know it was done for a very good reason. I wish you all the best of luck and know we are all beside you!" – Jesse
Here's a clip from Jodi's pre-sentencing interview with Mark Curtis (AZ Central) from May 22nd 2013, where Jodi discusses being a survivor of domestic violence and her ongoing efforts to raise awareness on the subject.
[hdplay id=250 width=500 height=300]
Remember…
The JAA Appellate Fund $25,000 Matching-gift Campaign is now underway: A donor who wishes to remain anonymous has pledged to match, dollar for dollar, any new donations received before August 1, 2015, up to a total of $25,000. Please give generously – and soon – to allow the JAA Appellate fund to take full advantage of this gift.
All donations via Justice4Jodi.com go directly to the fund for assisting with the legal fees associated with appealing Jodi's wrongful conviction. Justice4Jodi.com is the ONLY website authorized to collect donations.
In addition, please DO NOT, under any circumstances, donate through any other website or Facebook page/group claiming to be "official" and/or acting with Jodi's approval or authorization. The same applies to any "Jodi Membership Clubs", groups or fake Trust funds that have been set up. These sites are bogus – they continue to steal money from Jodi – and they should be actively avoided. If you are aware of any such sites, please help Jodi by clicking here and reporting them. Thank you for your ongoing support!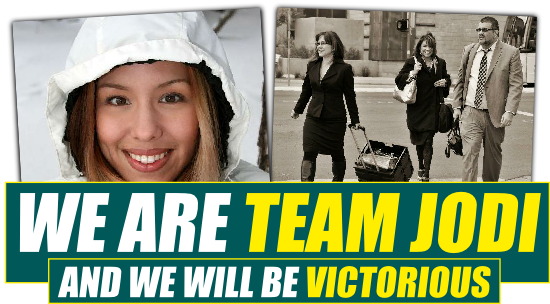 . . . . . . . . . . . . . . . . . . . . . . . . . . . . . . . . . . . . . . . . . . . .
If you missed any of our previous posts, click on the links below:
"Jodi Arias – A Few Questions" (by Publius Smith)
Sky Hughes – Email Exchange r.e. TA's Pedo Antics (June 2010)
My current thoughts, forward plans & other stuff
The JAA Appellate Fund $25,000 Matching-gift Campaign
Jennifer Willmott – interviews w/Michael Kiefer & ABC15
Justice For Jodi + Post-sentencing Videos
The Mysterious Stench of Decomp & BS
Chris Hughes – Liar & Pedo-Hugger (trial testimony from 2013)
TA's Pedophile Letter Handwriting Comparison – (Part 2)
TA's Pedophile Letter to Jodi Arias – (Part 1)
REQUIEM FOR CANDY CRUSH (by Lise LaSalle)
Juror #17 – We Thank You
Jodi Arias Victorious Verdict Day: Video Coverage
The Jodi Arias Verdict: My Thoughts On "Pedo-Huggers United"
. . . . . . . . . . . . . . . . . . . . . . . . . . . . . . . . . . . . . . . . . . . .
If you'd like to send Jodi a letter or postcard, click here for the current address details & guidelines.
To access every court document & motion relating to this trial, click here or click the Court Docs link from the main menu at the top of the page.
In the meantime…
WE ARE TEAM JODI – AND WE WILL BE VICTORIOUS in our quest for JUSTICE FOR JODI.
Never question it.
Never doubt it.
Prepare for it.
Celebrate The Day – June 4th… Survivor Day.
Leave your thoughts & comments below…
SJ
Team Jodi #WINNING <<<

Click the banner below to read Jade's post – "Justice Denied: Why The Jurors Got It Wrong & How The Facts Decimate The State's Case Against Jodi Arias.":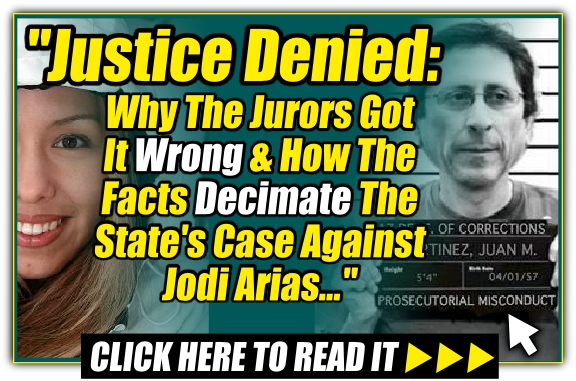 Click the links below to read Jade's previous posts in the series:
The Photos Tell The Story (by Jade)
Stephens, Sandbagging & The Six Month Crap-Fest
Corruption, State-Sponsored Murder & Twelve Angry Men
The Immaculate Deception: Exposed
Michael Melendez – Perjury Exposed
The Presumption of Innocence
The Great Mormon Porn Swindle