.
Day 6 turned out to be a bit of a damp squib compared to yesterday.
It started off with a very embarrassing, badly rehearsed & piss-poor display from Morticia & Elvis. You'd think that after (allegedly) coercing several million dollars from their well-planned & fake grieving exploits, they could of at least paid for acting lessons.
It's like I said a while back… had Morticia not seen the news of TA's timely demise on TV, she'd still be sending him begging letters and wondering why she'd had no reply. Inbreds.
Anyways… after that gut-wrenching fiasco it was back to "BS as usual", with numerous sidebars, meetings in Pickles' chambers, and the press being ushered in & out of the courtroom a bunch of times to boot.
The first witness was scheduled to testify (after the noon recess) via a closed hearing and a closed viewing room too – for the reasons Pickles specified. That was the deal.
Moving on… and by mid-afternoon, Pickles decided the courtroom would remain "locked" for the rest of the day – and so it was.
Now the collective media are throwing their toys out of their prams again, because they were told they couldn't watch or report or tweet on the closed testimony. The thing is… this is not a closed testimony just for the sake of it. It's because the witness has received credible death threats based on the testimony they were prepared to give. So no, the media don't get to publish his or her details for all to see. Their "higher ratings" & "higher ad revenues" plan is gonna have to wait.
The last I heard, the media had just filed a motion to have the trial halted. WTF? So what now? We have another elongated delay while the court decides whether or not the media can have a field day with a closed testimony witness? Only in Arizona…
The radical clerics at the HLN mosque fucked up royally all throughout the first trial (as did many other media outlets too), which is precisely why live trial coverage was banned this time around. And they still have the audacity to talk about a "fair trial" and how this latest ruling goes against the AZ Constitution. Really? Does anything in the AZ Constitution cover the witnesses right to a closed hearing after receiving death threats? GMAFB.
Overall though, and despite the non-events of yesterday (and the best efforts of the press and the Morticia & Elvis double-act), we are definitely gaining ground, slowly but surely.
The circus returns to town sometime next week year @ 9.30 am MST. 
. . . . . . . . . . . . . . . . . . . . . . . . . . . . . . . . . . . . . . . . . . . .
If you missed any of our earlier posts, click on the links below…
Retrial Day #5       Retrial Day #5 Reviewed       Retrial Day #6
HLN, Martinez, inbreds & teenage girls (in that order)…
Gus Searcy's interview, Part 2 [w/Pitchforks] – from June 2013
Ratings, Lies & Edited Tape [Gus Searcy audio] – from June 2013
TA: Devirginated by Deanna Reed [April 2013 RE-POST]
Oscar Pistorious + My thoughts on the retrial circus
Innocence: An Argument For Jodi Arias [2013 RE-POST]
. . . . . . . . . . . . . . . . . . . . . . . . . . . . . . . . . . . . . . . . . . . .
Remember…
WE ARE TEAM JODI – AND WE WILL BE VICTORIOUS in our quest for JUSTICE FOR JODI.
Never question it.
Never doubt it.
Leave your thoughts & comments below…
SJ
Team Jodi
If you would like to help Jodi by way of a financial donation to the official JAA APPELLATE FUND, click the Team Jodi link below for further details. All donations via Justice4Jodi.com go directly to the fund for assisting with the legal fees associated with appealing Jodi's wrongful conviction. Justice4Jodi.com is the ONLY website authorized to collect donations.
In addition, please DO NOT, under any circumstances, donate through any other website or Facebook page/group claiming to be "official" and/or acting with Jodi's approval or authorization. The same applies to any "Jodi Membership Clubs", groups or fake Trust funds that have been set up. These sites are bogus – as are their intentions – and they should be actively avoided. If you are aware of any such sites, please help Jodi by clicking here and reporting them. Thank you for your ongoing support!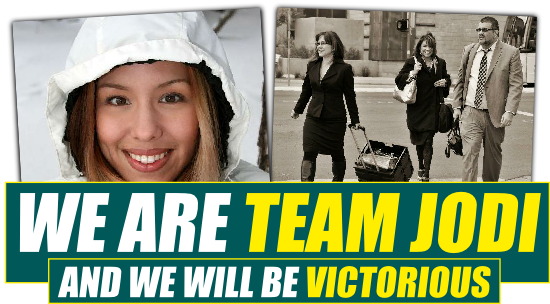 .