.
Describing Day 5 as "eventful" would be an understatement to say the least. I'm not sure whether Morticia slipped Kermit some crystal meth during the first morning recess, or what.
But following on from a Kermit-inspired sex, lies & stupidity-riddled morning, this is what I wrote in an earlier comment…
"Any misconceptions about the DP still being on the table have been well & truly extinguished by the gross stupidities of Kermit this morning. No wonder they teach "Kermit Classes" at law school… where they use actual Kermit trial footage to demonstrate how NOT to act as a prosecutor. Today's performance was Classic Kermit to say the least."
I think I posted that shortly after the 12 year old's orgasm debate, followed by Kermit asking Flores if he'd ever had sex with Kirk Nurmi.
Only in Arizona…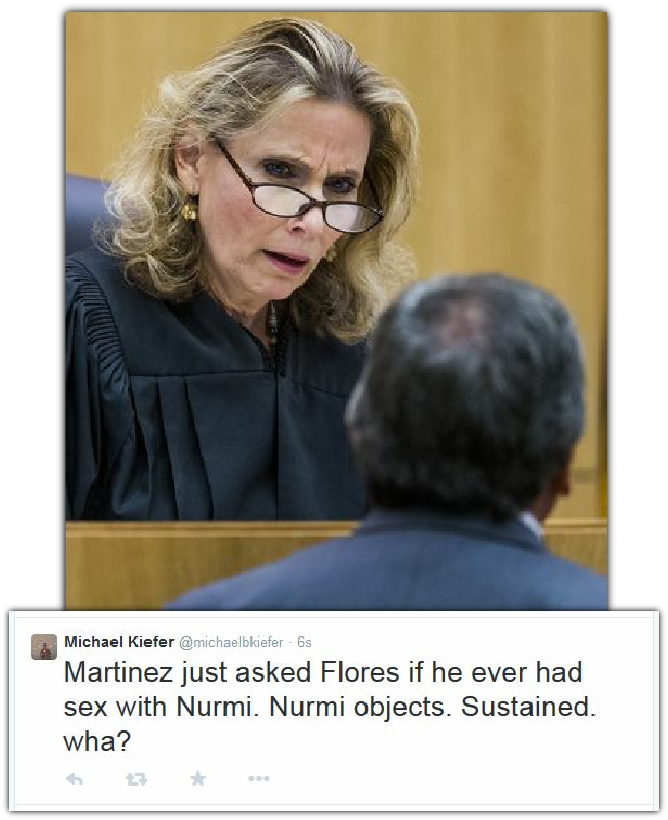 Anyways… nothing surprises me any more.
With all the bravado, innuendo, stupidity, douchebaggery & pissing matches set aside for a moment – here's what it all comes down to:
With any trial… and irrespective of any & all prevailing factors… if the state can prove premeditation… and they can produce clear conclusive evidence to validate their case beyond and to the exclusion of all reasonable doubt… then whoever is on trial should rightly be on the receiving end of a guilty verdict and a suitable sentence. The previous "guilty verdict" returned in Jodi's initial trial was based on supposition & juror coercion — and with no valid proof or valid evidence ever produced. When that is allowed to happen, the whole justice system morphs into a judicial farce.
And stating that Jodi rented a car and kicking some half-assed gas can theory around the courtroom for 3 days doesn't prove a damn thing, aside the fact that Kermit still has nothing to work with. Based on that, you gotta say he's done remarkably well to get this far with nothing aside hot air.

Getting back to yesterday:   For once, Kirk Nurmi finally had the balls to call out this case for what it really is. BULLSHIT. It's a revenge-based & grossly overcharged self-defense case. Always has been. Always will be… despite the ongoing perjury riddled retrial testimonies from Flores & Horn. I mean, even after 4 years, neither of them can agree on who said what, let alone the sequence of events that seem to change as often as Flores changes his magic undergarments.
Justice For Travis?
No folks. AIN'T GONNA HAPPEN. Ever. I said this back in December 2012, and the same still applies. Anyone still hoping (or thinking) otherwise needs to get used to that fact, and fast. Dead abusive meth-head POS pedo MF's DON'T get justice. Why would they? Especially when their own actions ultimately caused their demise.
As for Justice For Jodi?
It's in the bag… and it's happening.
We are Team Jodi… and We Are Winning.
Make no mistake.
Here's are a few tweetingz from yesterday that kinda sum everything up really well…


And here's the last one from Jurors questions – confirming there was someone else in the house on June 4th. Who that was… what they were doing at the time… and whether or not the bloody bathroom boot print belonged to them, we can (for now at least) only speculate… just like Kermit has been doing since January 2013. It also begs the question as to why any of the roommates were never called to testify…

. . . . . . . . . . . . . . . . . . . . . . . . . . . . . . . . . . . . . . . . . . . .
There's no court today (Wednesday). The circus starts again Thursday @ 9.30 am MST.
Remember…
WE ARE TEAM JODI – AND WE WILL BE VICTORIOUS in our quest for JUSTICE FOR JODI.
Never question it.
Never doubt it.
Leave your thoughts & comments below…
SJ
Team Jodi
If you would like to help Jodi by way of a financial donation to the official JAA APPELLATE FUND, click the Team Jodi link below for further details. All donations via Justice4Jodi.com go directly to the fund for assisting with the legal fees associated with appealing Jodi's wrongful conviction. Justice4Jodi.com is the ONLY website authorized to collect donations.
In addition, please DO NOT, under any circumstances, donate through any other website or Facebook page/group claiming to be "official" and/or acting with Jodi's approval or authorization. The same applies to any "Jodi Membership Clubs", groups or fake Trust funds that have been set up. These sites are bogus – as are their intentions – and they should be actively avoided. If you are aware of any such sites, please help Jodi by clicking here and reporting them. Thank you for your ongoing support!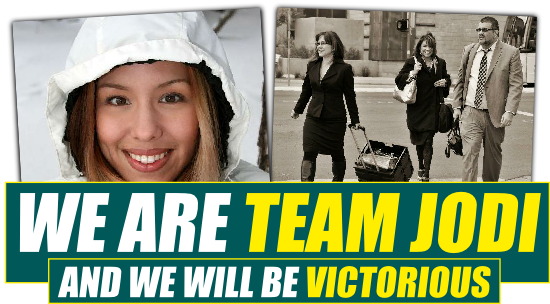 .
.