.
Welcome to Day #46… as we finally get to the closing arguments & jury instructions bit of the retrial. Looks like Pickles was right all along with her earlier "25th-26th" finish date… but  it's about the only thing she has got right since January 2013.
Anyways… let's not get too carried away today. Closings & stuff will likely take up a day or so… then we'll have to wait a short space of time for the ever decreasing hung jury to come back with their split decision. After that, Pickles then has to trot back to her chambers – light a few candles – and toss a coin to see what "verdict" to come up with to try and keep everyone happy — and she might even do that by the end of this week like she planned.
But here's the thing folks… and here's what we need to remember above all else:
The verdict… whenever & however it arrives… is basically a decision on who's gonna end up paying for Jodi's appeals, so Jodi can finally get justice – and this whole BS fiasco can be straightened out once and for all.
So in the big scheme of things, the verdict is not so ground-breakingly critical. It can get a bit complicated, but either the overly generous AZ taxpayers are gonna have to foot the bill for the appeals… or Jodi may have to pay for some or all of the appeals herself, including the hiring of a competent appellate lawyer. This is why we've been preparing for that and including reference & links to the JAA Appellate Fund site in every post, for when it's needed.
Overall though – all we do know for certain right now is that this trial will go down as the longest, biggest & most comprehensive judicial fuck-up in AZ's history. So hopefully lessons will be learned to save any repetition in the future. In fact several trials have already cited this trial in an attempt to avoid a repeat.
So with all that said & done… today's kick-off is currently scheduled for 9.30 am MST.

Click here to follow Michael Kiefer's live tweetingz.  Click here for the current time in the Arizona circus tent.
And as I mentioned yesterday — if you are in or around the Phoenix area, be sure to get yourself down to the courtroom to support Jodi. If you can't, then we'll plough on and continue our support online, here in the website.
In the meantime…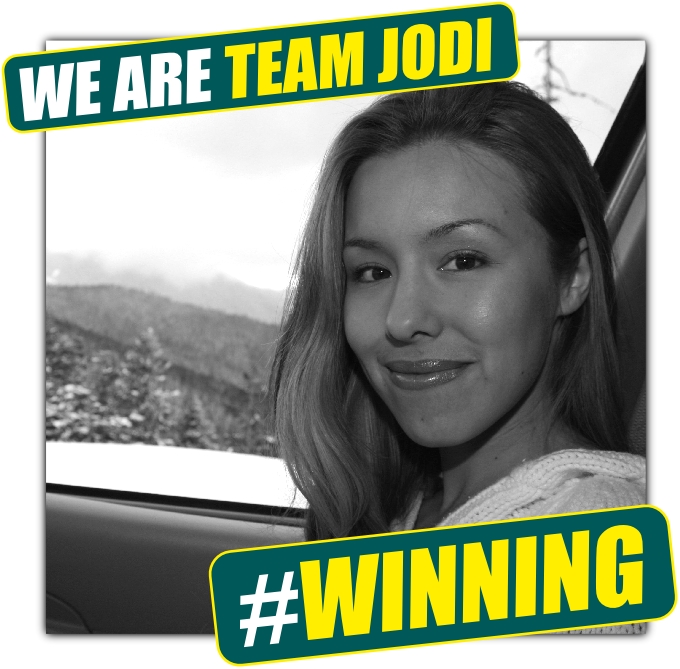 . . . . . . . . . . . . . . . . . . . . . . . . . . . . . . . . . . . . . . . . . . . .
Remember…
WE ARE TEAM JODI – AND WE WILL BE VICTORIOUS in our quest for JUSTICE FOR JODI.
Never question it.
Never doubt it.
Prepare for it.
Leave your thoughts & comments below…
SJ
Team Jodi #WINNING <<<

Click the banner below to read Jade's post – "Justice Denied: Why The Jurors Got It Wrong & How The Facts Decimate The State's Case Against Jodi Arias.":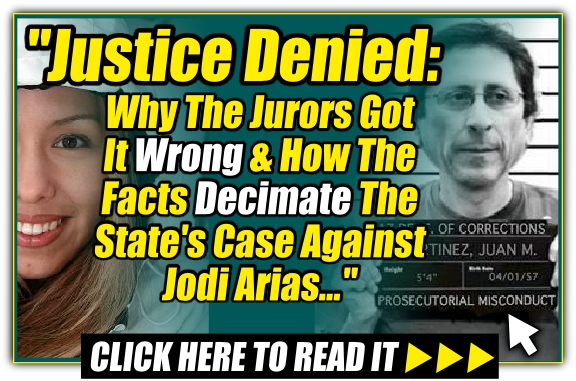 Click the links below to read Jade's previous posts in the series:
The Immaculate Deception: Exposed
Michael Melendez – Perjury Exposed
The Presumption of Innocence
The Great Mormon Porn Swindle
If you would like to help Jodi by way of a financial donation to the JAA APPELLATE FUND, click the Team Jodi link below for further details. All donations via Justice4Jodi.com go directly to the fund for assisting with the legal fees associated with appealing Jodi's wrongful conviction. Justice4Jodi.com is the ONLY website authorized to collect donations.
In addition, please DO NOT, under any circumstances, donate through any other website or Facebook page/group claiming to be "official" and/or acting with Jodi's approval or authorization. The same applies to any "Jodi Membership Clubs", groups or fake Trust funds that have been set up. These sites are bogus – as are their intentions – and they should be actively avoided. If you are aware of any such sites, please help Jodi by clicking here and reporting them. Thank you for your ongoing support!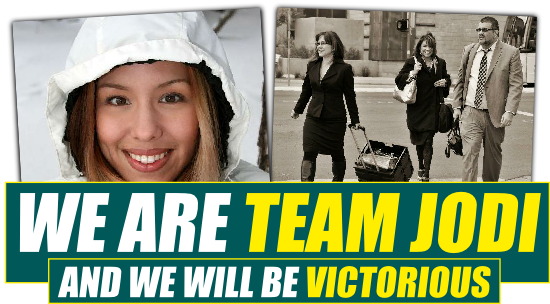 .