.
A decision is expected "any time" following yesterday's Motion to Dismiss hearing.
Click here (or click the pic below) to watch brief video highlights: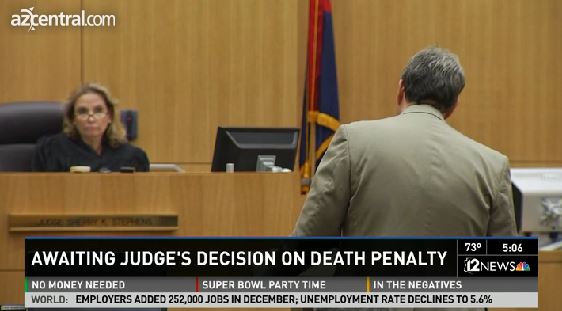 From Michael Kiefer, AZ Central:
"Jodi Arias sentencing trial: Could it all be over Monday?"
On Friday, her defense attorney, Kirk Nurmi, made a last-ditch effort to have the prosecution's intent to seek the death penalty thrown out, his motion alleging prosecutorial misconduct and inability to get witnesses to testify on Arias' behalf because of a court ruling forbidding testimony in a closed courtroom.
Maricopa County Superior Court Judge Sherry Stephens said that she would rule by Monday.
Her first trial took place in 2013, but the jury was unable to reach a unanimous verdict as to whether she should be sentenced to life or death.
A second jury was seated in September, and Nurmi and his co-counsel, Jennifer Willmott, have been trying to present "mitigation" witnesses who might convince the jury to spare Arias' life. If death is taken off the table because of the pending motion, Arias must be sentenced to life in prison and there would be no need to continue the current proceedings.
Nurmi's argument rests largely on how police and prosecutors handled a computer belonging to Alexander that was taken into evidence at the crime scene. And he claimed that they knowingly misrepresented the content of the computer hard drive and failed to turn over copies they had made of it.
• While the computer was in custody of Mesa police, it was turned on and off twice without taking proper precautions for handling evidence, which resulted in files being accidentally altered or deleted from the hard drive.
• During Arias' 2013 guilt-or-innocence trial, and during the present sentencing retrial, Mesa police officers testified under oath that the computer was free of pornography and computer viruses. Prosecutor Juan Martinez used that testimony to refute Arias' assertions that Alexander was sexually attracted to young boys and he branded her a liar for saying the porn and viruses were there.
Mesa police have since admitted that the computer did have significant amounts of pornography and viruses despite the earlier testimony by the trial's case agent and a police forensic expert.
"Under what law would the state be allowed to go forward and seek the death penalty based on false testimony?" Nurmi asked.
• Just last month, Nurmi learned that Mesa police had made a mirror image of the computer's hard drive in 2008, before some of the alterations took place, but had never provided it to the defense. The prosecution is legally and ethically obligated to turn over evidence, especially if it may cast a more favorable light on the defendant.
"The state has confessed to illegal behavior," Nurmi said. "The only option is to dismiss death against Ms. Arias."
Martinez claimed that there was no harm done to Arias' case. And he said that there was no way to prove who had actually viewed the pornography on what he described as a "communal computer."
But Nurmi's computer experts said repeatedly in recent hearings that the pornography would be hard to miss, and that the computer had an unusual number of "cleaning programs" that had likely been installed by Alexander to mask or erase the porn-viewing history.
Eventually the withheld evidence will derail any death sentence on appeal if Stephens does not dismiss it, Nurmi said.
"She will never be executed," he said.
In November, Stephens granted Arias' defense motion to allow witnesses to testify out of sight of the press and public. The Arizona Republic, 12 News and other media outlets sued for access and won in the Arizona Court of Appeals. Earlier this week, the Arizona Supreme Court refused to postpone that ruling while it was being appealed.
On Thursday, Stephens ordered the release of transcripts of the two closed-trial days with a witness who turned out to be Arias herself. Those transcripts are expected to be made public next week.
But Nurmi said in Friday's hearing that 14 of Arias' mitigation witnesses will refuse to testify if they have to do so in public.
Martinez countered that the witnesses could be subpoenaed and forced to testify, or that they could have been interviewed on video or prepared affidavits.
Nurmi claimed that Arias has been denied her right to a fair trial.
"It's game over," he said. "She cannot present a good defense."
Stephens took the matter under advisement.
If she rules against Arias, trial will resume Monday.
. . . . . . . . . . . . . . . . . . . . . . . . . . . . . . . . . . . . . . . . . . . .
Remember…
WE ARE TEAM JODI – AND WE WILL BE VICTORIOUS in our quest for JUSTICE FOR JODI.
Never question it.
Never doubt it.
Leave your thoughts & comments below…
SJ
Team Jodi #WINNING <<<

Click the banner below to read Jade's post – "Justice Denied: Why The Jurors Got It Wrong & How The Facts Decimate The State's Case Against Jodi Arias.":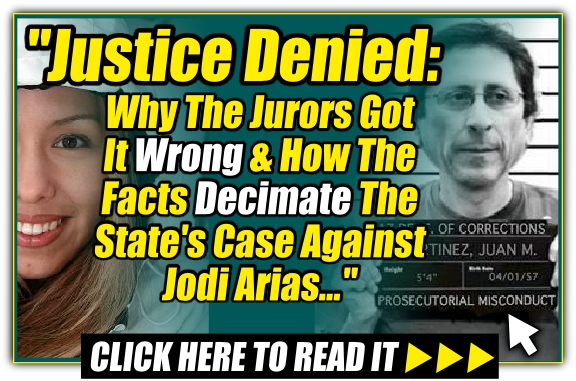 If you would like to help Jodi by way of a financial donation to the JAA APPELLATE FUND, click the Team Jodi link below for further details. All donations via Justice4Jodi.com go directly to the fund for assisting with the legal fees associated with appealing Jodi's wrongful conviction. Justice4Jodi.com is the ONLY website authorized to collect donations.
In addition, please DO NOT, under any circumstances, donate through any other website or Facebook page/group claiming to be "official" and/or acting with Jodi's approval or authorization. The same applies to any "Jodi Membership Clubs", groups or fake Trust funds that have been set up. These sites are bogus – as are their intentions – and they should be actively avoided. If you are aware of any such sites, please help Jodi by clicking here and reporting them. Thank you for your ongoing support!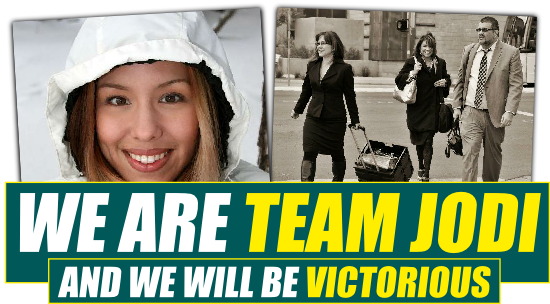 .