.
Day 12 continued with the direct testimony of Dr Lucia Fonseca – prior to it being brought to a halt (just after the lunch break) due to an unspecified "emergency situation".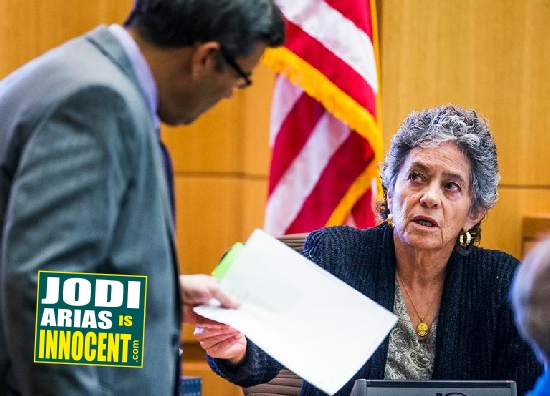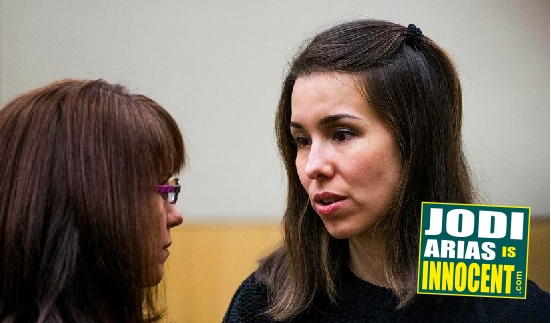 Here's a random selection of tweets from the morning session, starting with Kermit backtracking on his earlier "NO PORN" statement:

Here's a selection of tweets from Dr Fonseca's testimony:





. . . . . . . . . . . . . . . . . . . . . . . . . . . . . . . . . . . . . . . . . . . .
Following on from the last tweet — here's a comment we received a few days ago from SuziN:
"I have spent probably hundreds of hours studying this case, the relationship of Jodi and Travis, and the trial. Understand this : I am a 47 year old DEVOUT Mormon woman, born into the church, temple endowed, 27 year eternal (temple) marriage, seven children, even have a "high" calling – Relief Society president (LOL…for any who are in the church, these are some pretty huge "card carying" Mormon "credentials"). — Then I decided to just spend some introspective time, and through much pondering, meditation and even some prayer, to put this into perspective for me, I figured it out. TRAVIS ALEXANDER WAS A TERRIBLE PERSON! He was an absolute FRAUD, as far as "real" Mormons go. Sorry, he was. I am a faithful member of the church, Travis Alexander was as far away as one can get from being a faithful member of the church! What in the HELL does anyone see in this young man?? That he is a murder victim?? OK, that is horribly sad and awful, yes. What else?? HUH?? NOTHING GOOD!! He lived the life of a FRAUD, every second, every minute, every hour, every day. PERIOD."
Click here to read the comment in full.
. . . . . . . . . . . . . . . . . . . . . . . . . . . . . . . . . . . . . . . . . . . .
Trial resumes again this Thursday (11/20) @ 9.30 am MST. I believe there's also a hearing scheduled for Friday regarding the Motion to Dismiss & TA's child porn hard drive stash.
Remember…
WE ARE TEAM JODI – AND WE WILL BE VICTORIOUS in our quest for JUSTICE FOR JODI.
Never question it.
Never doubt it.
Leave your thoughts & comments below…
9 year old's…
SJ
Team Jodi #WINNING
If you would like to help Jodi by way of a financial donation to the official JAA APPELLATE FUND, click the Team Jodi link below for further details. All donations via Justice4Jodi.com go directly to the fund for assisting with the legal fees associated with appealing Jodi's wrongful conviction. Justice4Jodi.com is the ONLY website authorized to collect donations.
In addition, please DO NOT, under any circumstances, donate through any other website or Facebook page/group claiming to be "official" and/or acting with Jodi's approval or authorization. The same applies to any "Jodi Membership Clubs", groups or fake Trust funds that have been set up. These sites are bogus – as are their intentions – and they should be actively avoided. If you are aware of any such sites, please help Jodi by clicking here and reporting them. Thank you for your ongoing support!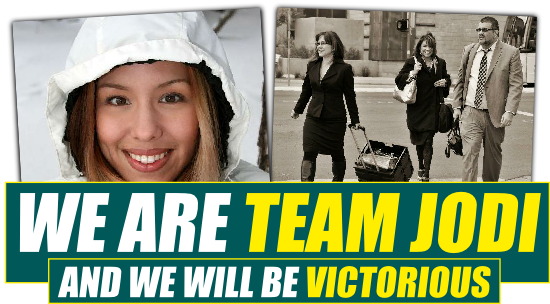 .