.
Click here to read the State's BS Motion in Limine (in response to the Motion to Dismiss)
filed 11/11 — 3 page PDF Document
. . . . . . . . . . . . . . . . . . . . . . . . . . . . . . . . . . . . . . . . . . . .
Both trial days of this week have been centered around psychologist Dr Lucia Fonseca – who enlightened the jurors no end with her thoughts on TA's shameful behavior towards Jodi (and many others). The "You Crossed The Line" email also got another airing, further highlighting the fact that Chris & Sky Hughes were well aware of TA's antics, despite their back-peddling testimony to the contrary during the first trial. A re-run of Dan Freeman's initial testimony also confirmed the same. The testimony of Dr Fonseca will continue on Monday.
This is the 12 News Exclusive interview with Maria Schaffer (Jodi's former defense attorney), who Martinez accused of deleting TA's child porn stash:

"Attorneys are not allowed to file bogus allegations. That in itself would be misconduct. So you have to assume that if they are filing these allegations it's because they're true. Prosecutor Juan Martinez is someone who has a reputation. They have talked about him in the AZ Supreme Court." – Michael Kiefer
Here's the bottom line: Anyone still expecting this evidence tampering issue to miraculously blow over is gonna be disappointed, big time. Just like the DP verdict that the ever-dwindling band of pedo-huggers hopelessly cling to, it ain't gonna happen.
This Motion for Dismissal in itself heralds a major turning point in Jodi's quest for justice. It'll show up the State (and their devious cohorts) for what they really are — and more importantly, what they actually did.
You can mark my words on that.
The State Circus returns to town again this coming Monday, 11/17 @ 9-30 am MST.
. . . . . . . . . . . . . . . . . . . . . . . . . . . . . . . . . . . . . . . . . . . .
Remember…
WE ARE TEAM JODI – AND WE WILL BE VICTORIOUS in our quest for JUSTICE FOR JODI.
Never question it.
Never doubt it.
Leave your thoughts & comments below…
SJ
Team Jodi #WINNING
If you would like to help Jodi by way of a financial donation to the official JAA APPELLATE FUND, click the Team Jodi link below for further details. All donations via Justice4Jodi.com go directly to the fund for assisting with the legal fees associated with appealing Jodi's wrongful conviction. Justice4Jodi.com is the ONLY website authorized to collect donations.
In addition, please DO NOT, under any circumstances, donate through any other website or Facebook page/group claiming to be "official" and/or acting with Jodi's approval or authorization. The same applies to any "Jodi Membership Clubs", groups or fake Trust funds that have been set up. These sites are bogus – as are their intentions – and they should be actively avoided. If you are aware of any such sites, please help Jodi by clicking here and reporting them. Thank you for your ongoing support!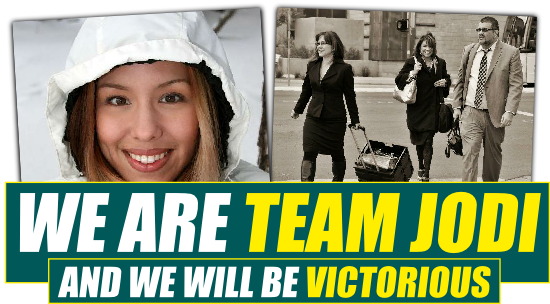 .