.
From AZ Central:
. . . . . . . . . . . . . . . . . . . . . . . . . . . . . . . . . . . . . . . . . . . .
"The March trial date set for Jodi Arias has been put aside because of a conflict prosecutor Juan Martinez has with another potential death-penalty trial.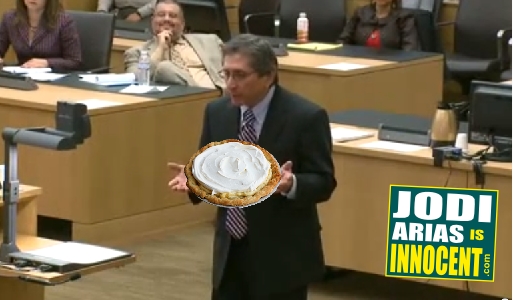 Martinez is supposed to begin trial May 12 for Bryan Hulsey, 40, who is charged with the 2007 murder of Glendale Police officer Anthony Holly. The Hulsey trial has been repeatedly postponed.
In a hearing Tuesday at Maricopa County Superior Court, Presiding Criminal Judge Joseph Welty weighed priorities in the two cases.
After months of hearings, Judge Sherry Stephens set a March 17 date to begin jury selection.
But the Hulsey case is the oldest capital murder case in the county awaiting trial.
On Feb. 19, 2007, Officer Holly, 24, was providing backup for another officer after they made a routine traffic stop of a car in which Hulsey wa a passenger. When Hulsey was ordered out of the car, he pulled a handgun from his waistband and shot Holly to death.
But defense attorney after defense attorney dropped the case, each time pushing the trial further back in time. It is now set for May 12 before Judge Joseph Kreamer.
Tuesday's hearing was intended to resolve any possible conflict between the two cases. Martinez, who is on medical leave for undisclosed reasons, attended the hearing via telephone.
Martinez mentioned that the Arias trial might further bump back the Hulsey trial unless another prosecutor were appointed to it. One of Martinez' supervisors, who was present in the courtroom, said that wouldn't happen.
Welty ruled that Hulsey's trial would go first because it was the older of the two.
Welty left the rescheduling of the Arias trial to Judge Stephens."
. . . . . . . . . . . . . . . . . . . . . . . . . . . . . . . . . . . . . . . . . . . .
Kermit on medical leave?
Interesting…
Rumor has it, he was out in the woods with Gloria Esteban, when he was unexpectedly & unceremoniously ambushed by the seven dwarfs. They apparently gave him a good pummeling for talking BS about their cottage, during his botched (yet infamous) Snow White riddled "cross" of Alyce LaViolette. Gloria Esteban was questioned after the incident, but despite being there at the time, he was still unable to recall the order of events or what happened first.
Other theories include Kermit being traumatized due to getting himself trapped inside his mobile phone while trying to change the SIM card. Someone even suggested he was recovering from having his dick removed from his forehead.
Personally, I think he was part of a covert operation to fit a spy cam in Judge Pickles' bathroom, but he slipped into the toilet bowl and injured himself trying to climb out.
Who knows?

But regardless of all that trial-style speculation, always remember:
WE ARE TEAM JODI – AND WE WILL BE VICTORIOUS in our quest for JUSTICE FOR JODI!
Leave your thoughts and comments below…
SJ
Team Jodi
If you would like to help Jodi by way of a financial donation to the official JAA APPELLATE FUND, click the Team Jodi link below for further details. All donations go directly to the fund for assisting with the legal fees associated with appealing Jodi's wrongful conviction. Thank you for your support!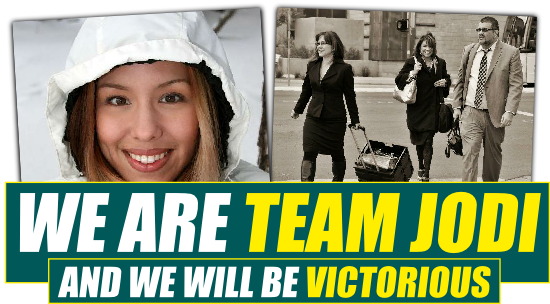 .