.
JADE'S ADDITIONAL POSTS IN THIS SERIES:
Stephens, Sandbagging & The Six Month Crap-Fest
Jodi Arias: Justice Denied
The Presumption of Innocence
The Immaculate Deception: Exposed
Corruption, State-Sponsored Murder & Twelve Angry Men
© 2015: Jade & Jodi Arias Is Innocent .com – All Rights Reserved.
Any redistribution or reproduction of part or all of this document is strictly prohibited.
*** Click the links above to share this page on your favorite social media sites ***
. . . . . . . . . . . . . . . . . . . . . . . . . . . . . . . . . . . . . . . . . . . .
A Post by Jade:
We've all heard the expression "there's a rat in the woodpile someplace." Well apparently this whole Arizona M.C.O.A woodpile is full of rats. It's proven beyond a question of a doubt that Martinez, Horn and Flores are. They're as corrupt as Armando Saldate. But there's another rat that's been going under the radar and his name is Melendez.
It's beyond question that he could possibly have missed the inundation of perverse hard core and sick smut that was skulking in the laptop file directory of Travis Alexander's private world. It ranged from A to Z. Anal to Z-lob. He couldn't miss it unless he WANTED to miss it, or was told to, by some other Mormons who had a planned agenda to keep it from being revealed in the infamous trial that was generating almost unprecedented publicity around the world.
To think otherwise, one would have to dismiss the expertise of an expert with 34 years of experience that is sought out as an expert by everybody from high-dollar attorneys in high profile cases, to government agencies, including the Department of Justice.
He was used to determine who was screaming in the background of the 911 call in the George Zimmerman trial in Florida. And whattya know, even the very Maricopa County Attorney's Office right there in Phoenix uses him as their expert. Except now, they don't like him and trying to discredit him as a planter of evidence and a liar. Well that's rich.
All you Travis-vestites, let's stop the pretenses here. Melendez is vermin just like the rest of the snakes in this set-up job.
When he emerged as a key player in this daily ever growing falsification of evidence, I decided to take a closer look at just how deep his corruption goes. I started looking closer at the camera evidence, and a camera that seemed to have supernatural powers to take pictures on its own. Pictures that just happened to be represented as the smoking guns in the bathroom of Travis Alexander, implicitly showing Jodi Arias and a presumed photo of Alexander's already dead corpse. I found something very interesting.
Melendez testified that the photos in the hallway were taken while the camera was UPSIDE DOWN. And that the camera snapped the photos when it was kicked or stepped on, or some paranormal force was exerted upon it. Well if that's the case, by what authority did the photos when shown in court appear right side up? We're just supposed to take his word for it that they were upside down? The guy who is the police "expert" who missed 160,000 files of porn? Why wasn't a screen shot taken of that memory card showing the thumbnail photos of only those two particular photos appearing upside down? Police do not have autonomy to just reorient evidence and then testify to what it allegedly WAS originally when they examined it. They have a duty to document it as they find it so that it can be presented in court as not altered in any way, and so that the defense can be assured it as exactly as it was before it was taken into evidence.
So let's take a closer look at this camera: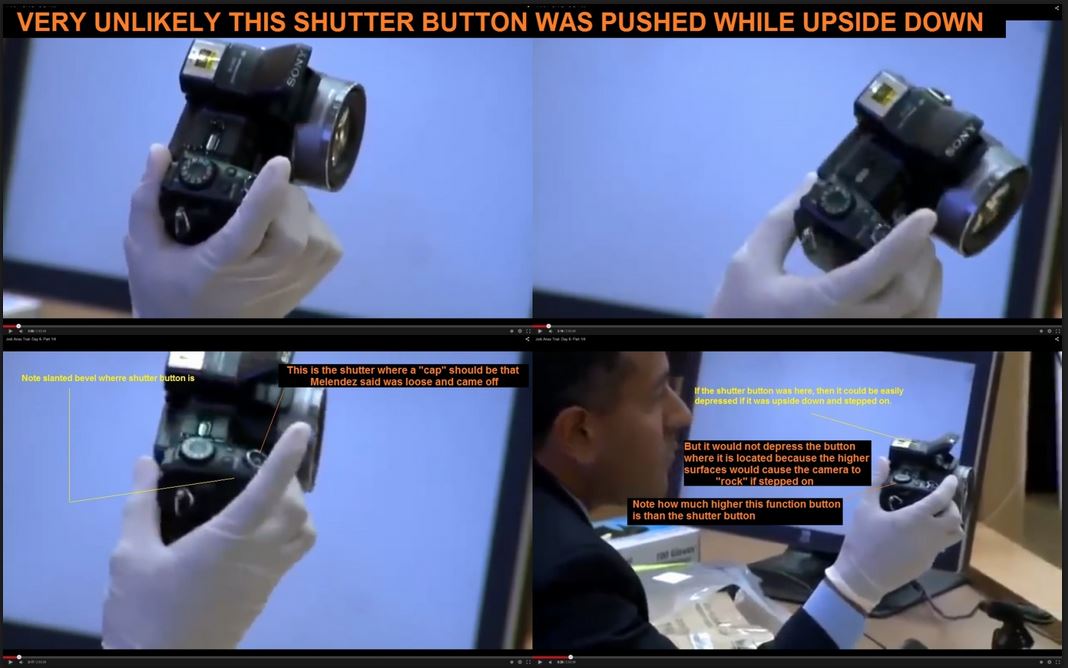 Click here to see the image full size
There is no way this camera inadvertently took those photos by someone "accidentally" doing anything. Look at the raised center structure where the camera flash is located. The flash lamp nestles inside the camera when you don't want the flash. But the raised piece that houses the viewfinder and the flash, is rigid. In addition, the button that snaps the picture, is on a surface that has a beveled downward angle.
If the camera is turned upside down, it rocks. And the slanted angle where the snap button is, would allow no way for the button to be depressed enough to take a snapshot just by somebody stepping on it. Not unless the "button cap" that is missing and supposedly fell off [*lol*] when he started examining it, extended considerably. Most cameras, the snap button only protrudes slightly–maybe an eighth of an inch or so above the surface.
The combination of these two things would make it almost impossible that enough pressure could be put on the snap button in the exact way necessary to "snap" a photo. So I'm saying that accidentally stepping on that camera while it was upside down resulted in those photos, is bullshit.
Now look at this. (click the image to watch the video clip on YouTube)…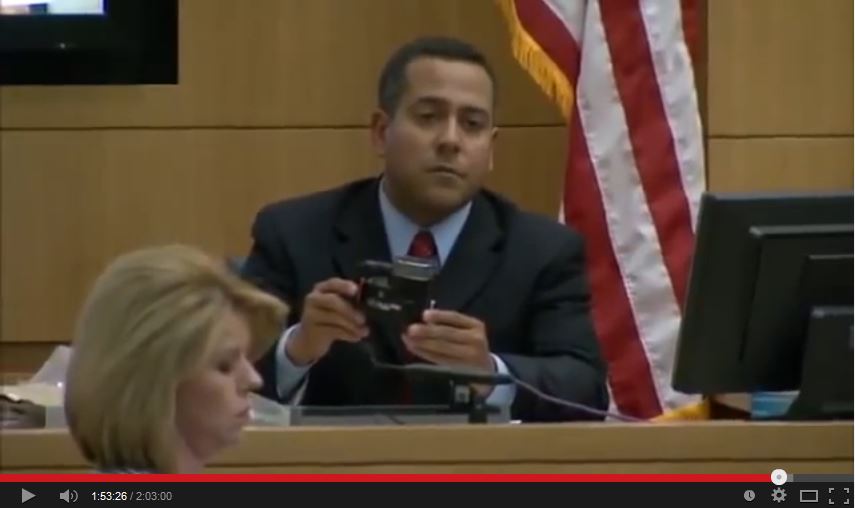 Notice how he first grabs the entire camera with his hand and guides it perfectly so that possibly it would snap a photo, putting pressure in exactly the right way and on the right spot. But is this how somebody would step on it? In the middle of a life and death struggle yet? Then notice how he casually just tips it, and as if any moron could see it would snap a photo. Conveying the impression, well obviously you can see how easy it would be. Just the same way a magician shows the rabbit that came out of the hat.
And of course, this is a police officer under oath. He certainly wouldn't lie to a jury. He's somebody we believe would never lie in court. Naturally it must be true. He just showed us. Well I'll tell you what Melendez, let's put a battery in that camera, set it on the floor and I'll give you $5 for every time you can take a photo like that with that camera, and you give me $10 for every time it doesn't. I'll own your fucking house.
But it gets better.
Look at these two photos. These are the two prosecution "thank you Jesus" photos that this haunted camera took. Do you notice anything in both these photos?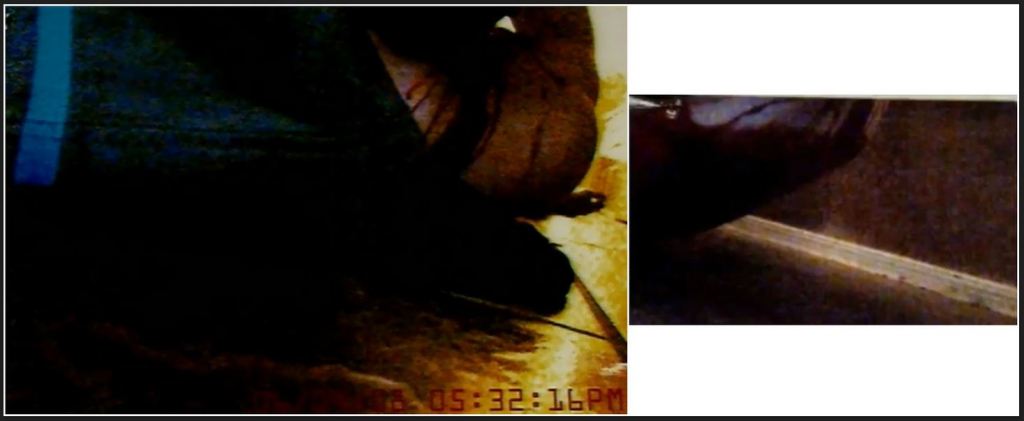 Click here to see the image full size
Isn't the camera behind whatever is being depicted in those photos? If you assume that this is Travis and Jodi that the camera snapped in the photo with the blue pants, aren't they both in the photo? It's for damn sure, Travis was in no position to even touch the camera. He's sprawled out and almost laying on his back. And Jodi also has to be positioned in a way that she is in front of the camera too, in order to be photographed as she is allegedly shown. Which is that she is in the process of "dragging" him.
So… HOW IN THE HELL COULD ANYBODY BE STEPPING ON THE CAMERA? Or pressing it with any body part whatsoever? How could the camera be BEHIND Jodi when the photo is snapped, and yet have her body in front of the camera? Did she reach back with her toe and do contortions to get the photo to snap?
Then if you think of the wildest possibilities imaginable, the lens also, has to be pointing towards whatever it is taking a picture of. The lens can't possibly photograph anything that isn't directly in front of it. Therefore anything that is pressing that shutter button down at the very second the photo is snapped, would unequivocally also have to be captured in that photo. It would have to at least be partially be blocking the lens. Whatever was closest to that lens would be in that photo. There is no way it couldn't. The photo is going to reflect whatever is in front of the lens when the photo is snapped.
So where is the leg or the foot or the arm or the ass or any body part whatsoever Melendez, that would have been captured when those photos snapped? And not only once this was supposed to have happened where the camera lens was pointed exactly the right way, and a magical force pushed the shutter button. Yet the object that caused it was miraculously not on the photo. Not just once according to you Melendez. This happened TWICE. Show me a way Jodi could have stepped on the camera or pressed it down, with the camera at least two feet away and behind her! And twice! I dare you, dickhead!
So that absurdity all but decimated, that leaves only one other conceivable possibility possibly left. That's if the camera had a muti-photo sequence timer. I checked the operator manual of this camera and it did not have any feature like that. It had a self-timer. But this had only two settings–either 2 seconds or 10 seconds. It also had a 'burst" mode, which would allow a maximum of 5 shots with approximately a half second between shots. But therefore that's totally out of the question too, because there is more than 1 minute just between the two upside down photos. Therefore any kind of automatic timer is also out of the question.
So who caused, and how did those pictures REALLY get taken?
Then we have this knee slapper.
He testified that these photos were retrieved using his sophisticated technology from the "deleted" file history of the memory card that had nothing but thumbnails. It had no exif data.
Look at this photo: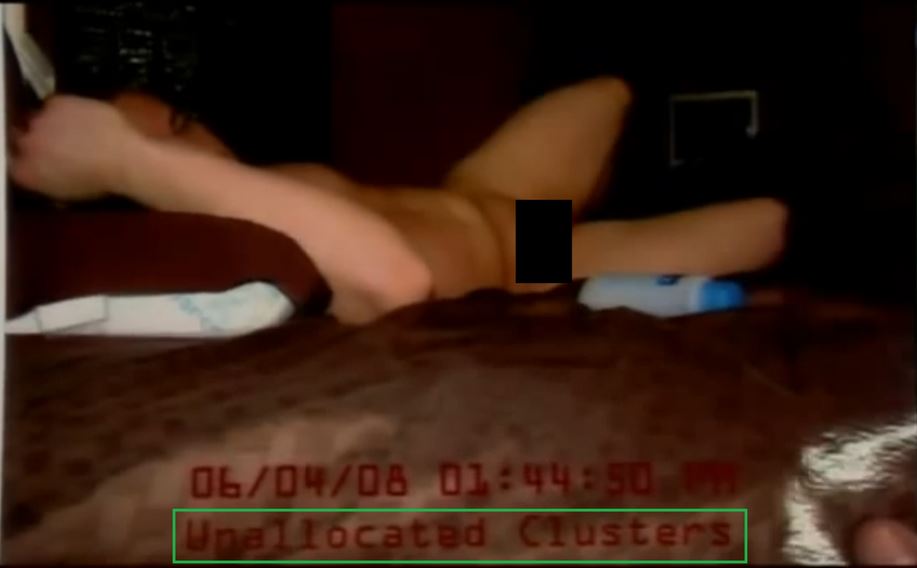 I'll guarantee you the camera did not automatically put the words "unallocated clusters" on the time stamp.
So these stamps were manually transferred and put on each of these photos to specify the time and date that each one allegedly was taken. And we're trusting the same guy who can't find one virus on a computer that's loaded with them due to 11,000 references to "tween" searches and porno, to represent to us that these are accurate times and dates? Or believing the Mesa PD Department that accuses the defense attorney of deleting files in the presence of the people who are in custody of the evidence and showing them a computer in a police and prosecution totally controlled viewing? And on top of that deleting files that he would be ecstatic to present in court to vindicate and corroborate Jodi's testimony? ROFL. In fact, these actual times could have been of any date or any time because they are not documented by the camera whatsoever in the format that would insure the correct times and dates in detail.
I wouldn't trust ANY of these Mesa police, the prosecutor, the medical examiner or anybody associated with this prosecution if they were all in an 8 x 10 room and I could watch them with binoculars.
And there's another thing… who says those photos were snapped in the hallway?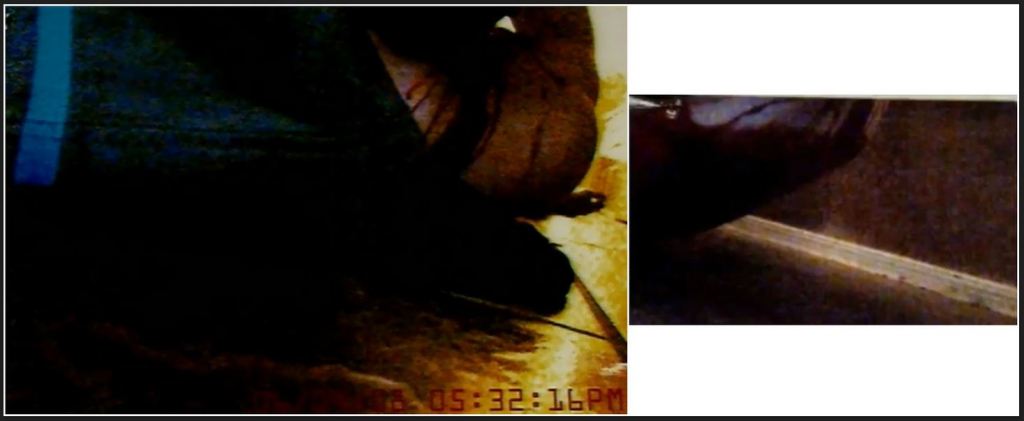 Click here to see the image full size
I don't think it's possible to distinguish where that photo was with the blue pants, as taken in that bathroom. Nothing gives a conclusive reference point in relationship to the bathroom layout in that photo at all. The only thing that can be seen is what looks like tile. There is zero other than that to remotely conclude anything.
The same thing even applies to the second photo. The only thing different is that there is a floor baseboard in that photo. But the baseboard goes all the way around the perimeter walls of that bathroom. Plus the tile and the wall is exactly the same everywhere in that bathroom. So these photos could have been near the bathroom scales on the South wall. They could have been near the shower. It could have been near the sinks. What cannot be concluded is that it shows anything to positively say that these photographs are snapped in the hall corridor. Certainly not the one with the blue pants. This alone destroys every facet of what was concocted for the jury that was gobbled up like chum tossed in the ocean to draw in a school of Great White sharks.
My next post is going to demolish those "upside down" photos totally and completely.
They are not depicting that:
1. Travis is dead.
2. That she is dragging Travis
3. In fact the second photo with the baseboard is nothing but a blotch of artifacts and not Travis at ALL!
As for you Melendez, I know this for sure about you as one of the key players. You're full of shit and you're up to your ears in this Mexican-Mormon cabal of evidence fixing. What you need, is to be fitted for a few changes of pink underwear too. And then see if that clears up your eyesight problem and fixes your propensities to doctor evidence after four or five years living with some others wearing the same thing.
Jade
. . . . . . . . . . . . . . . . . . . . . . . . . . . . . . . . . . . . . . . . . . . .
© 2015: Jade & Jodi Arias Is Innocent .com – All Rights Reserved.
Any redistribution or reproduction of part or all of this document is strictly prohibited.
*** Click the links above to share this page on your favorite social media sites ***
JADE'S ADDITIONAL POSTS IN THIS SERIES:
Stephens, Sandbagging & The Six Month Crap-Fest
Jodi Arias: Justice Denied
The Presumption of Innocence
The Immaculate Deception: Exposed
Corruption, State-Sponsored Murder & Twelve Angry Men
. . . . . . . . . . . . . . . . . . . . . . . . . . . . . . . . . . . . . . . . . . . .
Click the banner below to read Jade's post – "Justice Denied: Why The Jurors Got It Wrong & How The Facts Decimate The State's Case Against Jodi Arias.":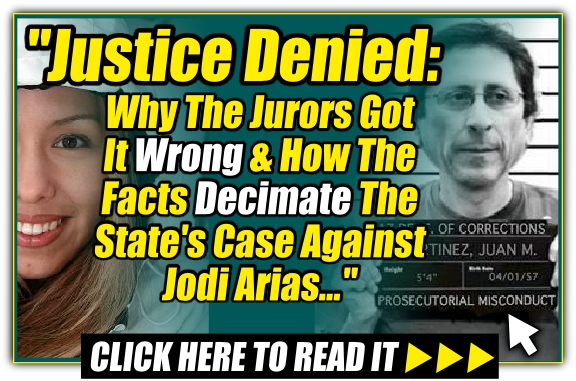 If you would like to help Jodi by way of a financial donation to the JAA APPELLATE FUND, click the Team Jodi link below for further details. All donations via Justice4Jodi.com go directly to the fund for assisting with the legal fees associated with appealing Jodi's wrongful conviction. Justice4Jodi.com is the ONLY website authorized to collect donations.
In addition, please DO NOT, under any circumstances, donate through any other website or Facebook page/group claiming to be "official" and/or acting with Jodi's approval or authorization. The same applies to any "Jodi Membership Clubs", groups or fake Trust funds that have been set up. These sites are bogus – as are their intentions – and they should be actively avoided. If you are aware of any such sites, please help Jodi by clicking here and reporting them. Thank you for your ongoing support!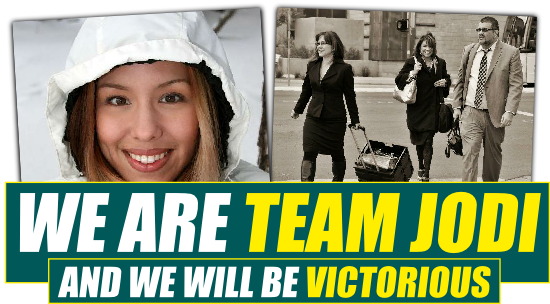 .