.
JADE'S ADDITIONAL POSTS IN THIS SERIES:
Stephens, Sandbagging & The Six Month Crap-Fest
Jodi Arias: Justice Denied
Michael Melendez – Perjury Exposed
The Presumption of Innocence
The Immaculate Deception – Exposed

© 2015: Jade & Jodi Arias Is Innocent .com – All Rights Reserved.
Any redistribution or reproduction of part or all of this document is strictly prohibited.
*** Click the links above to share this page on your favorite social media sites ***
. . . . . . . . . . . . . . . . . . . . . . . . . . . . . . . . . . . . . . . . . . . .
I'm so over you repugnant Alexander johnny-come-lately post grievers. You're like paid mourners at a funeral. The only relationship you had with the pedophile pimp of prevarication and inspector of children's underwear, was a strained one, and you milked every last greenback from every last dimwitted asshole who didn't know it was an act. I'm loving the fact that only one true hero denied everything you wanted. Suck it. Crawl in your train and head back to where you came from.
This case was and is an enigma wrapped in anomalies, replete with criminal subterfuge by the M.C.A.O Nazis who have distinguished themselves as scum-like vermin.
If only Jodi had insisted on a lawyer being present during questioning, Martinez would be swinging by his scrotal sack right now and wouldn't have had a chance in hell at proving a case of first degree murder, let alone pre-meditated murder. The biggest obstacle was Jodi's own words.
She then fell into the netherworld of nightmares by having no ability to acquire a specialist defense attorney. Nurmi was a specialist in criminal aspects of sexual abuse and domestic violence and that's what he went with. He went with his forte instead of focusing like a laser on the forensics, photographs and the blood that was like a road map of devastation for the prosecution case.
The photographs should have been mocked in front of the jury and the impossibilities pointed out in all the micro analytic detail that was there to be reduced to a level of absurdity. Blood wasn't where it should be or was where it shouldn't be. The diversion to domestic violence kept the prosecution's ability to keep the misdirection going of their midnight manipulations and secreting away of vast and voluminous amounts of exculpatory evidence.
False confession lost all impetus as a real possibility. False confessions result in cases that are overturned almost exclusively when a confession is recanted prior to trial. When the weight of a confession is more significant to a jury than the evidence offered showing the confession was untrue and given for reasons other than guilt, this is when cases are overturned by higher courts.
The finding being that the jury should have considered the testimony and evidence to be more convincing than the confession in the opinion of the appeal court judges. And as such, the confession was either coerced or supported by evidence that the defendant gave truthful testimony on the stand that they did not commit the crime.
In Jodi's case, she not only didn't recant the confession, she specifically reinforced the admission of killing Alexander time and time again on the witness stand. She said she remembers dropping the knife in the bathroom because it hit tile. She remembers putting a knife in the dishwasher.
To say she was not there that day falls into the most far-fetched unrealistic hopes as opposed to reality, because there is an independent confirmation that supports it. Alexander was watching the YouTube video of people dancing around with crazy hats on their heads at 4 am when she arrived. She stated this is what he was watching. And this was confirmed by the examination of the hard drive that this video was being watched at that time. She could not have known that unless she saw what he was watching that early morning in his office. So it's corroborating and validating proof she was there.
And here nobody messed up on the technicalities of the Miranda warning during interrogation. They were also emphatic when she said that she may as well admit to something because it's what they wanted to hear. And that it seemed fruitless because she was being told repeatedly the case was airtight. But they told her implicitly that is absolutely not what they wanted her to do. It insulates them from any hope of successful claim of false confession. In short there is no confession to throw out. The interrogation sessions were videotaped and they leave no basis to contend a false confession.
These statements are a matter of police and court record and any attempt to discount them will fall on deaf ears with an appeals court. This is why it is so important to find legal grounds where the trial guilt verdict can be set aside and a new trial ordered.
There isn't a scintilla of doubt in my mind that she feared for her life or was in fear of great bodily injury that day during the moments that preceded the stabbing–both of which allow for defending herself. I'm extremely confident that everything happened as she described it up until the time of the gunshot. After that, there is no doubt in my mind that Alexander came unhinged and at no time was he incapacitated by the small projectile that deflected from his skull under the skin, went through the right sinus, through the vertical nose plate, through the left sinus and eventually came to lodge in his cheek.
And what it was that actually happened in those minutes, hours or days after that, contravenes everything the prosecution glued and patched together. It defies time, space and strength reality continuums. Physics is turned on its head, and even gravity effects that appear on photos requires belief in the paranormal to accept it. Case problematics are truly best exemplified by the oft-used puzzle piece analogies. It's as if we have extra pieces from another puzzle that obviously don't fit the puzzle we have. And pieces from the puzzle we have that we need explanation for, are missing.
* We have weight differences of 85 pounds or more,
* We have a muscled martial arts expert who isn't able to strike a single blow,
* We have time spans that are preposterous to accomplish what is asserted was done,
* We have a hand print on a wall in an open corridor but not a smidge of blood on pure white tile or glass door where moving and dragging and shifting and maneuvering should have resulted in all sorts of tell-tale blood evidence of some kind from hands, feet or clothes swiping against it.
Why would she specifically be obsessed to wash blood off that area making it absolutely pristine when his blood is absolutely everywhere else in that bathroom that she doesn't clean and doesn't care about? Why would the blood on the glass door of the shower be more important to clean than the blood in and on the sink just for one example? Even turning on the shower wouldn't have removed every trace of blood on all the surfaces.
How would the shower remove blood on the outside of the aluminum frame enclosure where she would have almost certainly had to place her hand for leverage or in the struggle, to get him in the shower? It can't be argued without claiming nonsensical contortions of reality.
We have a body that has no entomological evidence when it should have been a Disneyland for flies, larvae, and bugs after five days.
More brain twizzlers: these are more things that leave me puzzled
With blood on the tile, on the walls, on the blinds, on the toilet, on the sink, on the carpet… how is it that not a SINGLE drop of blood ended up on this big 7 foot long, 5 foot wide, humongous pure white thing? Blood is evident only inches away and even on the floor mat.
Click to view full size image in a new window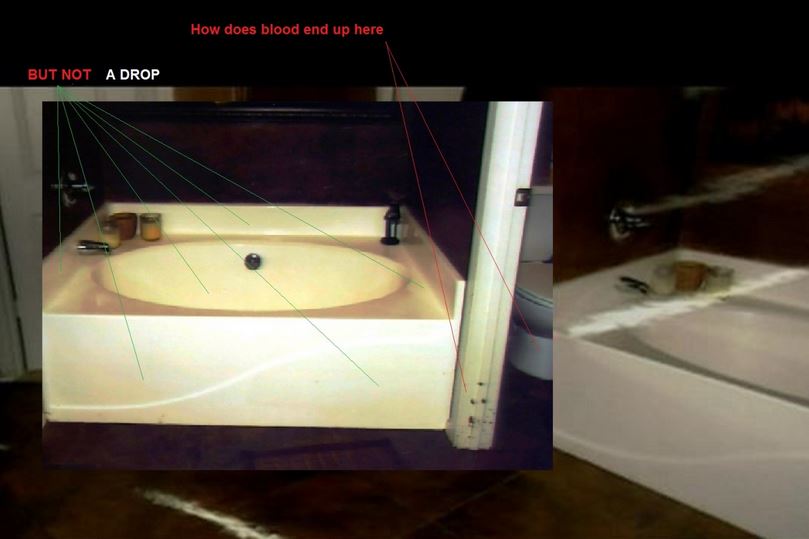 What in the world is with this box? This could not result with water from a glass, this had to be caused by a LOT of water. It had to be SITTING in water–at least a half inch on the floor for it to have wicked up this far and still have the strong reddish coloration that high up on the box. It wasn't splashed on the box, it soaked up from the bottom. This is clear from the jaggedy line.
It's extremely puzzling because with the amount of water it would take to soak up to that level on the box, it should surely also have diluted the big puddles of blood in front of the doorway and spread them out a lot more also. Or made the concentrations smaller in size if the box was in the closet and that much water contacted it there. How could these big puddles ON TILE not have been washed away if the blood was fresh, and that much water washed over it? How could it affect the box and not the blood on the floor?
Could this box have been somewhere else and then moved into the closet?
Click to view full size image in a new window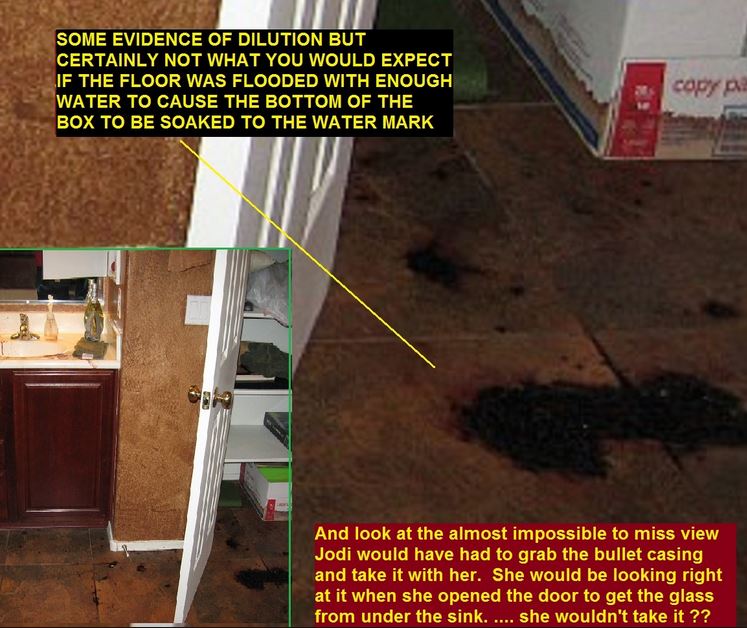 And what could have possibly happened to cause the huge amount of blood in these pools–the one in front of the closet and the one pictured below. What stab wound would have caused what looks to me to be like even MORE blood than where his throat was to have been cut?
Certainly the slicing of the throat would cause the greatest quantity of blood loss and the quickest time. Yet these large pools of blood seem to be at LEAST equally as large or larger. And he had to be stationary here when this blood was lost. There is no movement indicated when this blood was deposited. Blood trails do not emanate away from the main concentration.
Is it remotely possible that his throat wound was in fact carried out in front of the closet door and that it was blood from the bullet wound and possibly other gashes already on his head that we see on the carpet? If he was laying face down on the carpet, the blood is more to the right side of the hallway than it is to the left looking at it from his perspective. And it would be comporting with the downward blood smear on the wall where Martinez said he fell face down. The ramifications of that would turn the present assumptions of this case inside out. Major major blood had to come from some part of his body to make this large blood pool. Nothing Martinez said accounts for it.
Click to view full size image in a new window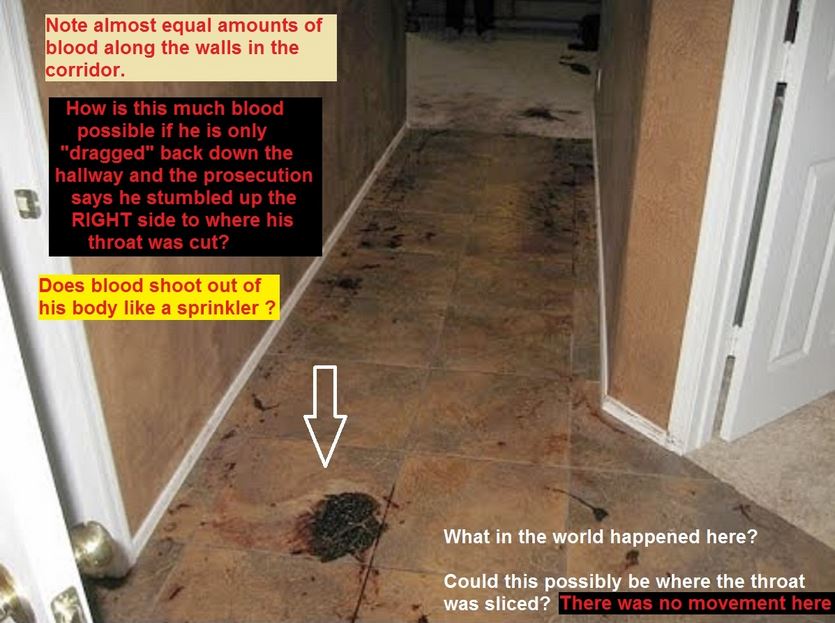 Another brain twizzler:
Did she strategize and brainstorm this murder to such a finite degree that she would have thought to have her shoes somewhere in the bathroom or clean socks prior to starting taking pictures of him in the shower? The most likely place she would have had her shoes is somewhere in the bedroom. Probably near or around the bed. We know that Martinez INSISTS she was wearing socks in the gotcha photo.
Now certainly after these two photos–avariciously acclaimed as the smoking guns–there has to be–and there is–blood everywhere in the bathroom on the floor. And most importantly we know it is a small size foot SOCK print in the carpet where all the apparent stomping around was taking place and where a good amount of water was alleged to have been used. Therefore blood or blood/water mixture would have had to be on the bottom of her socks. Any contact of her foot with the carpet would have instantly left some reddish coloration that would have stained it.
So unless she had her shoes in the bathroom, how would she get out to get her shoes or new socks without leaving SOME transfer footprint on the bedroom carpet? The closet was also pure white carpet, she couldn't possibly step in there NOWHERE without leaving footprint transfer. Does it seem likely she would have thought so far in advance that she would have an extra pair of shoes or socks somewhere around the shower? That's nuts. Plus I've also shown that it appears there are other footprints in the carpet at the end of the hall that are not those of a small foot.
Another one that doesn't add up:
Jodi testified that she saw that she had blood on her hands when she stopped near the Hoover damn. Said she washed her hands with bottled water from the trunk. How could she have blood on her hands and not leave some evidence of blood somewhere on her way out? The most likely place would be the door knob. Even if she left through the garage, she would still have to touch a door knob. But there is another thing that would have almost certainly had blood–the doggie gate.
Martinez said she cleaned up and that's why there was no blood. But if she had blood on her hands–which she clearly stated she did–it gives just that much more credence to her not knowing what happened, which is what she also testified to. And it was Jodi who said if she would ever premeditate a murder, she would obviously use gloves. You would have to be an imbecile not to. Anybody who would say otherwise would have to be an imbecile to say they wouldn't. This leaves the only logical question; why would Jodi say she had blood on her hands if her testimony wasn't truthful?
I don't believe she has or had any mental illness period. I believe that whatever happened OUT OF FEAR, shut down her cognitive functions. It is after–traumatic stress shutdown, that took her mind to a safe place. Jodi didn't have a whisp of violence in her body and not in a billion years did she plan to travel to Mesa to kill Alexander. She didn't plan anything except an interim stopover to do what they had done so many times before on her way to see the guy who was her new interest and the one phasing Alexander out.
It's actions of Alexander's own choosing that put him in that body bag. With so many dilemmas that any reasonable person should have trouble answering, this does not fit to be all wrapped up neatly and solved with answers that stand up to real scrutiny. They fail miserably and had it not been for, originally twelve fuckheads, and now twenty three, who don't have the intelligence to predict the weather yesterday, we would have had at the very MAXIMUM, a verdict of 2nd degree murder.
If she had only requested a lawyer in the early stages as she was being interrogated, it would have melted any hopes of first degree premeditated murder or even first degree murder like wet cotton candy. It shows the provenance of the first law of procedure if you are ever accused of ANY crime–do not say a WORD to the police without having a lawyer present. Don't even wait for the Miranda warning, just state that you are not guilty of any crime and that you don't wish to speak without an attorney present. State also that you would like this statement recorded that you have told the officer that you don't wish to speak.
Even in what you think are confidential conversations with others at a police station conference room or examination room, these conversations are also able to be used in evidence against you and are likely audio or video monitored. Higher courts have held that you have no reasonable expectation of privacy once in the custody of police, except with your attorney.
Jodi is where she is because she was naive and trusting, just as she had been in all the relationships. Listening to her pre-trial interrogations shows the epitome amalgam of the California "Valley Girl" with the "I'm like.. and "he's like" and then "I'm like." It was only missing the verbal essentials "totally" and "rad." It actually made me cringe listening to her at points at the age she was at the time, and hearing this "teen age" immaturity so associated with the stereotype. Only Jodi wasn't the affluent typical version, she was a poor version of the stereotype who had to scrape together her few dollars however she could, through waitressing. And then shared much of that either loaning it or pitching in for somebody else's slacker shortcomings.
All the sharks who spotted this combination of Chrissy Snow similarities, inferiority complex, self deprecation and willingness to please, took advantage of it and used her and controlled her. It was who she was–the innocent little Bambi bouncing around in the grass. It wasn't rooted in any violence or propensity for any violence. It was a little girl who liked the affirmation of acceptance from someone she thought was cute, even though she was being played much or most of the time. This girl was no more violent than Mother Theresa.
Alexander is the one who had the propensity for violence and was the perfect storm prelude to a ticking time bomb. What happened that day, I agree one thousand percent with Dr. Geffner's conclusion of PTSD. Having the graphic reality confront her of what adrenaline caused her to go into a self-protect mode to survive, was so contrary to everything she could envision, that the mind would not consciously perceive it. It was already reinforced with earlier traumatic incidents of having a knife to her throat, being choked by a previous boyfriend and having been made unconscious by the exploding temper of the very individual whose last words she remembers saying "kill you bitch." Now that bastard won't be choking nobody no more.
In one of the greatest and sweetest of all possible ironies, you don't get to kill her either.
If it wasn't for the temporary ordeal Jodi would have had to go through in solitary lock-up and the fact that I salivated to see the Alexander's get their payback with a hung jury, a death sentence would have been even better.
The insistence that those bullshit photos document the incredibly short time that Jodi is alleged to have completed this killing, would have been the very thing that guaranteed that the Supreme Court would have justified a finding to void the guilty verdict and remand it for retrial. It wouldn't even have gotten into the willful withholding of evidence and Brady and Giglio transgressions –which are voluminous, prolific and unabated–because they would not have been relevant. The case would have turned strictly on the aggravating factor of cruelty.
The Supreme Court is immune to what the ignorant public thinks is shocking and they are aware of crimes that are multitudes more brutal and sadistic which truly warrant the cruelty aggravator. In this case, as they have ruled in others, that would have sounded even worse to the water cooler crowd, they reversed the verdict because of the killing being done so quickly, it did not subject the victim to a period of suffering. They considered it only "escalating" the killing or called it "efficient," so suffering for the victim was minimal.
Even the dipshit ME here, said Alexander would have been unconscious within a minute or so. You can't suffer if you're unconscious. There has to be a conscious suffering and awareness of the killers intentions that delays the certain death perception. Here, I'm confident, it would have been the very thing they concocted to kill her, that would have voided the cruelty aggravator and required a new trial.
Did you notice how that pompous POS did the theatrics at the closing rebuttal where he wanted to have complete silence for two minutes? This was already his major concern and he was doing damage control. What he didn't announce–and the court would have seized on–is that it was nowhere even near two minutes. It was 62 seconds! And that included the time it would have taken to turn him around at the end of the hallway and drag him half way back down the hall before the last picture was taken in the corridor. So Alexander was already (according to him and his conspirator ME) long dead already from the throat slice.
So the actual time of suffering would have been pro-rated and by extrapolation more like 30 seconds before he was unconscious. Martinez was trying to preempt the Supremes from kicking the case back with his lame dramatics, for that very reason. He knew it was hanging by a thread. As it was, they were already rejected for 5 of the 6 aggravators. And within the cruelty aggravator, there are 3 parts–heinous, cruel and depraved. So out of 3 parts, the judge only allowed one. In other words, they had already failed on eight of the nine special circumstances that can raise a murder case status to be tried as a death penalty case. And it would have been a monster kick in the nuts when the AZ Supreme Court reversed it, which I'm sure they would have. No aggravator–no death penalty. The case would have had to be retried, or they could go pound sand–their choice.
But as it was, juror 17, you're the two X chromosome exemplar of Henry Fonda in Twelve Angry Men and one day you will be righteously vindicated. If anything happens to this woman, if you think this trial cost money, wait 'til Montgomery the mob boss, gets done gagging on the numbers of the size of that lawsuit that will be slapped against Maricopa County. He better have a lot of inside friends at Fort Knox.
This story of corruption and state-sponsored murder is not over… and when it is, juror 17, you will be the one holding your head high.
I only hope we can honor you at the celebration of Jodi's coming out party and Martinez, Horn, Flores and the rest of the cast of the other motherfuckers going away party. Courtesy of the AZ Supreme Court.
Hughes, I got real real special wishes for you.
And as for you Alexanders …….. (click here)
Jade
. . . . . . . . . . . . . . . . . . . . . . . . . . . . . . . . . . . . . . . . . . . .
JADE'S ADDITIONAL POSTS IN THIS SERIES:
Stephens, Sandbagging & The Six Month Crap-Fest
Jodi Arias: Justice Denied
Michael Melendez – Perjury Exposed
The Presumption of Innocence
The Immaculate Deception – Exposed
© 2015: Jade & Jodi Arias Is Innocent .com – All Rights Reserved.
Any redistribution or reproduction of part or all of this document is strictly prohibited.
*** Click the links above to share this page on your favorite social media sites ***
. . . . . . . . . . . . . . . . . . . . . . . . . . . . . . . . . . . . . . . . . . . .
If you would like to help Jodi by way of a financial donation to the JAA APPELLATE FUND, click the Team Jodi link below for further details. All donations via Justice4Jodi.com go directly to the fund for assisting with the legal fees associated with appealing Jodi's wrongful conviction. Justice4Jodi.com is the ONLY website authorized to collect donations.
In addition, please DO NOT, under any circumstances, donate through any other website or Facebook page/group claiming to be "official" and/or acting with Jodi's approval or authorization. The same applies to any "Jodi Membership Clubs", groups or fake Trust funds that have been set up. These sites are bogus – as are their intentions – and they should be actively avoided. If you are aware of any such sites, please help Jodi by clicking here and reporting them. Thank you for your ongoing support!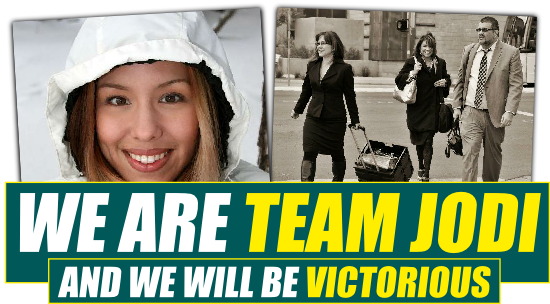 .