.
Check out the latest artwork available from Jodi's gallery site @ JodiArias.com
The latest addition – "Cat's Eye" – is a drawing Jodi did for me, and 100 Limited Edition Giclee prints will be available shortly @ $99. A portion of each sale will go to support no-kill animal shelters.
Here's the info from the JodiArias.com site –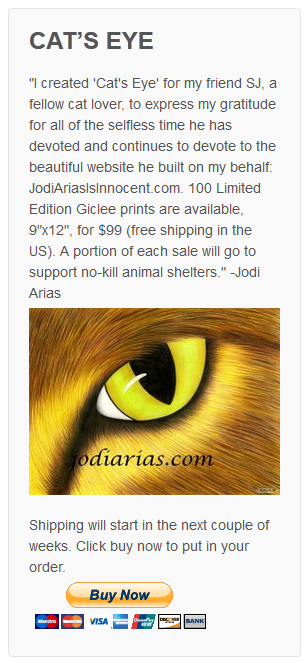 By the way – and just in case you were wondering – I removed the "Occupy HLN" post & links from yesterday. That was due to Jason Weber and his ongoing accusation that me and the site admins were profiting from donations and t-shirts sales via our site. The fact is, we never see or handle any of those funds. It sounds very much like Jason Weber & Sandra Webber (@ "Inconvenient Truths") are cut from the same BS cloth. Fuck them anyway if that's all they have to offer.
Have an awesome Tuesday peeps!
WE ARE TEAM JODI – AND WE WILL BE VICTORIOUS!
SJ
Team Jodi
The new "Survivor" t-shirts are now available. 100% of the net profits generated from the sales will support other survivors of domestic violence, and go to Non-profit Domestic Violence organizations selected by Jodi.
If you would like to help Jodi by way of a financial donation via check or PayPal, click the Team Jodi link below for further details. All donations go directly to the Arias family…