.
"According to the National Coalition Against Domestic Violence, one out of every four woman will experience domestic violence in her lifetime. It is estimated that one out of every 10 men will experience the same. Approximately 30%-60% of perpetrators of domestic violence also abuse the children in the household. With statistics like this, domestic violence affects the majority of people whether it is directly or indirectly. However, the majority of these experiences will never be reported to police.
Domestic violence can affect individuals in various ways. The physical wounds may include everything from bruises to broken bones. Social consequences may leave one feeling isolated from family and friends. Economic consequences can lead to loss of employment or financial instability. Then there are the "unseen" consequences of domestic violence which may last a long time. These include the emotional effects such as depression, anxiety, insecurity, and re-experiencing an overwhelming sense of fear. All these mentioned could result in something known as post traumatic stress disorder (PTSD) which can plague someone for years to come."
"Domestic violence can take many forms – physical abuse, sexual abuse, rape, emotional abuse, intimidation, economic deprivation, threats of violence.
Any situation in which one partner is wielding power over the other repeatedly can fall under the umbrella of domestic abuse. The United States Office on Violence Against Women (the O.V.W.) defines domestic violence as "a pattern of abusive behavior in any relationship that is used by one partner to gain or maintain power and control over another intimate partner."
The Cycle of Abuse:
1 — An initial abusive incident occurs (can be sexual, physical, or emotional)
2 — Tension builds, with the abuser trying to quell their violent tendency and the abusee trying to "keep the peace" until, finally, another incident happens
3 — Make-up: the abuser apologizes, often promising never to do it again or, conversely, trying to shed blame by saying that the victim "asked for it" or is "making a big deal out of nothing"
4 — Calm: both parties act as if nothing is wrong, and do their best to ignore the mounting problem
This cycle can repeat itself endlessly, with the victim playing a prescribed role that is just as predictable as the perpetrator's. Eventually, the "Make-up" and "Calm" stages get shorter and the abusive stages often get longer. After a period of time, it's not uncommon for victims of domestic violence (like victims of all types of abuse and trauma) to develop the symptoms of Post Traumatic Stress Disorder (PTSD). And because studies have proven that those who suffer from PTSD can be inclined toward violence, the cycle of abuse repeats itself through generations and is hard to break. For victims for whom domestic violence leads to PTSD, they struggle with a long-term psychological disorder that can be challenging to diagnose and conquer."
. . . . . . . . . . . . . . . . . . . . . . . . . . . . . . . . . . . . . . . . . . . .
UPDATE: The recent JAA Appellate Fund Matching-gift Campaign raised $91,805.45 — thanks to a generous matching donor and all the supporters that donated to the fund. Let's now be sure to keep the momentum growing so the fund total can push through $100,000, and even closer towards raising sufficient funds to help cover the legal fees associated with appealing Jodi's wrongful conviction.
All donations via Justice4Jodi.com go directly to the fund. It is also the ONLY website authorized to collect donations.
In addition, please DO NOT, under any circumstances, donate through any other website or Facebook page/group claiming to be "official" and/or acting with Jodi's approval or authorization. The same applies to any "Jodi Membership Clubs", groups or fake Trust funds that have been set up. These sites are bogus – they continue to steal money from Jodi's future – and they should be actively avoided. If you are aware of any such sites, please help Jodi by clicking here and reporting them.
Remember…

. . . . . . . . . . . . . . . . . . . . . . . . . . . . . . . . . . . . . . . . . . . .
If you missed any of our previous posts, click on the links below:
The Mysterious Boot Print (revisited)
It's Kermit v Nurmi in the battle of the BS books
Jodi Arias – "Chandelier" – the mini-movie
Child Porn & The Joy of Executions
"ALEXSCAMMERS, this one's for you… my compliments" – (by Jade)
"Monumental Incompetence" (a post by Jade)
Today's BS Hearing, 6/22
The Mysterious Stench of Decomp & BS
My Reply To Kirk Nurmi's BS
Survivor Day – June 4th – Celebrate The Day!
Sky Hughes – Email Exchange r.e. TA's Pedo Antics (June 2010)
Chris Hughes – Liar & Pedo-Hugger (trial testimony from 2013)
TA's Pedophile Letter Handwriting Comparison – (Part 2)
TA's Pedophile Letter to Jodi Arias – (Part 1)
The Jodi Arias Verdict: My Thoughts On "Pedo-Huggers United"
. . . . . . . . . . . . . . . . . . . . . . . . . . . . . . . . . . . . . . . . . . . .
If you'd like to send Jodi a letter or postcard, click here for the current address details & guidelines.
In the meantime…
WE ARE TEAM JODI – AND WE WILL BE VICTORIOUS in our quest for JUSTICE FOR JODI.
Never question it.
Never doubt it.
Prepare for it.
Leave your thoughts & comments below…
SJ
Team Jodi #WINNING <<<

Click the banner below to read Jade's post – "Justice Denied: Why The Jurors Got It Wrong & How The Facts Decimate The State's Case Against Jodi Arias.":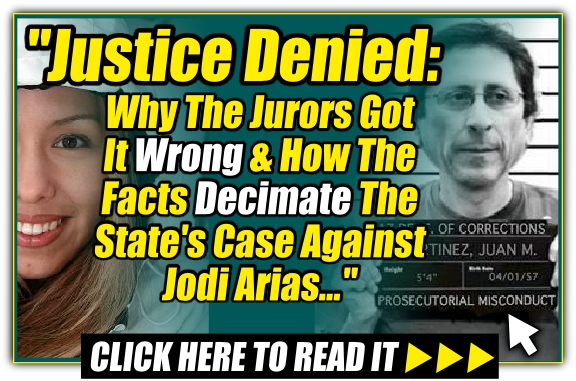 Click the links below to read Jade's previous posts in the series:
The Photos Tell The Story (by Jade)
Stephens, Sandbagging & The Six Month Crap-Fest
Corruption, State-Sponsored Murder & Twelve Angry Men
The Immaculate Deception: Exposed
Michael Melendez – Perjury Exposed
The Presumption of Innocence
The Great Mormon Porn Swindle