.
In the midst of this prosecutorial misconduct riddled circus & reality TV show – I thought this would be a good time to post Jennifer Willmott's Opening Statements from day 1 of the trial.
I had planned to write some more on Martinez' showboating antics, but I've written too much about that stupid ass already.
So here again are the Opening Statements from January 2nd.
Leave your comments below…
SJ
Team Jodi
[hdplay id=114 width=500 height=300]
"Defense attorney Jennifer Willmott began her opening statement by telling the jury Arias killed Alexander in self-defense. She described the couple's relationship as psychologically abusive and controlling, stating Alexander kept Arias as his "dirty little secret," Meanwhile, Willmott stated Alexander repeatedly degraded Arias by telling his friends that she was a stalker.
On the day of the murder, Willmott said Arias was subjected to rough vaginal sex. Willmott stated Arias killed Alexander while she was defending herself against her angry ex-boyfriend after she dropped his new camera. Willmott discussed two time stamped photos taken on the day of the murder. One photo points up at the bathroom ceiling light after apparently accidentally falling. The other, a bloody photo of Alexander. Willmott concluded by telling the jury that if Arias had not chosen to defend herself in the one minute that passed in between those photos being taken, she would not be here today."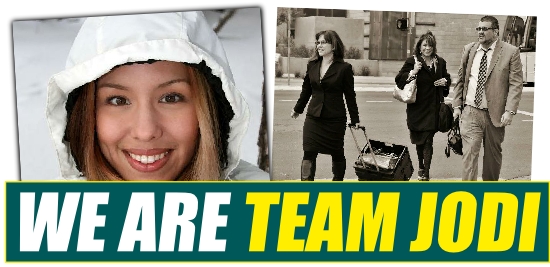 . . . . . . . . . . . . . . . . . . . . . . . . . . . . . . . . . . . . . . . . . . . . . . . . . . ..
UPDATE: Our Jodi art gallery has now been updated with 4 new original drawings… Coy, Elvis Presley, Energy & Onshore Wind. Click here to check them out and to place your bids.
.